Magnet Academies
Magnet Academy Information
Greenville County Schools offers a Select Schools Program that includes eleven magnet academies of accelerated learning. The academic program of each magnet academy offers a theme or focus that is designed to give students an opportunity to explore a special interest, gift, talent or skill. The magnet academies are designed to meet the following district goals:
Offer unique educational choices for students
Provide a unique or specialized curriculum or educational approach
Improve achievement for all students participating in the magnet program
Promote and maintain diversity
These schools attract top students and talented teachers who bring innovative ideas to the classroom. Teachers are chosen based on their academic preparation, professional experience, and specialized skills.
The Board of Trustees and School District Administration are committed to the success of the Select Schools Program. Additional funding is allocated to Select Schools to meet their personnel, instructional, and staff development needs.
Apply to Attend a Magnet Academy
Magnet applications will be available via GCS Parent Backpack during specified windows of time stated in the Application Round Schedule Paper-based applications are available by request from individual magnet academies. Please visit the Magnet Academy FAQs for information about how applications are scored and processed.
Parent Backpack Directions: To access the online magnet application, parents should login into their Parent Backpack account. Parents of students outside of Greenville County Schools can create a new user account. Once logged into Parent Backpack, select "Programs" from the column on the left. Then select "Apply to a Program." Available programs will show on the screen. Select "Apply" beside Magnet Academies to begin the application process.
**Parents will be able to apply for multiple magnet academies within the same online application, but they will only be able to submit the magnet application once. Parents should make sure to select all schools for which their student desires to apply and complete all sections of the application before selecting submit.**
Admission into magnet academies is open to all eligible students, but spaces are limited. Students may apply to more than one magnet academy. Applications are scored based on four criteria: attendance, discipline, academic performance, and a student statement indicating why the student would like to attend the magnet academy. Students who apply and qualify during the first application round have a greater chance of being offered a slot than those students who apply and qualify in later rounds.
Siblings of magnet students who will return the following school year to the school have priority of acceptance in Round 1. If magnet slots are available after all siblings who have qualified are placed, non-siblings will be accepted beginning with the highest to the lowest qualifying scores until the school's assigned magnet slots have been filled. A lottery system is used when there are more qualifying students than available slots. Qualifying students not selected for a magnet academy are placed on a waiting list.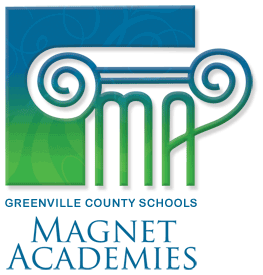 Greenville County Magnet Academies - Elementary
Blythe Academy
Magnet students at Blythe Academy of Languages participate in the partial immersion program and learn math science, and health in either French or Spanish. They also develop communicative competence in the language. In addition, students are challenged daily to reach their highest potential in the comprehensive elementary curricula.
East North Street Academy
With an emphasis on environmental studies, students at East North Street Academy of Mathematics and Science engage in the in-depth study of four quarterly sub-topics that are common to all grade levels: Forestry, Natural Resources, Energy & Society, and Weather. Students participate in engaging, real-world experiences through outdoor classrooms, local expertise, and hands-on lab experiments, guided by local experts and practitioners.
Stone Academy
Stone Academy of Communication Arts offers a rigorous scholastic curriculum. Arts-integrated classes are enriched by individual instruction in art, music, drama, dance, and physical education. The academy also offers an Encore after-school program, specialty companies (Stone Singers, Dance Ensemble, Play Production, and Jumpstart News), and arts-based club activities.
---
Greenville County Magnet Academies - Middle
---
Greenville County Magnet Academies - High
---
Quality Assurances
Curriculum meets or exceeds all requirements of the Southern Association of Colleges and Schools, the Defined Minimum Program for South Carolina School Districts, and Greenville County Schools.
Minutes of instruction for all core courses meet or exceed requirements. Assessment of student achievement complies with state and school district standards. Schools staffs participate in focused staff development based on the school's curriculum to ensure all basic curricular requirements and standards are integrated in the school's instructional program.