School Yearbook
Time is running out to order your yearbooks! You may purchase your Middel School yearbook directly by clicking on the image. For Elementary Yearbooks click here.
---
Educator Conference: Demonstrating Differentiation
The Charles Townes Center at Sterling School will host the conference "Demonstrating Differentiation" on April 2, 2019.
The Charles Townes Center (CTC) has been serving highly gifted and talented students in grades 3-8 in Greenville County since 2003. Click here to learn more about our program.
This conference is open to current educators and pre-service teachers who are looking for ways to challenge students and enrich curriculum.
Visit classrooms where highly gifted students are participating in hands-on, differentiated instruction led by gifted-endorsed teachers.
Participants will have the opportunity to interact with students and teachers in the CTC program. They will bring home valuable resources and information to share with their own students.
Afternoon workshop sessions will offer research-based, useful and authentic instructional strategies from teachers who have successfully implemented these approaches with their gifted students.  
Proudly featuring Keynote Speaker, Dr. Donna Ford, Professor at Vanderbilt University. Learn more about Dr. Ford here.
Location: Charles Townes Gifted Center at Sterling School,
99 John McCarroll Way, Greenville 29607
Date: Tuesday, April 2, 2019
Time: 8:30am-4:00pm
Registration Fee: $45.00 (includes lunch)
Contact Linda Reynolds at lreynold@greenville.k12.sc.us for more information
To Register:
---
Subscribe to the PTA News Flash
Parents, subscribe to the PTA Newsflash and have up-to-date information about school events, fundfaisers, opportunities to serve and more delivered to your inbox each week.
---
Sterling School Relay for Life
Our Reason to Relay
We are making a difference by teaming up to participate in the American Cancer Society's Relay For Life. Saving lives from cancer starts one team, one participant, and one dollar at a time. Our team is doing our part to make sure that cancer never steals another year of anyone's life. Please join our team or make a donation. The impact we can make together is much greater than what any of us could do alone!
Relay for Life is the American Cancer Society's largest fundraising event. Team members spend several months raising money for the actual culminating Relay event which is a celebration of our hard work and fundraising efforts. Cancer never sleeps, so for one night, neither do we. At the event, our team will take turns walking around the track to raise awareness to help the American Cancer Society create a world with less cancer and more birthdays.
Greenville's Relay is Saturday, May 18th, 2019 at Conestee Park.
Team sponsors stay the entire time; however, it is not required of each member to stay that long. Please talk to Mrs. Henry (Farnsworth) about the details or visit Sterling School Relay for Life.
---
Calling all Volunteers!! - School Visitor and Volunteer Guidelines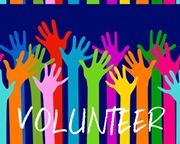 Do you want to volunteer at school? Do you want to attend field trips with your child? Do you want to be a study buddy or a mentor? If so, please view Greenville County Schools volunteer requirements to ensure a safe and secure learning environment for students
.
Please note:
If you were cleared as a volunteer last year, you will receive an e-mail when you are required to re-apply as a Volunteer II.
---