---
Testing Event for Potential CTC Students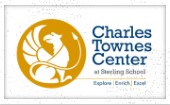 Registration due by noon on Monday, 10/10/2022.
CTC Testing Registration Form.
There are many inquiries about how students are chosen to attend the Charles Townes Center for highly gifted students, located within Sterling School. The criteria can be found on the CTC Gifted & Talented website.
Many private schools in our area do not administer nationally normed aptitude tests along with an achievement test. For that reason, on Monday, October 17, 2022, there will be an opportunity for students who reside in Greenville County and attend home or private schools to take an aptitude test. If your child has already taken an aptitude test within the past two years, or if his/her school administers this testing, it is not necessary for your child to participate. You may just submit those test results to Jane Snyder via email.
Upon reviewing data from this testing event, we will determine if other testing or information is necessary for your child. The results form may not be available until after Winter Break. You will be notified by email.
Please print the Registration Form and send it to Jane Snyder via scan/email or fax: jsnyder@greenville.k12.sc.us or 864-355-9042 (fax) by noon on Monday, October 10th. Please return a form for each child that you wish to have tested. Students and parents should check in at the front of Sterling School by 9:00am.
Students will be tested in small grade level groups to allow appropriate distancing. Please have each child bring 2 pencils for testing. Allow three hours for your child's testing which includes breaks for them. If you feel that your child needs to have a snack for one of the breaks, please send it in an individually wrapped package. Also, students should bring a water bottle. During testing, parents may participate in a tour given by CTC personnel. There will be plenty of time for you to ask questions, too!
For further information, you may contact Jane Snyder by email at jsnyder@greenville.k12.sc.us (best way to communicate!) or by phone at 355-4821.
---
WHY MR. WHITTAKER BECAME A TEACHER...
Recently, our district's media team featured this story on Mr. Whittaker, a 7th/8th grade teacher at Sterling/CTC. If you've not seen it, be sure to check it out!
There are many reasons people decide to enter the teaching profession. But Todd Whittaker, who teaches 8th grade math at the Charles Townes Center at Sterling School, has one of the most unusual and heartwarming reasons we've ever heard. See if you agree!
---
Sterling School High School Fair
Calling all 7th & 8th Grade Parents! While high school may seem ages away (it's only September, right?), the school choice window opens in November and many local high schools will be hosting informational sessions over the next several weeks. Get the inside scoop first by joining us as we host our High School Fair from 9:00-10:00 am on Tuesday, October 4th. The annual High School Fair will give you the opportunity to speak with representatives from and learn more about most Greenville County High Schools, the Fine Arts Center, and the South Carolina Governor's School visiting us on Tuesday, October 4th.
---
Middle School Yearbook Sales
---
ELEMENTARY YEARBOOKS

Elementary yearbooks are on sale now! Yearbooks are $22 until January 1st.
After that the price is $27.
---