---
"Dr. T." Selected as South Carolina's School Counselor of the Year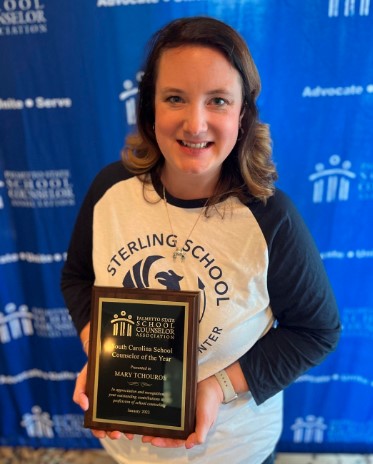 At the annual school counselors conference, Sterling School Counselor Dr. Mary Tchouros was selected as this year's Palmetto State Counselor Association 2023 South Carolina School Counselor of the Year! As an ASCA Certified School Counselor, Dr. Tchouros has been a tremendous support and advocate for our school and profession. For over ten years, "Dr. T." has represented herself, our school/district, and profession with great expertise and dedication – she is a true leader. Because of her work, we have advanced our school's mission to do whatever it takes to realize the full potential of every child by courageously meeting the needs of the Whole Child.
In addition to her work at Sterling School, Dr. Tchouros serves as an adjunct at Clemson University where she trains and prepares future school counselors. Her research on school counselor ratio, burnout, and job satisfaction and workload, and professional identity development has allowed her to advocate for school counselors far and wide.
---
Sterling School Celebrates Black History 2023
As we prepare for Black History Month, we are excited to celebrate with great anticipation for this year's plans. We will kick off our celebration with an amazing performance featuring One Voice, A Black History Narrative by J Dew. This performance will be at Sterling on February 1st. We will have 2 assemblies (8:30 and 9:30), affording our entire school body to share in this experience. In this one-man show, J Dew uses the real words and works of several significant Black history figures to let the audience experience the full impact of these leaders, covering history from as early as the 1850s to video vignettes of interviews with influential Black people from the 21st century." Stay tuned … there's more to come!
---
5th-7th Grade CTC Families: Save the Dates: Virtual, On-Your-Time Curriculum Night

Middle school registration will open and begin for some grade levels on February 21; other grade levels will be phased in along the way. Eighth grade will register at a different time. Families of rising CTC middle School students, be sure to mark your calendar for the CTC Middle School VIRTUAL Curriculum Information event on Thursday, February 9.
As noted, the Curriculum Fair will be held virtually this year. You'll be able to browse through departmental videos and course fliers to learn about your student's classes for next year. Current 5th, 6th, & 7th grade students will be meeting soon with Ms. Bennett (5th graders) or Ms. Treloar (6th & 7th graders) who will share forms and information about the registration process. Additionally, Ms. Johnston, Ms. Treloar, and Mr. Murphy will be hosting an in-person session for rising 6th grade families on the afternoon of Wednesday, February 16. More detailed information will be provided in the coming weeks.
---
You're Invited: PTA Valentine Crafting Event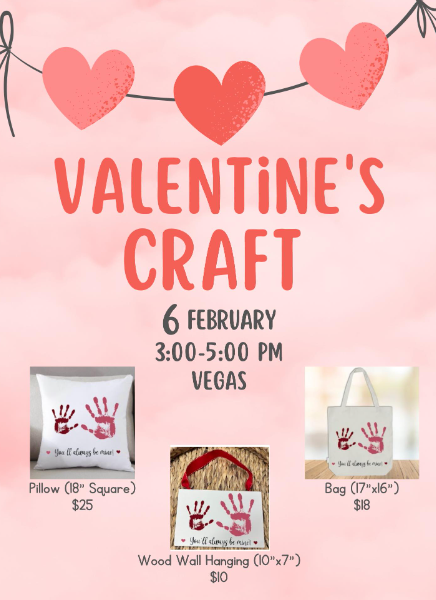 Drop-in with your student (siblings welcome) on Monday, February 6th between 3:00-5:00pm for Valentine's Crafts!
Create an adorable Pillow, Canvas Bag or Wood Wall Hanging. Register by Google Form and a payment link will be sent to you.
We will meet in Vegas and enjoy snacks & laughs as Verdant Market leads the project!
---
🏀 Furman Basketball Spirit Day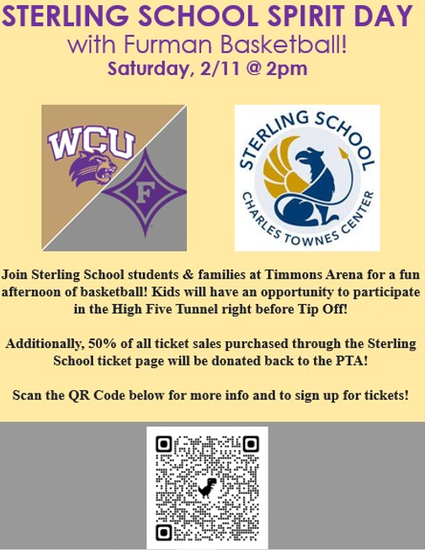 Bring your family to Timmons Arena on Saturday, February 11th to watch the Paladins take on the Catamounts!
Tip Off is 2:00pm, but arrive early so your student can participate in the High Five Tunnel! Students are lined up in the Locker Room Tunnel right before team introductions to form a "High-Five Tunnel" as the players run out onto the court!
Purchase tickets for $20/each through the Sterling ticket page and 50% of all sales will be donated back to our school!
---
2023 South Carolina Academy of Science, ONLINE CONTEST Grades 4 - 8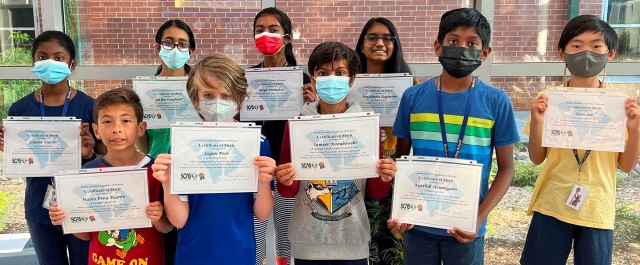 The 2023 ONLINE contest for the Middle/Elementary School Academy of Science (MESAS) is now available to interested students in grades 4-8. Last year, Sterling School had 10 winners!
Direct Link to the South Carolina 2023 online e-contest (Grades 4-6)
Direct Link to the South Carolina 2023 online e-contest (Grades 6-8)
This is an optional contest. Each student who participates will be recognized and each school that participates will have at least one winner. Winners will be announced in the South Carolina Academy of Science (SCAS) newsletters and the SCAS Bulletin. The online contest is available and must be completed on or before 11:59 PM Monday, March 6, 2023.
Students are encouraged to use reference resources of all types, including the internet. However, parent assistance is strongly discouraged in finding the answers. This is a competitive contest meant to teach students new methods of learning and exploring. Questions are prepared with respect to the standards for SC. Participating students may indicate Ms. Deborah Foulkes, instructional coach, as our school's sponsor.
---
Class/Group Pictures: February 10th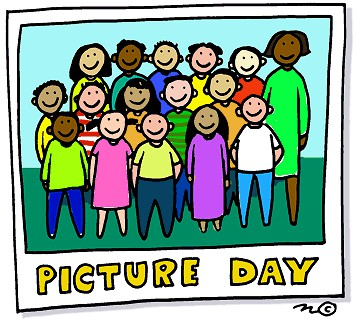 Parents may order class pictures by completing THIS FORM with enclosed payment on or before picture day or they may order online. To pay online, go to www.strawbridge.net - click "Order Pictures" and enter the following code: FM385562.
---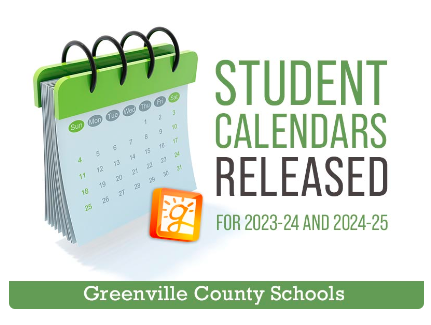 ---
Girls on the Run: 3rd-5th Grade Program
Registration for Girls on the Run (3rd-5th Grade Program) opened January 2nd. If any parent or community member is willing and interested to serve as a coach with Dr. Rucker during one of the two programs, please email Dr. Kylee Rucker.
The Spring 2023 season registration will be open until February 14, 2023.
The season will begin the week of February 6.
Our standard schedule is to practice 2x a week for 10 weeks, but schedules will vary by site
A season-culminating 5K event is scheduled for April 22, 2023 at Clemson University's ICAR Campus, 5 Research Drive in Greenville, SC 29607
---
4K Application Window for 2023-24 Year
In order for our Griffins to start their education on the right foot, we encourage participation in our high quality, full day 4K program! 4K Pre-Registration began January 9, 2023. If you know of anyone in our community who will be four years old on or before September 1, 2023, spread the word!
How to Apply:
Dates: January 9-March 10, 2023.
There are two ways parents can complete the application for their child. You can visit the Parent section of this website and set up a Backpack account. Once it's set up, open the Backpack account, look for "Enroll A Student," and follow the instructions.
For families that do not have internet access, the application can be completed at each school. Parents are urged to bring all the required documents when they visit the school. Children do not have to live in the school attendance area to apply at that location.
Completing the application does not guarantee that the child will be enrolled. Parents will be notified of application status by April 1, 2023.
The GCS 4K program provides high quality, rigorous instruction in early reading, early math, and social-emotional skills using the SC Early Learning Standards. Students attend 7:45-2:15. The GCS Virtual Program is not available to 4K students. Children must be four years old on or before September 1, 2023 to be considered for this free program, beginning August 2023.
For more information, please email 4K@greenville.k12.sc.us or call 864-452-0437.
---
STARTALK Chinese Summer Program

*The following message comes from Dr. Yongfang Zhang, former Sterling/CTC parent.
In Summer 2023, the STARTALK Chinese program will be offered to forty-five rising 6th graders to graduating 12th graders in Spartanburg, Greenville, and other nearby counties. Transportation will be provided to and from Pelham Road Shopping Center at Greenville.
This prestigious, free-of-charge Federally-sponsored program consists of three parts: (1) Pre-camp gamified learning; (2) Two-week intensive day camp on Wofford campus (June 19-30, 2023); (3) Eight post-camp projects where students apply what they've learned.
If you wish to know more about STARTALK @ Wofford, you can visit their website. The application is now open and the deadline to apply is February 1st, 2023. Students will be admitted on a rolling basis and are encouraged to apply soon!
More information can be found in the brochure and flyer. If you have any additional questions about the program, email Valerie Soto at sotovl@wofford.edu or Dr. Yongfang Zhang, STARTALK @ Wofford Director, at zhangy@wofford.edu.
---
Middle School Yearbook Sales - Last Day to Order 2/27
Get your yearbook before it is too late! Middle School Yearbook sales end February 17th.

---
ELEMENTARY YEARBOOKS

Elementary yearbooks are on sale now! Yearbooks are $22 until January 1st.
After that the price is $27.
---