Sweet Summer Reading Chances
Studies indicate that a typical elementary student's academic achievement declines approximately two months over the summer. Additionally, summer learning loss is cumulative and over time can contribute to a student's potential success. This year, we are encouraging our Griffins, 5K to rising 5th grade, to join us in our fight against the "Summer Slide." #GriffinPride #WholeChild
Over the next several weeks, you will find Sterling School's Sweet Summer Reading Chances information with your child's mailed report card, on our school's webpage, Facebook page, and in forthcoming summer editions of the Weekly Griffin. The Sweet Summer Reading Chances will begin at dismissal on Wednesday, June 5th. With this summer learning experience, students will have the opportunity to win exciting prizes and participate in a start-of-year celebration! There are several ways to participate: READO, Camp Wonderopolis, and the Greenville Library Summer Reading Program. To learn more information, see the following flyer (CLICK HERE!).
The READO Card (CLICK HERE!).
Camp Wonderopolis begins June 11th (CLICK HERE!).
Greenville Library Summer Reading Program begins May 31st (CLICK HERE!).
---
Summer Story Time
Elementary Students are Invited to Sterling School to Escape with Books this Summer!
Join us on Tuesdays from 11:00-11:30am to participate in a read-aloud provided by special guest readers. Afterwards, families are invited to stay for lunch. Children (18 years old and under) eat for free. Adult meals cost $3.80. Summer Story Time will begin on Tuesday, June 11th and continue through Tuesday, August 6 with the exception of July 2. Door prizes will be provided! #BuildingABetterGriffin #WholeChild

(If you would like to donate to our door prizes, please contact Ms. Marchbanks. Thanks!)
---
Calling All Graduates: Griffin Walk 2019
Griffin Walk 2019 will take place Wednesday, June 5th @ 11:00am. This year, we invite all high school graduates who attended Sterling School to join us! Any participating graduate should RSVP and bring their cap, gown, and other graduation regalia. We ask any of our special guest to sign-in our main office by 10:45am. We believe this addition to our school's annual tradition will inspire our younger "Griffins" to remain focused in their own academic journey.
RSVP HERE
---
TESTING SCHEDULE
SC READY, ELA Day 1:
May 9: 6-8th Grade
May 10: 3rd Grade
May 21: 4-5th Grade
SC READY, ELA Day 2:
May 10: 6-8th Grade
May 13: 3rd Grade
May 22: 4-5th Grade
SC READY, MATH:
May 14: 6-8th Grade
May 15: 3-5th Grade
SC PASS, Science/Social Studies:
May 16: 6-8th Grade
May 17: 4-5th Grade
EOC TEST:
May 23-24: English I
May 29: Algebra I
---
Subscribe to the PTA News Flash
Parents, subscribe to the PTA Newsflash and have up-to-date information about school events, fundfaisers, opportunities to serve and more delivered to your inbox each week.
---
Calling all Volunteers!! - School Visitor and Volunteer Guidelines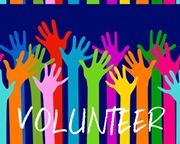 Do you want to volunteer at school? Do you want to attend field trips with your child? Do you want to be a study buddy or a mentor? If so, please view Greenville County Schools volunteer requirements to ensure a safe and secure learning environment for students
.
Please note:
If you were cleared as a volunteer last year, you will receive an e-mail when you are required to re-apply as a Volunteer II.
---