Announcements
Weekly Update 4.22
Good Afternoon, League Academy! I hope everyone was able to rest and relax over Spring Break! I was able to spend time with all of my family at the beach and it was the perfect way to reflect and get ready for the remaining weeks of school. We have great news to share with everyone! The week before the break League Academy was named a Capturing Kids' Hearts National Showcase School by the Flippen Group. This award comes as a validation to all of the hard work that our students and staff do each day to lead and work with kindness and empowerment at the forefront of our actions. We strive to live and work each day remembering that we are all humans at heart and that we are all working for the same vision. I am proud to lead this group of students and staff each day, and I am thankful for our parents and community members who continue to support us and help us grow.

The coming weeks will be busy at League! Testing will begin on May 9. Please see our calendar on the League website to see when specific grade levels and subjects will be testing. You all received a letter detailing testing in your 3rd quarter report cards. These letters will also be posted on our website as well.

We have a very busy week this week. We are making up several spring sports games due to rain and also continuing with our schedule. Please see our website for updated sports game times and locations. Admissions to GCS middle school athletic events is $3.00. Please remember to adhere to the GCS clear bag policy.

We have a special event going on Saturday morning at League. Our partners at Grace Church Downtown have organized a Just Serve workday at League. We will be working on the grounds--sprucing everything up! Please join us! The workday will start at 8:30. This is a great opportunity for students to get their community service hours with Beta Club!

Thank you for your continued service and support to the students and staff at League. I love the partnership that we are building. I am so looking forward to seeing everyone Monday, and I am looking forward to a great week.

Mary Leslie Anderson
Principal
---
Spring 2019 Testing Letters for Parents
Please use the links below to access letters regarding Spring Testing.
SCPASS/SCREADY English Version
SCPASS/SCREADY Spanish Version
End of Course Tests English Version
---
8th Grade Dance!
Attn All 8th Graders, 8th Grade Teachers, and 8th Grade Staff:
Time to get ready for your 8th Grade Dance! This year's theme is LA8GLOWS! The Dance will be Friday, May 17th from 5:30 to 7:30. You can decide if you want to dress up or not. Tickets will be $10. Follow updates on social media at #LA8GLOWS. More to come!
---
Orchestra Night! Meet and Greet
The orchestra will be having a "Orchestra Night Meet and Greet" on April 25 at 6:00 PM in the orchestra room! Students can visit the orchestra web page for a link to sign up for this event.
---
Announcing League Academy Summer Writing Camp!
League Academy is thrilled to announce that we will be hosting a Summer Writing Camp for Greenville County middle school students including rising 6th graders to rising 9th graders! Please see the links below for information and sign up! Contact Mrs. Erin Rigot at erigot@greenville.k12.sc.us for additional questions!
Flyer: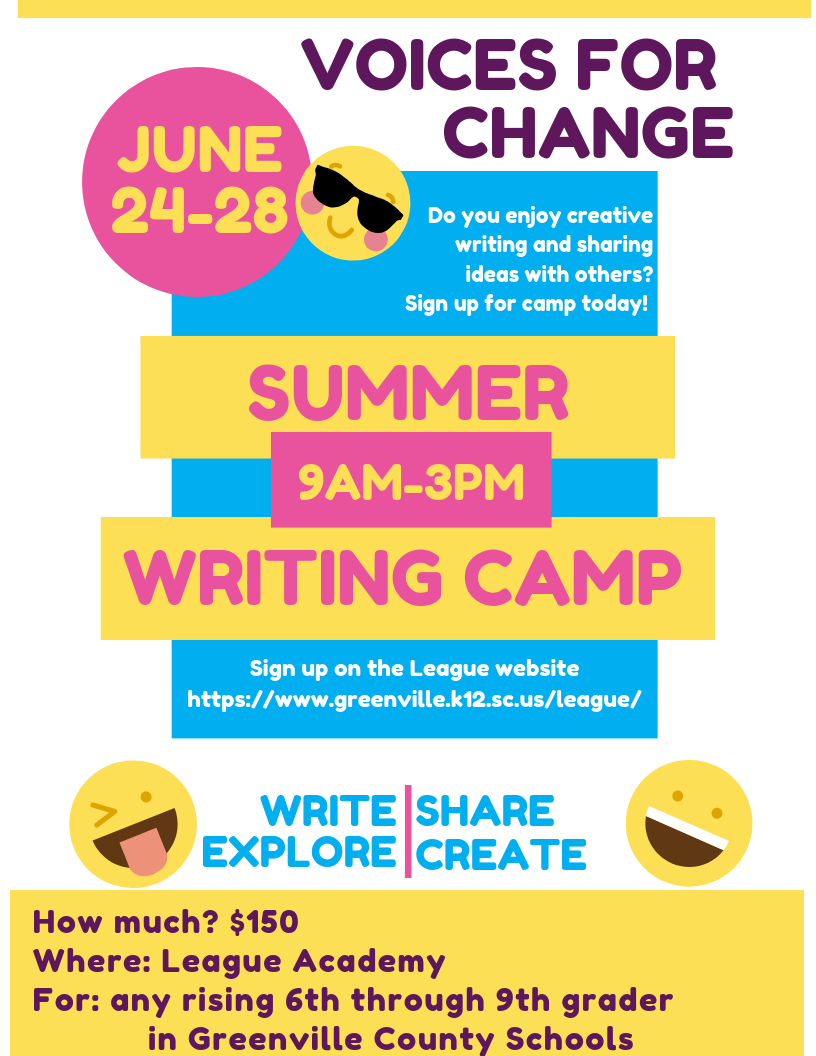 ---
2019-2020 League Academy Course Catalogue
Please use the following link to access the League Academy Course Catalogue for 2019-2020.
https://www.greenville.k12.sc.us/Parents/main.asp?titleid=catalogs
---
League Academy School Report Card
South Carolina School Report Cards
Below is the link to our School Report Card, released November 29, 2018 by the State Department of Education. Based on a number of factors, each school in the state has been rated as excellent, good, average, below average, or unsatisfactory.
These report cards are very different from past report cards in our state. The new report cards factor in multiple data points, test scores and surveys. The report attempts to measure a school's academic achievement, student progress, college and career readiness and school climate. The reports will also include data on English Learners Progress, Student Safety, and Financial information. High School reports will factor in graduation rates, though the formula for determining the graduation rate has changed slightly from past years.
For the first time in South Carolina, NAEP (National Assessment of Educational Progress) scores will be used to help determine schools' ratings. NAEP tests students in every state in fourth grade and eighth grade in math, reading, science, and writing. The percentage of schools ranked in each category (from unsatisfactory to excellent) will align to the State's 2015 NAEP results, so about 15 percent of schools in South Carolina will be rated "excellent," 20 percent will be rated "good," 35 percent will be rated "average," 20 percent will be "below average," and 10 percent will be "unsatisfactory."
Along with the new rating system, the report cards feature several new pieces of data, including Education Value-Added Assessment System (EVAAS). EVAAS measures student academic growth year-after-year. EVAAS measures student academic position in relation to his/her peers from one-year to another. Growth among lowest performing 20% of students counts double toward each school's report card.
If you have any questions or concerns related to our school's ratings, feel free to contact our principal via email or phone.
---
Parents! Sign Up for Mrs. Anderson's Remind 101
League Parents! Please sign up for Mrs. Anderson's Principal Messages on Remind 101!
---
League Academy Student Dress Code
League Academy Dress Code Policy 2018-2019
In accordance with Greenville County School District's Policy JCDAF,
Greenville County School District students are expected to dress and be groomed in such a way as to not distract or cause disruption in the educational program or orderly operation of the school. Personal appearance of students should promote health and safety, contribute to a climate conducive to teaching and learning, and project a positive image of the District to the community. Students should dress for the educational setting and not the recreational one. The principal may create further guidelines regarding student dress, which are consistent with this policy. Clothing and/or accessories that advertise drugs, alcohol, weapons, anything suggestively profane, obscene, racial, and illegal or gang/neighborhood related—may not be worn or brought to school. Items that violate the dress code policy may be confiscated.
In order to promote safety and an educational environment students at League Academy:
Must wear the school ID at all times on campus.
The length of shorts, skirts, dresses must meet the length of a student's ID above the knee. This applies to when a student is wearing leggings and/or tights.
May not wear head coverings including: bandanas, hats, caps, toboggans, earmuffs. Hoods on coats, shirts, or sweat shirts may not be worn over the head while in the building.
Sunglasses covering the eyes may not be worn in the building or classroom.
No tube tops, halter tops, or spaghetti strap tops may be worn. Sleeveless jerseys should be worn with a t-shirt underneath.
Undergarments should not be visible at any time.
Blankets are not to be used to stay warm while in the building. They are to be left home.
The administration will make the final judgment on the appropriateness of clothing and/or appearance and reserves the right to prohibit students from wearing any articles of clothing or items which lead to or may foreseeably result in the disruption of or interference with the school environment.
Consequences for Dress Code Violation:
Send student to Mrs. Fowler to pick up a change of clothing and/or to call a parent.
Student will receive a warning from a teacher or administrator. [First Violation]
A parent or guardian will be contacted. [Second Violation]
Student will receive a referral for dress code violation and refusal to obey. A parent or guardian will be contacted and student may be suspended.
Any consequences for violations beyond the third will be determined by the administration based on the student's overall compliance with the student conduct code.
---
Spotlight
Documents and Forms
Quicklinks