Welcome to Lifelong Learning
Education and Training for Adults

GED Class Locations!
Sullivan Center - AM and PM
Greenville Tech - Brashier Campus
Slater Foothills Family Center
The main campus of Lifelong Learning is located at our Sullivan Center campus, 206 Wilkins Street, Greenville, SC 29605.
LIFELONG LEARNING PROGRAM INFORMATION

2018/2019 GED Classes and High School Units Locations - Call 864-355-6088 for more information

GED Testing Center

Fall/Winter GED Test dates are as follows:

Dec 18th (8:00-3:30)
Dec 19th (8:00-3:30; registration not open to the general public until 12:00 noon, Dec 13th)
Jan 10th (8:00-3:30)
Jan 14th (8:00-3:30)
Jan 15th (Tuesday evening 2:30-7:00)
Jan 18th (Friday 8:30-1:00)
Jan 22nd (8:00-3:30)
Jan 26th (Saturday 8:00-12:30)
Jan 28th (8:00-3:30) Special Accommodation Testing
Jan 29th (Tuesday evening 2:30-7:00)
Feb 5 (8:00-3:30)
Feb 12 (8:00-3:30)
Feb 13 (8:00-3:30)
Feb 25 (8:00-3:30) Special Accommodation Testing
Feb 27 (8:00-3:30; registration not open to the general public until 12:00 noon, Feb 21st)

NOTE that test events open three months at a time; this calendar is provided to help you plan for future test dates. To register for a GED Test you must go to www.ged.com to enter your personal data and pay for each test.

To earn a GED high school equivalent diploma you must earn a score of 145 or higher on each of the four subject tests: math, science, social studies, and reading/language arts.

Lifelong Learning's Sullivan Center is an official GED® Testing Center for the Upstate. The Greenville GED Testing Center is located at the main campus at 206 Wilkins Street.

How long are each of the GED Test subjects?

Math is 115 minutes (short 3 minute break after question #5 to allow time to get calculator out of locker),

Science is 90 minutes (no breaks),

Social Studies is 70 minutes (no breaks),

Reasoning Through Language Arts is 150 minutes (10 minutes break between parts 2 and 3) with 45 minutes for the written essay. 

This  information can be found  on www.ged.com under the heading of "Test Subjects".

Sullivan Center Registration Information

The dates to register are below. Payment of fees is cash only and all fees must be paid in full before starting classes. Everyone pays a $40 registration fee once a year.

GED Information:
GED class fee is $80 for day classes. Evening class fee is $40. The GED registration, orientation, and TABE testing takes two mornings.

High School Units Information:
Students take one unit at a time. A student must have earned 16 units to be able to enroll. Registration and orientation will take two mornings. Testing is not required. Fees are $80 per unit.

Registration times for DAY
GED & Diploma:

January 8th and 9th

January 29th and 30th

February 19th and 20th

March 12th and 13th

April 2nd and 3rd

Registration Time: 8:45 AM

Must be present BOTH days to complete registration

---

Registration times for EVENING
GED Students:

Every Tuesday

4:00 pm

Day classes: 9:00pm - 1:00pm, Monday-Thursday
(Enrichment Activities for Enrolled Students are available from 1:00pm to 2:30pm)

Evening classes 4:00pm - 8:00pm, Tuesday and Thursday

English As A Second Language Registration and Testing Information
864-355-6050
Graduation for Lifelong Learning will be Thursday, May 30th, 2019 at 6:00 PM at Wade Hampton High School. Will you be in line to get your diploma?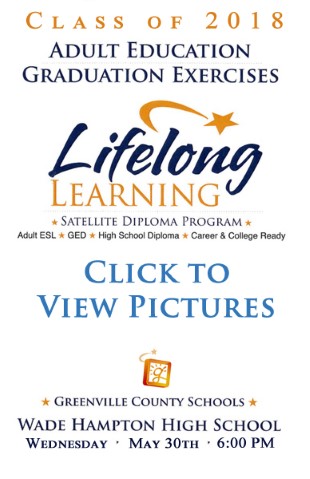 The two Greenville County Schools Adult Education Programs, Lifelong Learning and Satellite Diploma Program, held their 2017-18 school year graduation on May 30, 2018 at Wade Hampton High School at 6:00 pm. Family, friends, guests, and school board members celebrated the graduates who marched during the one-hour ceremony. The graduates earned either a regular high school diploma or passed the national GED Test to earn a high school equivalent diploma.
---
Greenville Journal Class Acts - The June edition of Class Acts has been published on the Greenville Journal website
Lifelong Learning's Sullivan Center offers free WIN Learning and WorkKeys Upgrade Classes and free WIN Learning testing. WorkKeys® is an employment skills assessment system.