Posted: Monday, January 10, 2022
Eastside High and Greer Middle Schools land spots on SC-SIC Honor Roll
The School Improvement Councils for Eastside High School and Greer Middle School have been named to the SC School Improvement Council's 2022 Honor Roll for their significant efforts to foster civic engagement in public education. The two schools are among seven public schools in South Carolina to earn a spot on this distinguished list and are the only schools from the Upstate to be chosen.
"The value of our state's SICs cannot be stressed strongly enough," said Tom F. Hudson, SC-SIC Executive Director. "When parents, community members, educators, students, and others work together with shared vision, the positive impact can be tremendous. Our Honor Roll SICs this year should be very proud, as I am, of their accomplishments."
As Honor Roll recipients, the Eastside High School and Greer Middle School SICs will continue in the running for the annual Dick and Tunky Riley Award for School Improvement Council Excellence to be selected in March. Now in its 21st year, the award is named for the former U.S. Secretary of Education and South Carolina Governor and his late wife, and recognizes the vital contributions made by more than 1,100 local SICs and their 12,000-plus SIC members across the state.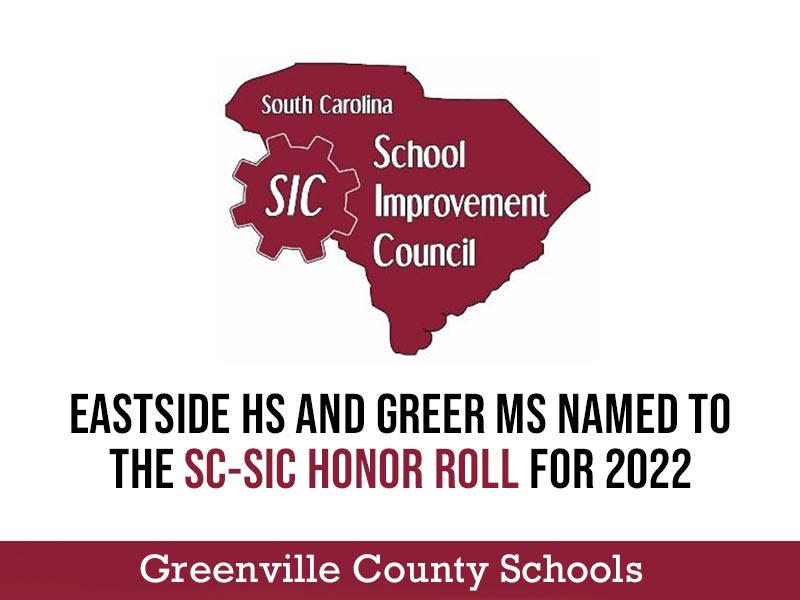 ---