Posted: Monday, January 10, 2022
Upstate Parents Educators Who Make a Difference
Each January, Upstate Parent features local educators who set the standard for what it means to influence the future. These outstanding educators have gone above and beyond their job descriptions in remarkable ways. Here are their stories about five outstanding GCS educators.
Sharon Clyborne, Literacy Specialist, Simpsonville Elementary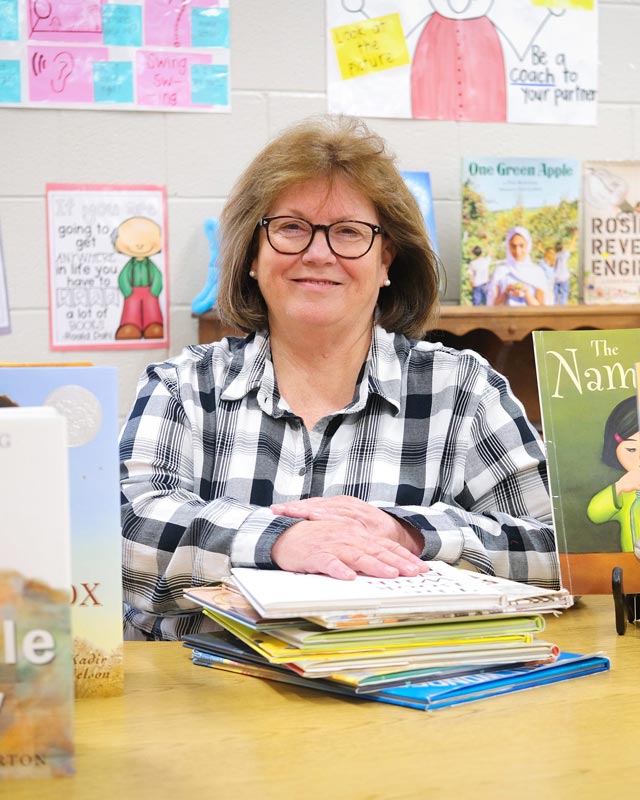 Sharon Clyborne always knew she wanted to be a teacher. Now, after 32 years in the profession, she still delights in her work.
"I provide literacy support to students, families and teachers," she said. "I serve students in small group settings to support them in literacy skills, I serve families by communicating ways to support their children at home and I serve teachers and work collaboratively with them to implement a quality literacy program for our students."
But that is only part of the equation.
"Building relationships with my school family is important to me," Clyborne said. "Students, their family and teachers, we all have to work together to reach our common goal which is to ensure the success of our children. Relationships are so important! My goal is for students to be successful readers and writers. I want students to read and write because it is something they choose to do. We all typically choose to do things we are good at doing, so I want to help children become successful readers and writers."
Clyborne plans to continue teaching as long as she feels she is making a difference. One of her favorite aspects of her work is that all parties learn from each other.
"Children teach me every day, too," she said. "They remind me to find joy in the little things, to live in the moment, to forgive with ease, to love unconditionally and so much more. I am able to set kids up for success. At the end of the day, I want every child to leave school feeling good about themselves."
Ashley Hipp, Third Grade, Chandler Creek Elementary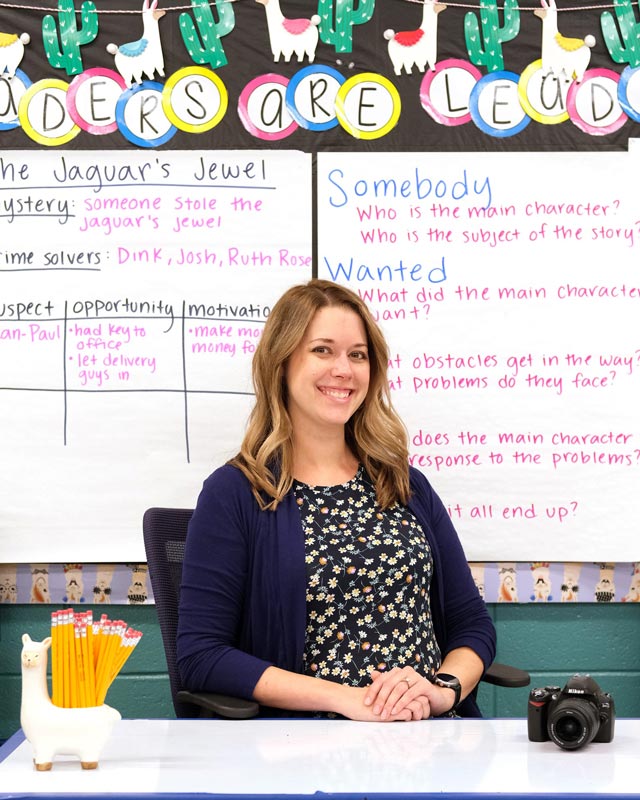 Ashley Hipp is passionate about her students and she is using her own interest to make a connection with them.
"I absolutely love getting to know all of my students each year," she said. "I learn so many new things about each child and their skills and backgrounds, and their likes and dislikes. I love making connections and figuring out how each child learns. My favorite thing is when I see the 'light bulb' moment in a student's eyes – the moment when it clicks and they finally understand. They get so excited and I get so excited for them."
Away from school, Hipp enjoys spending time with her growing family and working as a photographer, capturing memories for other families. It's that artful side that she is using to engage students in a new program.
"One thing I am so proud of and excited for this year has been the start of a photography club here at my school," she said. "The idea came to mind about 2 years ago and I finally was able to start a Donor's Choose project to receive DSLR cameras to teach students about the art of photography."
Currently, Hipp has six cameras and is able to serve 14 students, but her dream is to include more students and have a camera for each one.
"Photography helps to promote creativity, learn critiquing skills, improve technical skills, and spread the love of all things unique and beautiful," she said. "The students in the club are having such a great time and are so involved and excited about what they are learning."
Adrian Mayes, Seventh Grade Administrator, Hughes Academy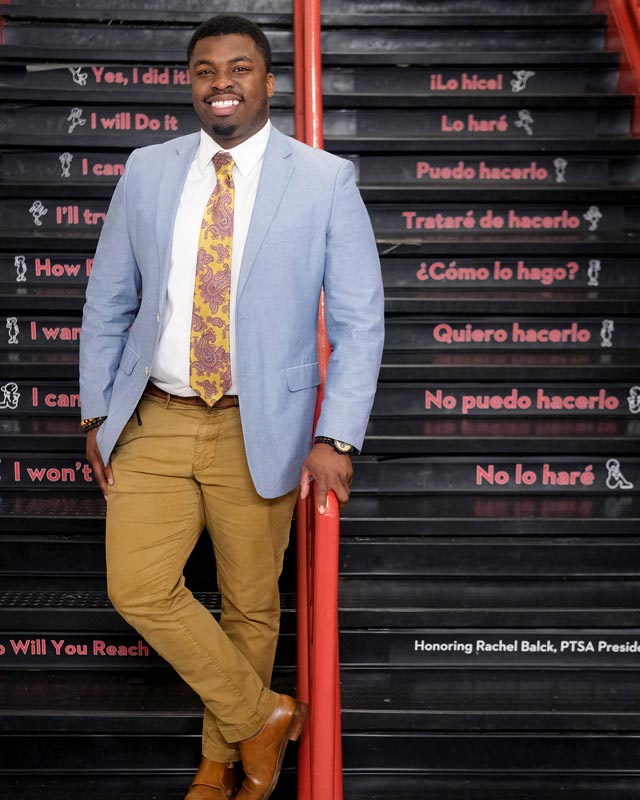 As Seventh Grade Administrator at Hughes Academy of Science and Technology in Greenville, Mayes has moved from the classroom to a different role, but for him, it is a way to serve more students and families each day.
"My passion is to make an impact in the lives of others and to be a positive role model for students as well as adults," he said. "Education is truly the only way to get on the path of success whether that leads to a trade or to a college degree. I have always had a desire to help others and I am glad that I am able to do this in my current role. I have a job, but it does not feel like work because it is my calling."
Mayes plans to continue working toward serving as a principal and possibly even training future educators at the college level. For now, he is making a real difference in the lives of the children who look up to him. He said he works for the teachers and for the kids in their care.
"I enjoy being able to make students feel safe and have a place they can learn and explore life," he said. "While our current system of education needs an overhaul, we are still able to impact lives for the better. Our students are special and deserve the absolute best. They are so smart and have such bright futures, I enjoy challenging them to be better every day meanwhile, challenging myself to do the same."
Jeremy Murphy, Assistant Principal, Sterling School/Charles Townes Center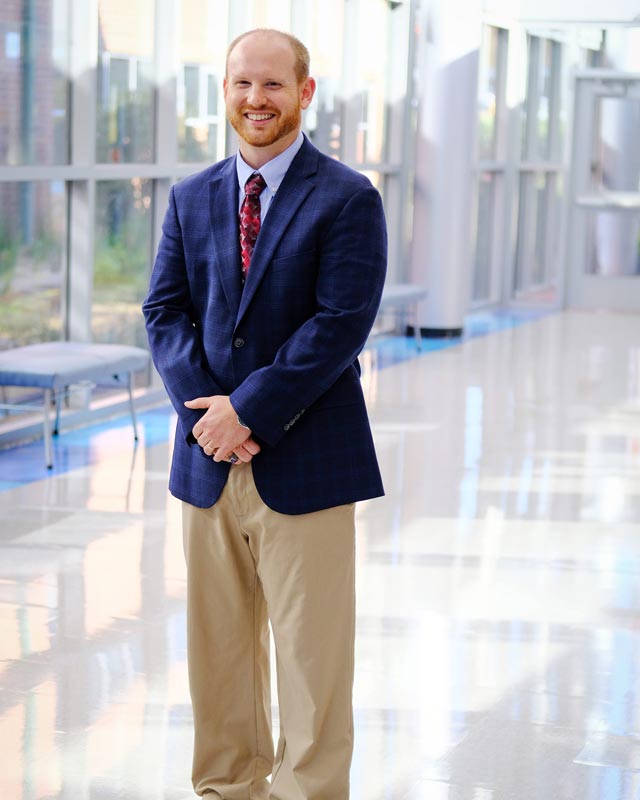 As assistant principal at Sterling School/Charles Townes Center in Greenville, Jeremy Murphy supports children and their academic success but also connects families to additional support.
"Educational success is reliant on family stability and success, so it is important for schools to serve as hubs for community support," he said. "Our school's mission centers on supporting the whole child, not only in academics, but also in their physical wellbeing and their social-emotional development. In my current role, I have the privilege of working to ensure that all children in our school have the opportunity to live safe, supported, engaged, challenged, and healthy lives."
Murphy said education is a collaborative effort.
"Successful educators facilitate partnerships between schools, parents, community agencies, and everyone else that makes up each child's village," he said.
When he isn't at school, Murphy enjoys spending time with his family. Currently, they are reading the Harry Potter series together. And what he brings to his students involves a little magic, too.
"The thing that really excites me about education is that it has the capacity to improve lives," he said. "Every child comes to school with a variety of experiences, talents, abilities, weaknesses, and backgrounds. The challenge is to provide individualized instructional opportunities to build on kids' strengths while also improving upon their weaknesses. It is amazing to bring a diverse group of people together every day and to explore the world and unlock new knowledge together. I love working with teachers to develop opportunities for kids to learn new skills and think about the world from new perspectives. I love to see former students, sometimes years after I taught or worked with them, meet their families, and catch up on their latest happenings."
Erica Sandall, First Grade, Crestview Elementary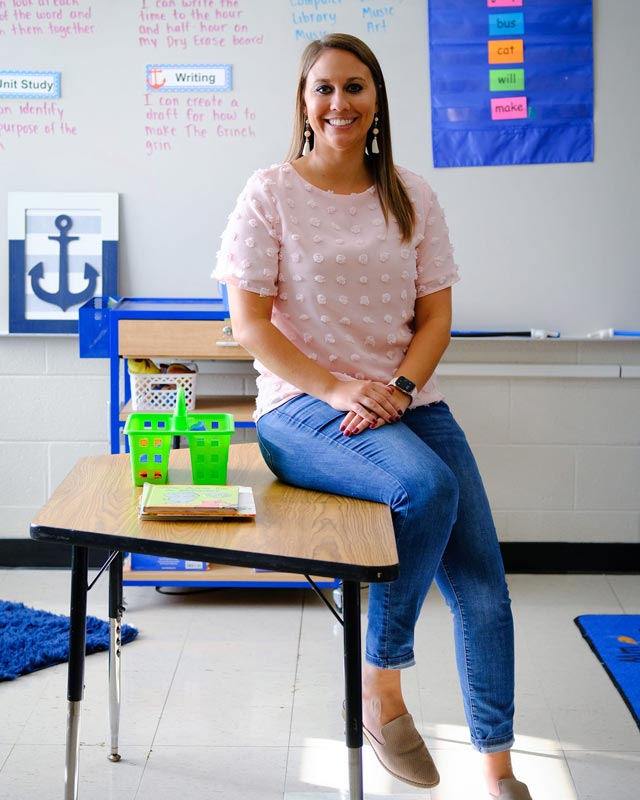 It was through serving others that Erica Sandall found her way to being an educator. She now teaches first grade at Crestview Elementary School and has no plans to leave her role as a classroom teacher.
"I have always loved children and knew I wanted to work with them in some form," she said. "I enjoyed going on mission trips and getting to work with children. By going on mission trips, I believe that gave me the passion for education."
For a time, Sandall thought she might work as a pediatric nurse.
"I ended up changing my major to early childhood education because I knew I was called to teach," she said. "I grew up with a great family but I know not all children are that lucky. I wanted to be there for the students who did not have a strong home life or support. I wanted them to know that there was someone in their life that cared, loved and would always cheer for and support them. I knew from my first few education classes – and honestly, when I was a senior in high school – that I was called to teach. I wanted to make a difference in their lives, but the reality is they have made a difference in mine. They encourage me daily, make me laugh and make me a better teacher."
The students are at the core of why Sandall loves her work.
"They are full of energy, enthusiasm and love to learn," she said. "I love walking in each morning to their smiling faces and the hugs that I get each day. There is no greater joy than seeing a student work hard and then finally get it."
---