Posted: Thursday, September 21, 2017
Two GCS Employees among Greenville's Best and Brightest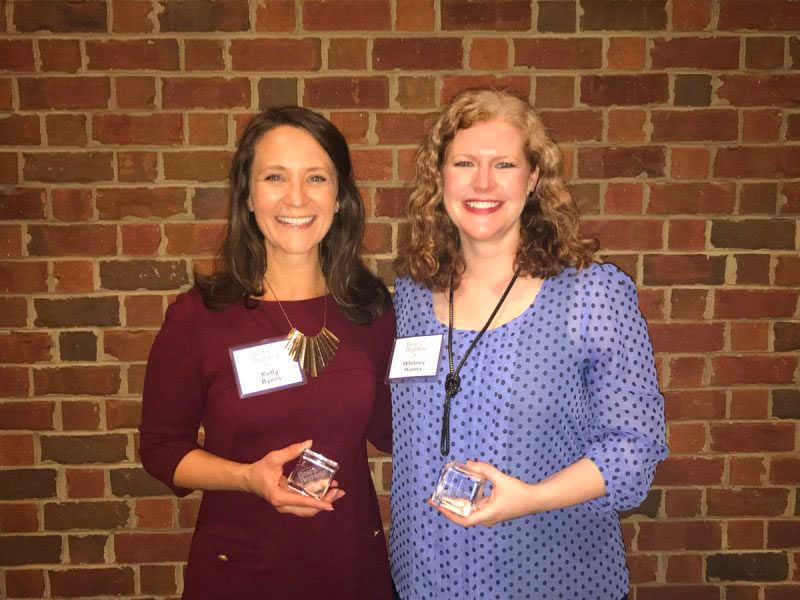 Greenville County Schools is proud to recognize two of Greenville's Best and Brightest! Whitney Hanna, Coordinator of Community Collaboration and Institutional Advancement, and Kelly Byers, Community Engagement Specialist at Roper Mountain Science Center, were recognized at Greenville Business Magazine's Best and Brightest 35 and Under 2017 awards ceremony presented by Furman University. The Best and Brightest 35 and Under 2017 recognizes 37 young professionals who are making a difference in their workplaces and communities.
Whitney Hanna
Whitney works with the school district's leadership team as well as schools and centers to develop relationships and collaborate with community partners – including corporations, industry groups, non-profits and other community entities – to create effective partnerships that are in-line with the district's Graduation+ initiative and enhance students' educational experiences.
"This position is fulfilling my ultimate goal of finding the intersection of skills and passion. It brings together my background in communications and marketing and pairs it with the opportunity to have a positive impact on our community," said Whitney.
Prior to joining the school district, Whitney's background includes management of a corporate marketing account team for a Fortune 1000 company as well as work in account service and public relations with several communications agencies.
She is a graduate of Leadership South Carolina Class of 2017, Leadership Greenville Class 41 and the Diversity Leaders Initiative Upstate Class 23. Serving on numerous boards and committees, Whitney is active with the Network for Southern Economic Mobility, the Greenville Chamber of Commerce, the Junior League of Greenville, the Upcountry History Museum, and previously served as President of the American Advertising Federation of Greenville, where she was recognized as an AAF 2014 National President of the Year.
Kelly Byers
Kelly has worked as Community Engagement Specialist at Roper Mountain Science Center since 2016. She studied History and Political Science at Presbyterian College and later earned a Master's in Agricultural Leadership from the University of Georgia.
"Working in philanthropy, I see generosity toward and commitment to a better Greenville in action every day. The collective impact of this community's service and leadership impresses and inspires me," she said.
Click here to see the entire list of Greenville Business Magazine's 2017 Best and Brightest.
---