Posted: Wednesday, March 22, 2017
Roper Mountain Science Center Reopens World Class Planetarium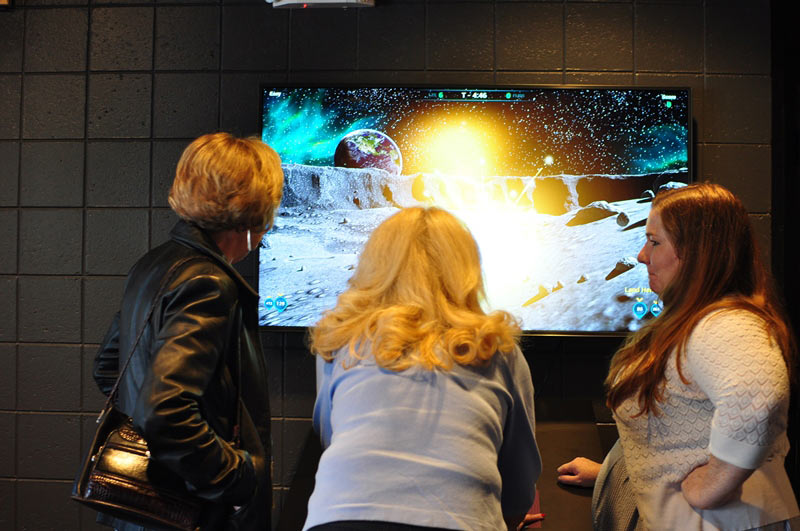 The planetarium experience you knew and loved just got even better. Roper Mountain Science Center is excited to announce the reopening of the T. C. Hooper Planetarium after a complete renovation. The highlight of the renovation is the installation of a new projection system, the Spitz IQ 4K; the first installation of this system in the United States. "We are excited to welcome students and the public back to the planetarium," said Michael Weeks, Director of Roper Mountain Science Center. "The new capabilities of this system provide a unique method of fulfilling our mission of igniting the natural curiosity of learns to explore and shape their world."
After closing for a yearlong renovation, the facility, originally built in 1989, is "world class," according to RMSC Association board member Brian McSharry. In addition to the projection system, new features include 360 ° full immersion dome, state-of-the-art lighting, dynamic 5.1 surround sound, interactive lobby exhibits, expanded curriculum, new shows, and more.
This renovation was made possible through Greenville County Schools and the Roper Mountain Science Center Association who raised the necessary funds through the incredible support of the community. Supporters of the project include Hollingsworth Funds, ScanSource, Daniel-Mickel Foundation, Duke Energy Foundation, Symmes Foundation, Margaret Linder Southern Fund, BMW, Spinx, Bon Secours St. Francis Health System, Fluor, ReWa, GE, Graham Foundation, Piedmont Arthritis, Blue Cross Blue Shield of South Carolina, Lockheed Martin, and Dr. Ernie Lathem.
"ScanSource is proud to support educational initiatives and we're excited about the opportunity to contribute to the renovations of the T.C. Hooper Planetarium," said Christy Thompson, ScanSource's VP of Worldwide Marketing. "It's special to have the largest planetarium in South Carolina right here in the Upstate, and we know what a great educational resource this state-of-the-art facility will continue to be for years to come."
The new projection system allows for expanded educational use of the full-immersion dome, including programming on subjects besides astronomy. New programming includes Zygote Human Body and Layered Earth.
"Bon Secours St. Francis Health System is honored to provide the funding for the new projector system at Roper Mountain Science Center as part of the total renovation of the Planetarium. In keeping with our mission of being Good Help To Those In Need®, we are committed to reaching out within our community and supporting the education of youth in the sciences. We are particularly enthusiastic about the Zygote Human Body program as attendees will be exposed to the study of human life and as a result could potentially be inspired to consider the medical profession," said Craig McCoy, CEO of Bon Secours St. Francis Health System.
The renovated T. C. Hooper Planetarium is open to the public during Starry Nights, Second Saturdays, and during the week in the Summer. To see show times and purchase tickets, visit RoperMountain.org.
About Roper Mountain Science Center
Roper Mountain Science Center ignites our natural curiosity to explore and shape our world. The most impactful entity in the Upstate focused on science and science education, RMSC provides curriculum-based, hands-on learning for elementary and middle school students; offers inspiring "edutainment" for the public with Starry Nights, Second Saturdays and other special events; and produces state-of-the-art training for teachers. Each year, more than 50,000 students, 6,000 teachers, and 30,000 families and adults visit Roper Mountain Science Center.
Address: 402 Roper Mountain Rd.
General information: RoperMountain.org or call 864-355-8900
---