Posted: Thursday, August 11, 2016
Katie Saunders Named GCS Teacher of the Year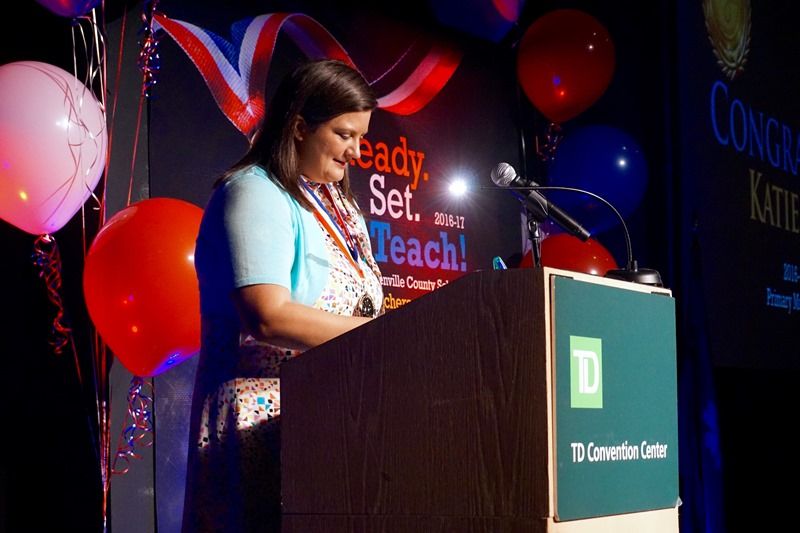 Greenville County Schools Superintendent Dr. Burke Royster announced the selection of Katie Saunders, a primary multi-age teacher at Bethel Elementary School, the 2016-17 Greenville County Teacher of the Year at a special breakfast on August 11. Also announced were first runner-up Cara McFarlane, special education teacher at Wade Hampton High; Lori Nelson, school counselor at Paris Elementary; and Kristen Griffin, a kindergarten teacher at Buena Vista Elementary.
Katie Saunders, Primary Multi-age (First and Second), Bethel Elementary
2016-17 Greenville County Schools Teacher of the Year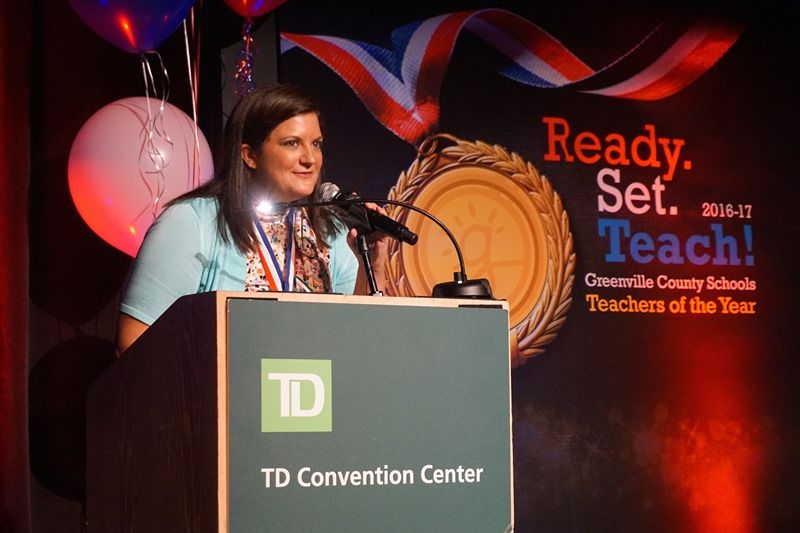 Bethel Elementary primary multi-age teacher Katie Saunders knows that as an educator, if she can ignite the smallest interest in students to get them excited about learning, she can start the "fire" of knowledge that will burn inside them. She believes a key component to making that happen is for teachers to continue learning from each other. "The more we learn from others and the more we stay up to date with current trends and technology, the better we will be able to meet our students' needs and ignite that spark within," she said.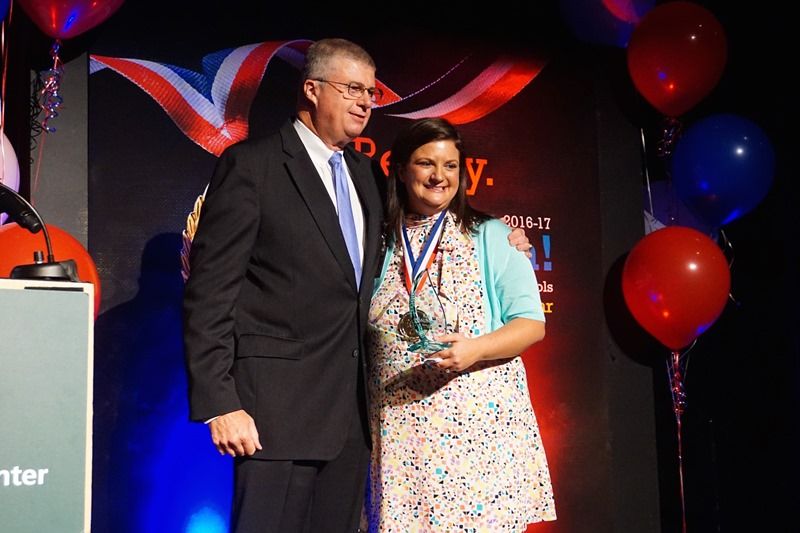 In fact, it was when she was in college studying to be a doctor that the teaching spark ignited in her. "I was assigned to a general requirement class that involved volunteering in a third grade classroom," she explained. "It was there that I fell in love with the students, the environment, and the idea that they have so much ahead of them." She realized then that she was meant to teach.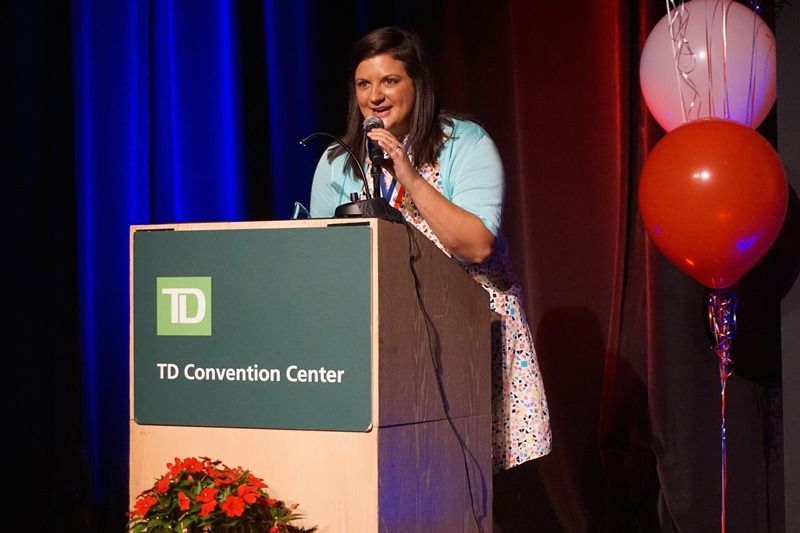 Saunders has developed innovative ways to make learning fun, especially through the use of music. One year, she wrote a rap song to help students prepare for state standardized testing. She involved the entire staff, producing an encouraging video that aired on the morning news show the week of the test. She uses singing and music almost every day as she reaches and teaches her students.
Saunders understands that to be a successful educator, she must work closely with staff, parents and members of the community to help students succeed. She gets great ideas from her colleagues and gets to know her students better through strong partnerships with parents. "I want parents to feel welcome in my classroom and many times during the year, I invite them in to showcase student learning," she explained.
Mrs. Saunders' greatest accomplishments are the influences that are sometimes unseen at the time the happen. "It's those moments down the road that make you realize the impact you have on a child's life," she said. "It's that note from a child that says you were her favorite teacher simply because you did baton tricks on Friday when they had a good week. It's that moment when you see a child's confidence grow right before your eyes because their fluency and comprehension is improving and they know they are becoming a better reader."​
Katie Saunders earned bachelor's and master's degrees from Furman University. She was also named the 2014-15 Greenville County Schools Reading Teacher of the Year.
First Runner-up
Cara McFarlane, Special Education
Wade Hampton High School
"The foundation of my personal teaching style starts with a safe environment and understanding my students – how they learn and what motivates them to try. Once I figure this out, I adapt my style to meeting the needs of high, medium, and low-level learners all within one class."
Second Runner-up
Lori Nelson, School Counselor
Paris Elementary School
"One of the amazing things about being a school counselor is the reality that we are the heart of the school. By working with teachers and parents, counselors provide necessary resources such as food, clothing and emotional support. Meeting the physical needs of students enables them to focus on learning and success in school."
Third Runner-up
Kristen Griffin, Kindergarten
Buena Vista Elementary School
"From the time my students enter the classroom, they are learning. Every moment is carefully and purposefully planned to personalize instruction and stimulate a love of learning. Collaborating and communicating consistently with parents enables me to better understand my students' distinctive needs."
Finalists
Krissy Black, 8th Grade Math and English Language Arts, Northwest Middle School
Andi Buckless, First Grade, Stone Elementary Academy
Amanda Catherman, Spanish, Greenville Sr. High Academy
Jennifer Murphy, Third Grade, Robert E. Cashion Elementary School
Matthew Phillips, Biology, Blue Ridge High School
Megan Schonhar, English, Greer Middle College Charter High School
School Teachers of the Year
The process of selecting the ten finalists began last fall when schools and centers selected their individual Teachers of the Year. Applications were reviewed by a Screening Committee. Five judges then selected the Top Ten finalists and the District Teacher of the Year.
How Are Finalists Chosen?
Each Top Ten candidate for Greenville County Teacher of the Year is judged on the nine areas included on the application form, a classroom visit, and an interview.
In the classroom, judges observe the teacher's command of subject matter, classroom environment, communication skills, enthusiasm, creativity, and classroom management skills. During the interview, candidates are judged on his or her use of effective communication skills, organization of response, knowledge and command of subject matter, and substance and relevance of response.
The judges were Lillie Lewis, Southern Wesleyan University; Dr. Betty McConaghy, retired school administrator; Kelly Nalley, former Greenville County Schools and South Carolina Teacher of the Year; Scott Powell, The Rotary Club of Greenville; and Bill Tyler, Chick-fil-A.
Teachers of the Year Recognized by Local Businesses
Special awards and prizes are provided for the top Greenville County teacher and other honorees.
The Emerging Teachers of the Year Program, sponsored by Greenville Federal Credit Union, recognizes a second or third year teacher at the elementary and secondary levels for outstanding performance. Each winner receives $500, a crystal award, and $500 for his or her school.
Teacher of the Year sponsors are Bank of Travelers Rest, Chick-fil-A, Cowart Awards, Eplee & Associates, Expressions Unlimited, Greenville Federal Credit Union, Greenville Journal, Herff Jones Company, Hyatt Regency Greenville, Michelin North America Inc., Papa John's Pizza, Peace Center, Roost Restaurant, Rotary Club of Greenville, Sam's Club, and The Greenville News.
---