Posted: Wednesday, September 20, 2023
CTE Innovation Center Dedicated One Year After Groundbreaking
On Wednesday, September 20, 2023, Superintendent Dr. Burke Royster, district leadership, facility leadership and the Greenville County Schools Board of Trustees dedicated the CTE Innovation Center at Roper Mountain exactly one year after the groundbreaking of the $12.7 million, 29,145 square-foot center.
The state-of-the-art facility is the first of its kind in South Carolina, offering programs in Emerging Automotive Research, Aerospace Technology, Emerging Cybersecurity/Networking, Clean Energy Technology, and Automation and Robotics.
"The CTE Innovation Center gives our students access to innovative pathways positioning them at the forefront of college- and career-readiness," said Dr. Burke Royster, Superintendent of Greenville County Schools. "With cutting edge-programs and technology, this facility offers our students opportunities that will give them options in the future, and that is the foundation of our Graduation Plus initiative."
The classrooms and labs are designed to allow students interested in these career paths the opportunity to problem-solve and collaborate in a real-world setting using equipment that aligns with current industry standards.
"A year ago today, we were here for the groundbreaking and discussing this vision, and in this moment, it's now a reality." said Katie Porter, Director of the CTE Innovation Center. "Thank you to Dr. Royster and the GCS School Board for entrusting me with the leadership of this facility as I carry out the vision for its future in CTE, GCS, and the local workforce."
"What a historic day for Career and Technical Education in Greenville County Schools. The unique design and flexibility of the CTE Innovation Center will allow Greenville County Schools to remain on the cutting edge of education and workforce development for decades to come. I can think of no better way to exemplify our commitment to the Graduation Plus initiative", said Eric Williams, Executive Director of College- and Career-Readiness for Greenville County Schools.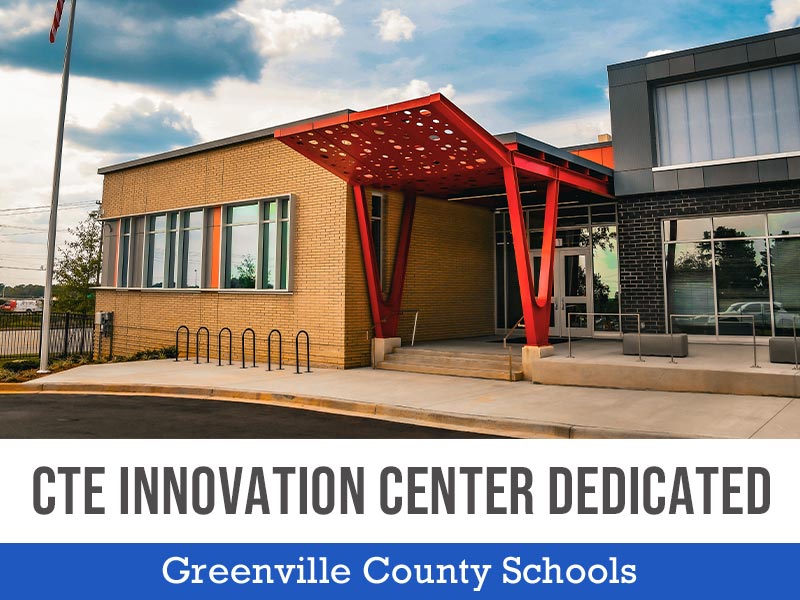 ---