Posted: Friday, May 19, 2023
Greenville County Schools Announces Employees of the Year
2023 marks the 20th year of our Employee Recognition Program that honors all categories of Greenville County Schools' employees, sponsored by Greenville Federal Credit Union.
Greenville County Schools announced Employee of the Year Awards in six categories at the Salute to Education Banquet held Thursday, May 18, 2023. Each winner received $500 cash and a special award commissioned by Greenville Federal Credit Union. Their school or department also received $500 so their peers can share in the honor.
Congratulations to these outstanding employees!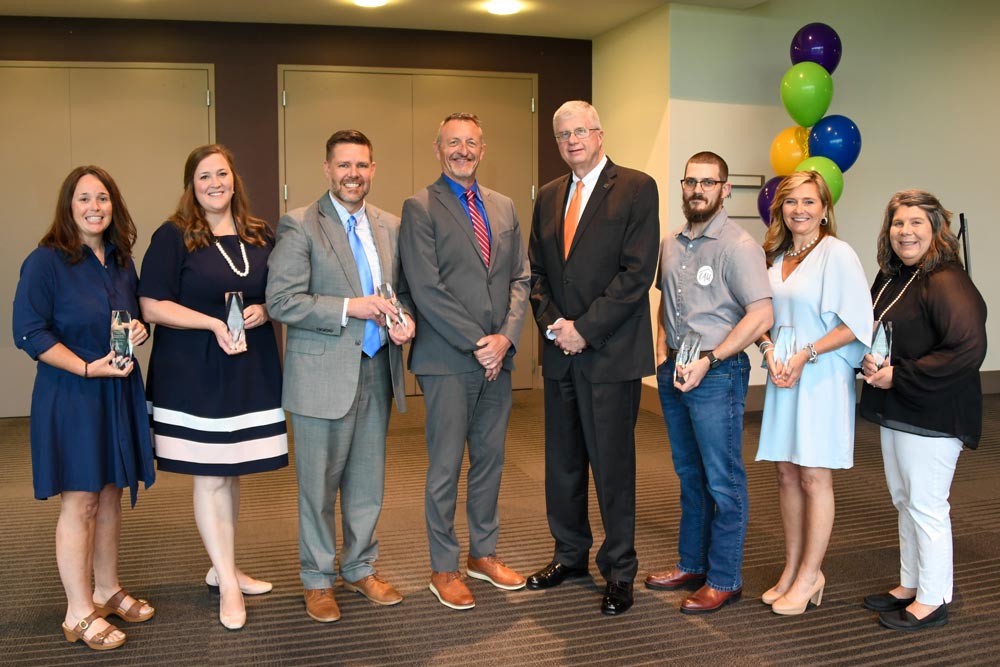 School Support Employee of the Year Award - Trudi Ivie, Secretary from Ellen Woodside Elementary
Trudi's devotion to the students and staff of Ellen Woodside is unmatched. Always willing to offer help, Trudi's positive attitude is infectious and her knowledge of the school is extraordinary. She places the importance of customer service to the community, parents, students and staff above all, creating a culture that is calm and welcoming. Trudi is selfless and kind, often taking on roles beyond what is expected of her. She is often referred to as the "School Mom" and has been called "the wizard behind the curtain" because she simply has all the answers.
District Support Employee of the Year - Erin Wetmore, Secretary for the Office of School Leadership
Loyal to Greenville County Schools and passionate about public education, Erin Wetmore is a pleasure to work with. She is dependable, attentive, organized, efficient, patient, informative and accurate. While her primary work is to support five district assistant superintendents, she has the innate ability to pause and listen attentively to all who call upon her. Erin's work has positively impacted her department by developing systems to improve the principal hiring process, increasing efficiency and productivity. Erin also helps give students a platform and voice in the educational process as she facilitates many behind the scenes tasks to support our district's Inter High Council. Erin Wetmore's dedication and uplifting spirit make her an ambassador for Greenville County Schools.
Operations Employee of the Year - Dallas Barcus, Head Custodian at Lake Forest Elementary
Dallas Barcus has been with the district, and a proud member of the Lake Forest Elementary School family, since 2016. Everyone at Lake Forest knows and adores him. Dallas has a servant's heart and puts the needs of the school before himself. He brings so much joy and positivity to all who work with him. He is described as loyal, self-driven, compassionate, dependable, creative and generous. He truly supports everyone in the building and always with a smile on his face. He serves as a mentor to several students every year and always models good character and integrity along with other positive traits. Dallas makes every effort to ensure that everyone who is working, learning or visiting at Lake Forest experiences a clean, safe and positive environment.
Assistant School Administrator of the Year Award - Melissa Patterson, Assistant Principal at Woodmont High School
Melissa works alongside her principal at Woodmont High to usher in significant and systemic improvement in their school's academic achievement. Her hands-on approach to creating intentional structures and remediation programs played a vital role in the drastic improvement of the school's end-of-course scores. Melissa's diligent work is one of the key elements that has helped Woodmont High School academically soar and resulted in Woodmont High being named a 2023 Palmetto's Finest School.
School Administrator of the Year - Dr. Josh Patterson, Principal of Sterling School Charles Townes Center
Josh is the embodiment of a successful educational leader. He fosters collaboration, is an exceptional listener and is a creative problem solver. He establishes high expectations for himself and his staff while leading with empathy, integrity and determination. Josh is a servant leader who focuses on educating the whole student which has resulted in increased student achievement while serving a diverse student body.
District Professional Employee of the Year - Cindy Weston, Special Education Elementary Specialist
Cindy is adored and respected by her students, teachers and colleagues. She is a natural leader, a team player, and a creative problem solver. Students are always at the center of Cindy's decisions. She is instrumental in rolling out new Special Education initiatives for the district and adds meaningful value in all of her work and is trusted and supported by teachers. Cindy is a model instructor and a cheerleader and champion for all students.
---