Posted: Tuesday, April 25, 2023
Students Advance in Expressway to Tiger Town
Mauldin High School seniors Caroline Wilson and Hunter Wilson (not related) became the first Greenville County Schools students to enter the next phase of the Expressway to Tiger Town during a special signing ceremony today. This is a partnership that has been developed between Greenville County Schools, Greenville Technical College and Clemson University for the sole purpose of recruiting teachers into the profession.
Greenville County Schools Superintendent Dr. Burke Royster shared, "On behalf of Greenville County Schools, I'd like to express our appreciation of Clemson University and Greenville Technical College for partnering with us to ensure we are attracting young people who are committed and dedicated to education and the teaching profession. I'm particularly pleased to be here this morning to celebrate both Caroline and Hunter who exhibit the qualities needed as strong candidates for teaching. These students have received the finest training so they can be the best teacher they can possibly be. Our students deserve no less."
"In a time when recruitment and retainment of teachers is so critical, this is an example of how our community is being innovative and finding ways to grow our own talent," said Rachel Turner, who leads Mauldin High School's Future Educator Program. "It is so exciting to see these future teachers enter a program that will inspire, support and prepare them for this invaluable profession as we hope to bring them back to Greenville County to teach."
As Expressway participants, Caroline and Hunter took dual credit courses while in high school. When they graduate next month, both will study for one year at Greenville Technical College with an automatic acceptance into the College of Education at Clemson University. There, they will have the opportunity to obtain a bachelor's degree in education in just two years, with the option of staying an additional year to earn a master's degree through Clemson's teacher residency program.
"This partnership means a tremendous amount to Greenville Technical College," said Dr. Larry Miller, Vice President of Learning and Workforce Development for Greenville Technical College. "We are proud of our students and delighted to send them on their way to this Expressway to Tiger Town, where in just three short years, they'll be back teaching the next generation of students."
"We are blessed to create a path for students who want to come in and change the face of education in this great state, and we are happy to be here today to celebrate them," said George J. Petersen, Dean Emeritus and Provost Distinguished Professor of Education at Clemson University. "South Carolina needs teachers and we have worked collaboratively to create processes and programs that will allow our state to not only be provided with teachers, but exceptionally well-prepared teachers. Caroline and Hunter are the first of what we hope will be many."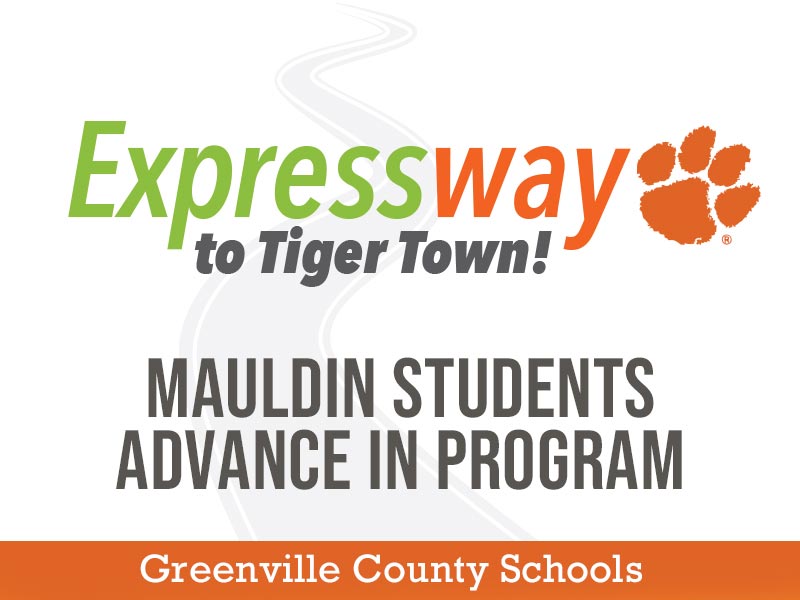 Photos
---