Posted: Thursday, March 16, 2023
Dr. Burke Royster Named 4A/5A Superintendent of the Year
GCS Superintendent Dr. Burke Royster was named 4A/5A Superintendent of the Year by the South Carolina Athletic Administrators Association this week. This award is given each year to the superintendent who has shown outstanding leadership and support of athletics on both the state and local levels.
As a former teacher and coach, Dr. Royster deeply values athletics which he sees as a mechanism for students to learn valuable life skills in line with the District's Graduation Plus initiative. The nomination for this award cites his willingness to go above and beyond for interscholastic athletics. As Superintendent, he has worked to establish full-time Athletic Director positions at all GCS high schools, as well as assistant coaching positions in multiple sports to provide additional support to student-athletes and programs, and has ensured state-of-the-art weight training is available to GCS students. He has spearheaded efforts to provide financial assistance, on a sliding scale based on the poverty level of the school, for equipping weight rooms at all locations, including funding up to one hundred percent at the district's schools with the highest percentage of Pupils in Poverty, where booster clubs and community-based fundraising may not be possible. The positive impact of his leadership can be seen in his coaching, teaching, and serving interscholastic athletes both in Greenville County Schools and across the state of South Carolina throughout his educational career.
GCS Director of Athletics Darryl Nance shares, "Dr. Royster provides leadership, guidance and support to all areas of the district and has particularly supported athletics and the growth of our programs across Greenville County Schools. While he is often a spectator on the sidelines at our games, he is far more than that – he is a champion for athletics and creating a great experience for all our student-athletes."
Founded in 1991, the South Carolina Athletic Administrators Association is the formal organization for the state's athletic directors. Offering professional development courses, leadership training and student scholarships, the SCAAA seeks to recognize both exceptional school programs and individuals who demonstrate outstanding leadership and support to athletics.
Congratulations, Dr. Royster.
Dr. Royster is pictured with SCAAA President, Bill Warren.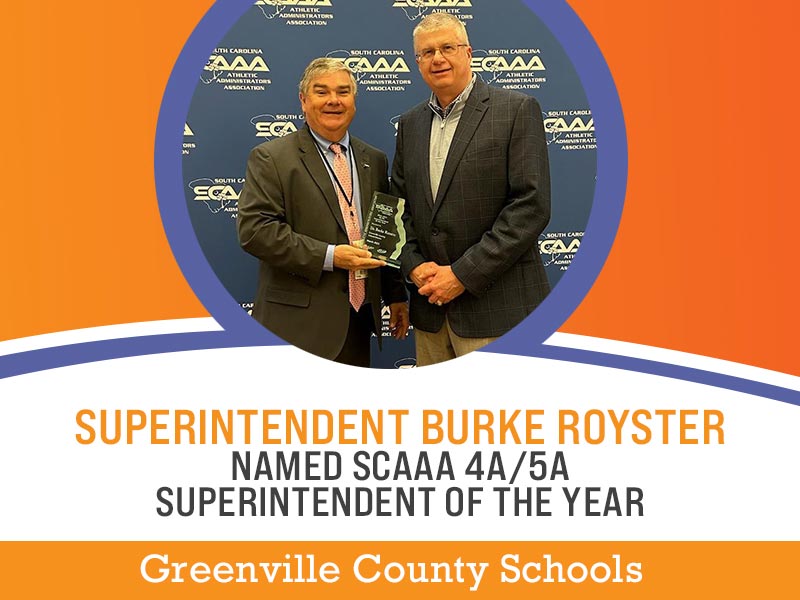 ---