Posted: Tuesday, March 14, 2023
Health Careers Night at the Greenville Drive
All Greenville County Schools students are eligible for a free ticket to attend the seventh annual Health Careers Night and attend a baseball game at the Greenville Drive on Wednesday, April 12th.
Bring your family to the ballpark to learn about health courses and certifications offered in Greenville County Schools. The overarching goal of this event is to engage, excite, and educate middle & high school students throughout the region about the wide variety of careers available in the rapidly changing and evolving healthcare industry.
Before the game, check out the interactive health fair at District 356, the entertainment district directly adjacent to Fluor Field, where there will be hands on activities that show how working in this industry helps improve the overall health of the community. Inside the ballpark, the Fluor Field concourse will transform into a career fair with displays and exhibits from the USC School of Medicine Greenville, Greenville Technical College's School of Health Sciences, Clemson University's School of Nursing, Furman University, various Prisma Health clinical departments and programs, the Health Sciences Center at Prisma Health, and more.
To see a full schedule of the event and claim your free ticket, visit the Health Careers Night webpage.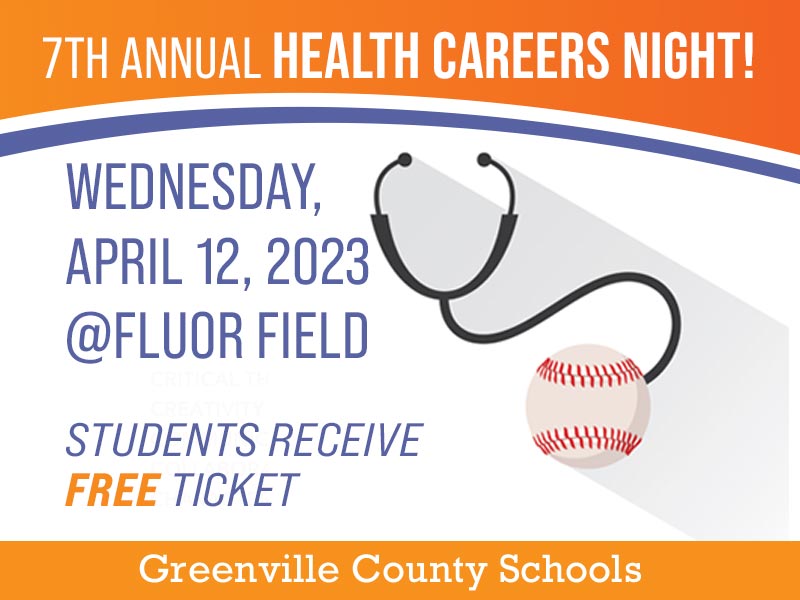 ---