Posted: Monday, February 13, 2023
Tuition Assistance Offered for Counselor Education Cohort
Greenville County Schools is pleased to announce, in partnership with Clemson University, a $5.8 million award from the U.S. Department of Education. This grant, which will fully cover tuition, will be used over the next five years to identify and educate current Greenville County Schools employees who seek to become school counselors, allowing current teachers and other employees in the district to continue working while pursuing this opportunity.
Elizabeth House, director of school counseling services for Greenville County Schools, shared that the district has the lowest ratio of students to school counselors in the state, but the district seeks to have more counseling support due to its size and its desire to increase diversity among school counselors.
"School counseling has taken on an increasingly important role in schools, and we look forward to being able to place additional professionals in Greenville County Schools who can provide that strong support system for students and teachers," House said. "The fact that these professionals will come from existing positions in the district and represent the makeup of our school communities will make them that much more effective."
Amanda Rumsey, assistant professor in the College of Education at Clemson University and project leader, said that recruiting directly from the district will have numerous benefits for schools in both the short and long term.
"We will work to train people from the district who are already familiar with their schools, and we will focus on supporting all schools with special attention to those schools with the most need," Rumsey said. "More highly trained counselors ultimately help every teacher and student in the school system as well as the communities that surround them."
The project will recruit from Greenville County Schools and build cohorts of 12 students each year for four years. These cohorts will complete the College's counselor education program along with graduate students preparing to be school counselors and clinical mental health counselors. Rumsey envisions current teachers and other district employees taking advantage of the opportunity, as graduate students will retain employment in the school system and tuition will be covered entirely by the grant.
Students in the program will complete the 60-credit-hour program, which includes 700 hours of supervised field experience in a PK-12 school. To make the program experience as relevant and impactful as possible, all field experiences will take place in Greenville County Schools, with a minimum of 600 hours in high-needs schools.
Admission into the GCS CCC program is a 2-step process:
Application to Clemson's graduate program in Counselor Education is the first step to be considered for the tuition-supported cohort of 12 GCS participants. Admission to Clemson's program does not guarantee a seat in the tuition-supported cohort. Upon acceptance to Clemson's graduate program in Counselor Education, applicants are eligible to apply to GCS for admission into the CCC cohort, with full tuition support.
Program Overview of MEd and EdS in Counselor Education
For questions, reach out to Greenville County Schools: Elizabeth House gcs_ccc@greenville.k12.sc.us.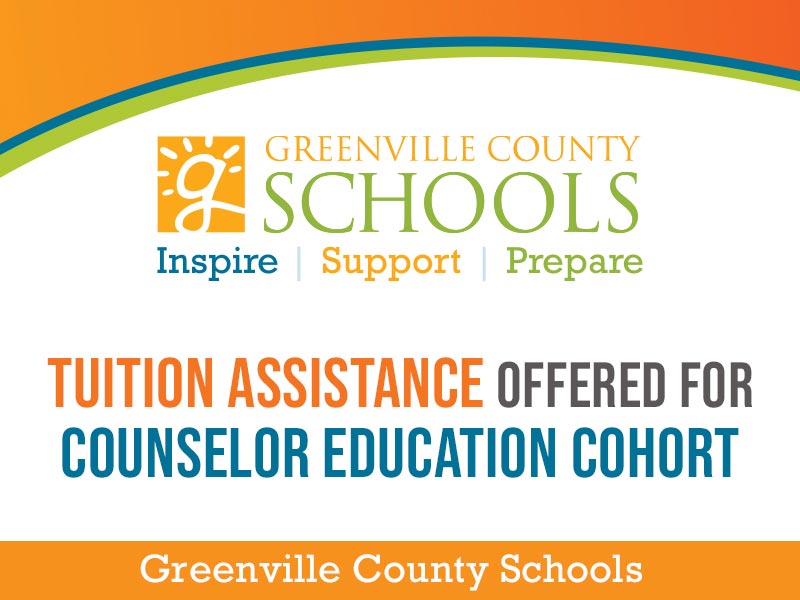 ---