Posted: Thursday, September 29, 2022
Weather Update - September 30, 2022
Greenville County Schools on eLearning Friday, September 30. All activities are canceled. Facilities closed.
Greenville County Schools will have an eLearning day tomorrow, Friday, September 30. Schools and office buildings will be closed to the public and all activities, including athletic events and field trips, are canceled. The District's ICE (Inclement Conditions Evaluation) Team evaluated the forecasts related to Hurricane Ian, and the decision was made based on the wind conditions and potential for power outages. The wind conditions are predicted to be up to 48 MPH, which is greater than the parameters for safely operating buses as required by SC Dept of Education (sustained winds 30 MPH or greater, or frequent wind gusts exceeding 40 MPH). Numerous schools across the county experienced intermittent power outages due to wind conditions today, and the forecasts predict the potential for additional power outages due to downed trees and powerlines, which could further inhibit safe travel and building operations tomorrow.
Because we are an approved eLearning district, this day will not have to be made up and instruction will be provided through Google Classroom. Students will complete eLearning assignments later if they are unable to participate due to power outages, lack of internet service, or other barriers. Once operations resume, school personnel will begin rescheduling events as appropriate. In the meantime, GCS District personnel will continue to monitor conditions across the county and compare forecast models to determine if there will be impacts to any events on Saturday. Please check local media, the district website, and the district's social media for the latest information on school closings or delays. The Inclement Weather Instructional Plan can be viewed below.
Inclement Weather Instructional Plan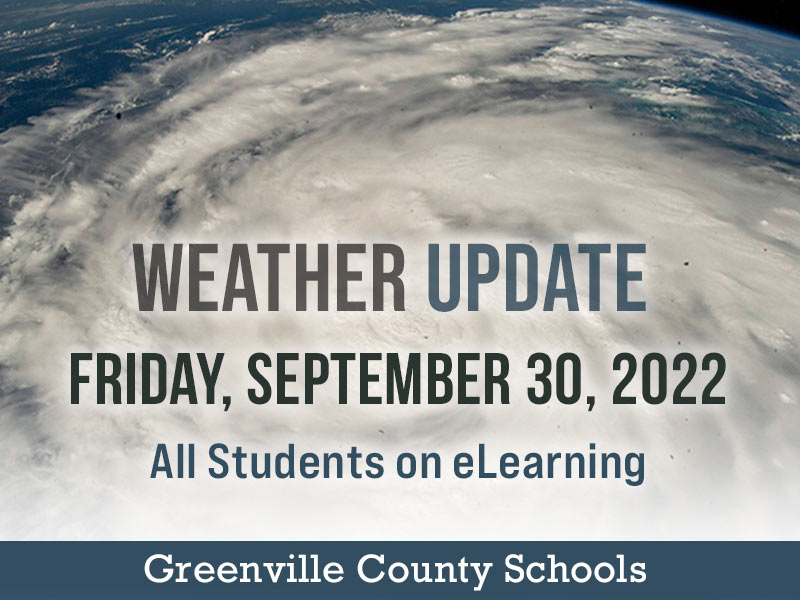 Las escuelas del condado de Greenville tendrán un día de aprendizaje virtual mañana viernes 30 de septiembre.
Las escuelas y los edificios de oficinas estarán cerrados y todas las actividades, incluidos los eventos deportivos y las excursiones, se cancelarán. El equipo de evaluación de condiciones adversas (ICE, por sus siglas en inglés) del distrito evaluó los pronósticos relacionados con el huracán Ian, y la decisión se tomó en función de las condiciones del viento y la posibilidad de cortes de energía. Se pronostica que las condiciones del viento serán de hasta 48 MPH, que es mayor que los parámetros para operar autobuses de manera segura según lo requiere el Departamento de Educación de Carolina del Sur (vientos sostenidos de 30 MPH o más, o ráfagas de viento frecuentes que exceden las 40 MPH). Numerosas escuelas en todo el condado experimentaron cortes de energía intermitentes debido a las condiciones del viento hoy, y los pronósticos predicen la posibilidad de cortes de energía adicionales debido a la caída de árboles y líneas eléctricas, lo que podría inhibir aún más los viajes seguros y las operaciones de construcción mañana.
Debido a que somos un distrito de aprendizaje virtual aprobado, este día no tendrá que recuperarse y la instrucción se proporcionará a través de Google Classroom. Los estudiantes completarán las tareas de aprendizaje virtual después si no pueden participar debido a cortes de energía, falta de servicio de Internet u otras barreras. Una vez que se reanuden las operaciones, el personal de la escuela comenzará a reprogramar los eventos según corresponda. Mientras tanto, el personal del Distrito de GCS continuará monitoreando las condiciones en todo el condado y comparará los modelos de pronóstico para determinar si habrá impactos en algún evento el sábado. Consulte los medios locales, el sitio web del distrito y las redes sociales del distrito para obtener la información más reciente sobre el cierre o retrasos de las escuelas.
El Plan de instrucción para las inclemencias del tiempo se puede ver aquí
---