Posted: Monday, April 11, 2022
TeachGCS at Fluor Field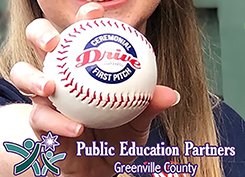 The Greenville Drive, Public Education Partners, and Greenville County Schools will host the third annual TeachGCS on Tuesday, April 19, 2022 at Fluor Field to celebrate our district's greatest asset---our teachers! All GCS teachers will receive a complimentary ticket, a t-shirt, and a $5 food voucher.
The promo code for a free ticket is available in your employee eBulletinboard, or by checking with your supervisor.
For more information, contact Qena Jennings at Public Education Partners at 864-255-5333.
---