Posted: Monday, April 11, 2022
Greer Middle School named finalist for Riley Award for SIC Excellence
Greer Middle School is among five schools in South Carolina School whose School Improvement Councils (SICs) have been named statewide 2022 award finalists for their accomplishments in parent and civic engagement within their school communities.
The SC School Improvement Council's annual Dick and Tunky Riley Award for School Improvement Council Excellence was created in 2002 to recognize the significant contributions made to public education by more than 12,000 local SIC members who volunteer in the state's 1,100-plus K-12 public schools.
In alphabetical order, this year's Riley Award finalists are:
Bookman Road Elementary SIC (Richland School District Two)
Greer Middle SIC (Greenville County Schools)
Joseph Keels Elementary SIC (Richland School District Two)
Leavelle McCampbell Middle SIC (Aiken County Public School District)
Millwood Elementary SIC (Sumter School District)
"Congratulations to these SICs on this recognition of their outstanding efforts on behalf of their schools and students," said SC-SIC Board of Trustees Chair Robert Grant. "Their achievement is evidence of the meaningful impact that parents, educators, students, and community members can make when they work collaboratively on shared goals."
The winner of this year's Riley Award will be selected from this year's finalists by an independent panel of reviewers and announced during a virtual award ceremony in April.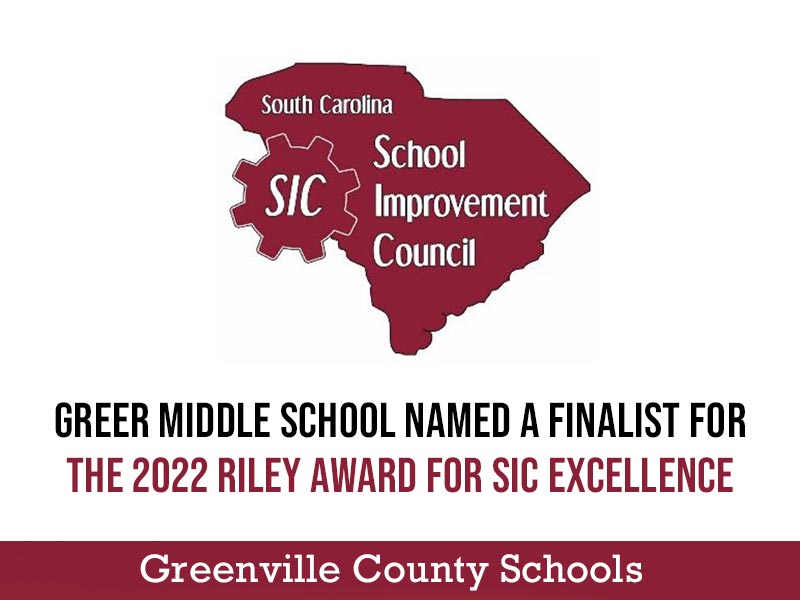 ---