Posted: Monday, November 15, 2021
GCS Magnet Academies Accepting First Round of Applications
Greenville County students who are interested in attending one of our Magnet Academies need to register by Monday, November 29 to be included in the first application window. There are six windows total, but it is important for students to try to apply in the first round due to limited spots. Applications are processed and parents are notified within a week of the end of each window.
Magnet Academies are schools with a special focus that give students the opportunity to go above and beyond in a specific learning area. Greenville County Schools offers eleven academies including:
Elementary – K5, 1st, 2nd, 3rd, 4th, 5th
Blythe Academy of Languages
East North Street Academy of Mathematics and Science
Stone Academy of Communication Arts
Middle – 6th, 7th, 8th
Beck Academy of International Relations and Public Service
Greenville Middle Academy of Global and Traditional Studies
Hughes Academy of Science and Technology
League Academy of Communication Arts
High – 9th, 10th, 11th, 12th
Carolina Academy of Engineering and Health Professions
Greenville Senior High Academy of Law, Finance and Business
J.L. Mann Academy of Mathematics, Science and Technology
Southside High International Baccalaureate Diploma Program
Students who miss out on the first application window or decide to apply to a Magnet Academy at a later date will have five other opportunities to do so. Those windows include:
2nd Round – December 6, 2021 – January 24, 2022
3rd Round – January 31, 2022 – February 28, 2022
4th Round – March 7, 2022 – May 9, 2022
5th Round – May 16, 2022 – July 11, 2022
6th Round – July 13, 2022 – August 8, 2022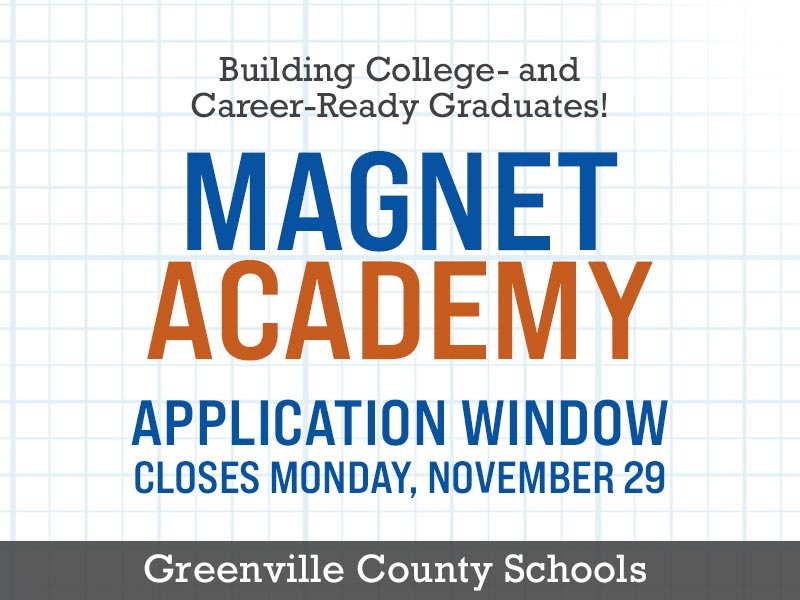 To apply, students should fill out an application on the GCS Magnet page.
---