Posted: Tuesday, June 22, 2021
Riverside High Senior Laurel Holley Named US Extemporaneous Speaking Champion
Congratulations to Riverside High School senior Laurel Holley for winning the United States Extemporaneous Speaking Champion at the 2021 National Speech and Debate Association Tournament, the largest academic competition in the world. Holley won both the tournament and the final round President's Bowl.
In extemporaneous speaking, the student is given a question of national importance and has 30 minutes to prepare a memorized 7-minute speech that responds to the question with a combination of quoted research and original analysis. The speech is expected to resemble a good news analysis on a Sunday morning public affairs show.
On her final round ballot, Judge Christine Adams, project coordinator for the Great Communicator Debates at the Reagan Library, wrote that Holley was "the total package." Other judges noted that she was the best speaker in the round, had a detailed understanding of the topic, and demonstrated naturalness and empathy. Holley is also the South Carolina Speech and Debate Student of the Year and is ranked 6th in the nation for total speech points by the NSDA, a system that charts career performance regardless of event.
Holley's national championship is especially satisfying for the Riverside speech community. The school is no stranger to national final rounds. The team's founder and first coach, Ruth McAllister, coached several students to finals in main and supplemental events. For the past ten years, however, the Riverside team has enjoyed extraordinary team success but no main event finalists. The school has won the SC state championship for ten straight years, had a national semifinalist (14) student(s) in one or more events for ten straight years, made 6 final supplemental rounds, and earned numerous national school awards.
In 2018, the school was named one of the top ten programs in the country for its performance at the NSDA National Tournament. Still, main event final eluded the program. The "runner-up" streak ended on Saturday with Laurel Holley's national championship.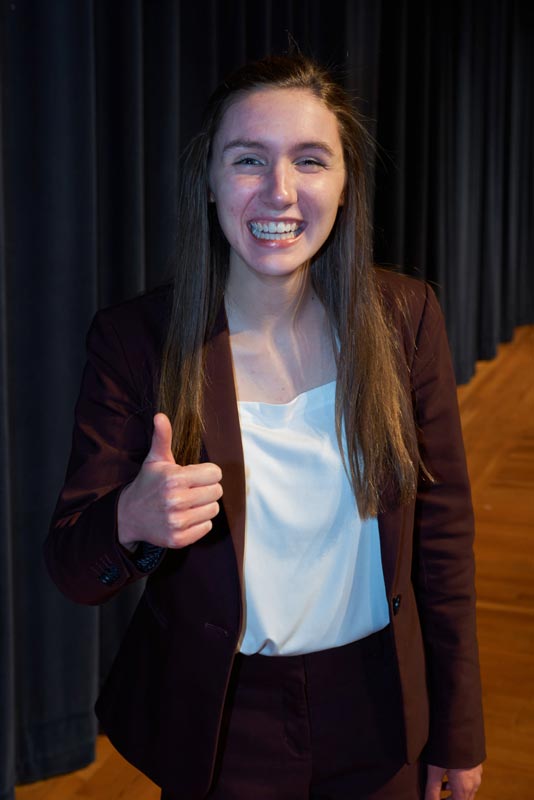 ---