Posted: Monday, May 20, 2019
BMW Charity Pro-Am Features Roper Mountain
We are grateful to share with you that Roper Mountain Science Center has been chosen as one of the featured charities of the BMW Charity Pro-Am tournament, taking place June 6-9 at Thornblade Club and The Cliffs Valley. As one of the featured charities, Roper Mountain will receive the entire proceeds from ticket sales, one-half of the proceeds from the volunteer registration fees for those who volunteer and choose Roper Mountain as their beneficiary, and the proceeds from anyone who donates to Birdies for Charity.
So, whether you're an avid golfer or just want to support Roper Mountain Science Center, there are several opportunities to get in on the action at this year's tournament, listed below.
Volunteer:
Volunteers typically work a 6-hour shift one (or more) of the tournament days. You may choose when and where you work, plus which job you would like on a first-come, first-register basis. Most positions do not require golf acumen to do. The cost to volunteer is $40, which covers your volunteer polo shirt, headwear, volunteer credential, guest credential, food and beverages during volunteer days, and more. Roper Mountain will receive $20 for each person who volunteers and chooses us as their beneficiary. Register online (be sure to select Roper Mountain Science Center).
Birdies For Charity:
Enter the Birdies For Charity contest where all proceeds come back to Roper Mountain! Simply make a one-time flat donation OR pledge one cent or more per birdie to guess the number of birdies that will be made by the Web.com Tour Pros during the tournament. A grand prize of an outing for four people to the BMW Performance Center and a one-month lease of a BMW X5 will be awarded to the individual who guesses the correct number. If Roper Mountain has the most designated funds from this contest, the tournament will donate an additional $3,000 to us. to make your pledge today! Make your pledge.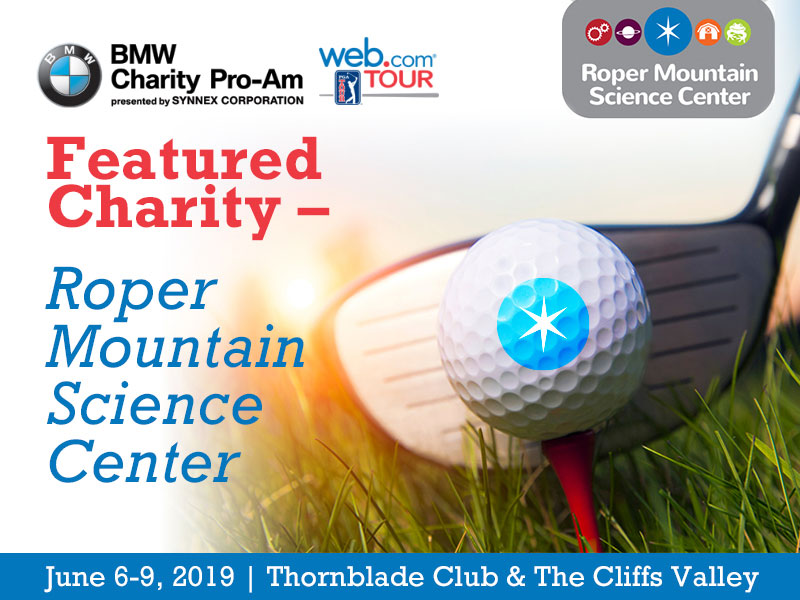 And, don't forget in addition to all of the golfers, there are a number of great celebrities participating as well that you'll be able to see first-hand:
Super Bowl champion and former NFL Quarterback Brett Favre
Television actor Anthony Anderson (Black-ish)
Television actor Brian Baumgartner ("Kevin" - The Office)
MLB All-Star Josh Beckett
Television actor Lucas Black (NCIS)
Comedian Larry the Cable Guy
ESPN Anchor Michael Collins
Miss America 2015 Kira Kazantsev
NFL player Patrick Peterson
Duck Dynasty star Willie Robertson
Former MLB player Iván (Pudge) Rodríguez
Southern Charm star Shep Rose
Former MLB player Ozzie Smith
Former NFL player Josh Scobee
Former MLB player Fred McGriff
---