Posted: Monday, February 25, 2019
Teacher Saves Choking Student in Cafeteria
Plain Elementary second grade teacher Tina Hamilton took quick action when one of her students was in distress.
"What happened was I was eating lunch with my friends and I was eating my Lunchables," said Dorian Diaz. "The ham is my favorite thing. Sometimes I only eat the ham. I choked on it."
Hamilton says, "Dorian came to me and I could tell his face was red. He was clearly scared. I felt like something was wrong. I tried to talk with him and he couldn't speak back. At that moment I knew I had to do something."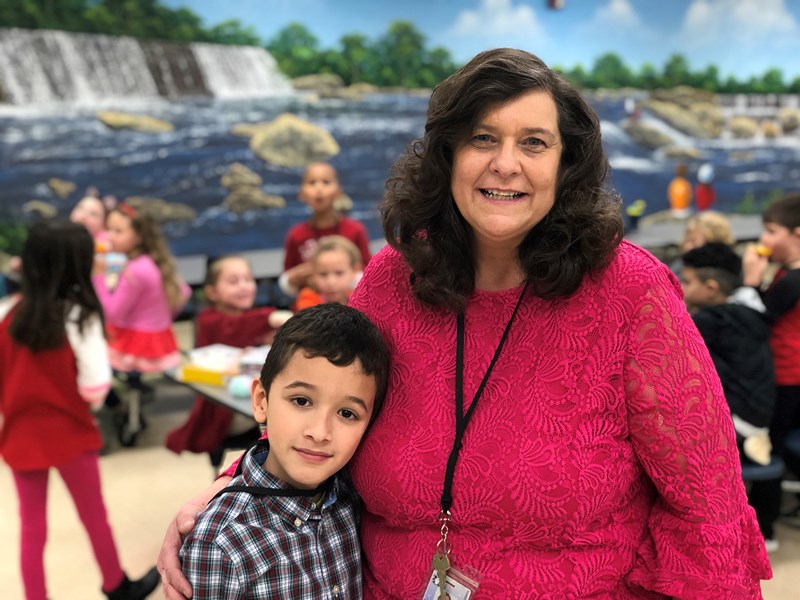 Hamilton performed the Heimlich Maneuver on Dorian and dislodged the ham from his throat. Hamilton says she learned the technique by watching Greenville County Schools safety training videos. "It shows you what to do when a child is choking," she says, "and I did what i saw in the video."
Dorian says, "I am thankful Miss Hamilton was there to help me. If she hadn't I would not have been able to breathe."
Hamilton will be recognized with a Greenville County Schools Miracle Worker award at the February 26th meeting of the School Board of Trustees.
---