Posted: Wednesday, February 6, 2019
Clark, Anderson Receive Teaching Excellence Awards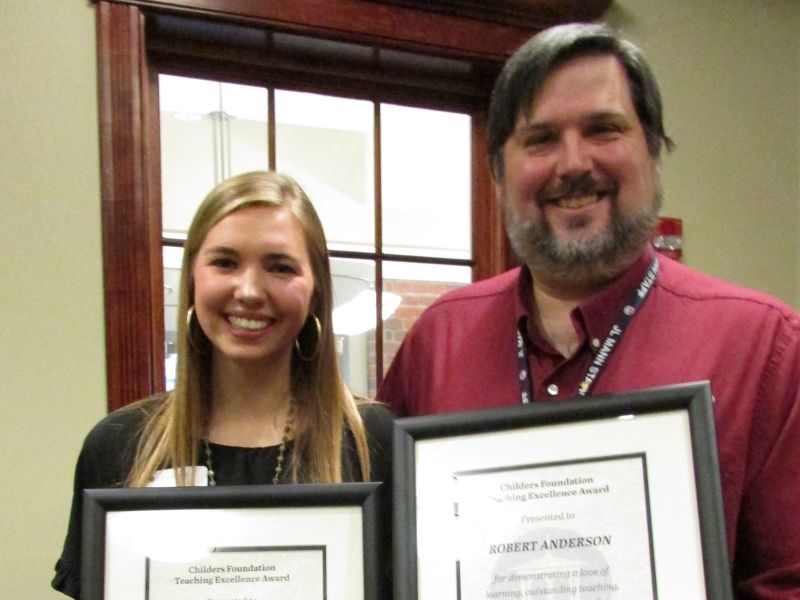 Two Greenville County Schools teachers have been named recipients of the 2018-2019 Childers Education Foundation Teaching Excellence Award from Furman University. Robert L. Anderson III, an astronomy and earth science teacher at J.L. Mann Academy, and Margaret Clark, a fourth grade teacher at Buena Vista Elementary, were selected for the awards.
Both Clark, an elementary education major, and Anderson, a physics major who certified to teach secondary education, graduated from Furman in May 2018. They each received a $1,500 award during a conferral ceremony and special reception on January 16.
A committee of Furman faculty, along with school administrators and mentor teachers who worked closely with award nominees, used three main criteria in selecting the Childers Award winners: love of content, love of teaching, and love of student.
"Bob Anderson and Margaret Clark are, not only passionate about teaching, but truly care about their students' growth and well-being," said Dr. Nelly Hecker, Education Professor and Department Chair. "We are proud to honor their accomplishments as teachers and Furman graduates."
Margaret Clark was recognized by her mentor, Abby Price, for her contributions to the fourth grade team at Buena Vista and her efforts to create a welcoming, home-like atmosphere in her classroom. "She encourages students to feel proud of their work and share what they researched with the rest of the class," said Price.
"Fostering positive relationships with my students is my favorite part of my job," said Clark. "I guide my students to set goals and work diligently to accomplish them. It brings me such joy to motivate, encourage, and challenge my students in their learning."
Bob Anderson decided to pursue a career as a teacher after 16 years in the information technology field. At age 35, he began the honors program at Greenville Technical College and was later selected as the recipient of the Alden Memorial Transfer Scholarship to complete his bachelor's degree at Furman University.
"Bob Anderson represents the best of our profession," said Penny Beacham, one of Anderson's mentors, citing his passion for science, his effective use of technology in the classroom, and his concern for his students.
"My ultimate desire is to reach the individual student within my classroom. I've never been so invested in the lives of those outside of my family," said Anderson. "I've never been more anxious to see what the next day brings to my classroom. I've also never been more satisfied than I am standing before my 121 students for the 250 minutes a day I am blessed to have them. I am exactly where I am meant to be."
The award for first-year teachers was established in 2009 by Marybeth Bunting Childers '80, an education major at Furman who founded two schools and was named North Carolina Teacher of the Year, and her husband, Alfred Childers '80, a former member of Furman's Board of Trustees.
---