Posted: Tuesday, January 15, 2019
Greenville County Schools Recognizes Michelin North America as Inaugural Partner of the Year
Superintendent Dr. Burke Royster has announced Michelin North America as the 2019 Greenville County Schools Partner of the Year. This award was created to recognize and affirm organizations, groups, or individuals who are making a significant positive impact on our ability to fulfill the school district's mission. This impact could be through volunteer time, financial contributions, in-kind donations, or other collaborative supports to students, schools or the district as a whole.
"Through its commitment to the students of Greenville County Schools, Michelin has leveraged its resources and human capital to improve the lives of countless children in our district.  Along the way, they have also reinforced the value of public-private partnerships, bolstered morale among educators, and forged a path for other organizations with core business values built around altruism and giving back," Royster said.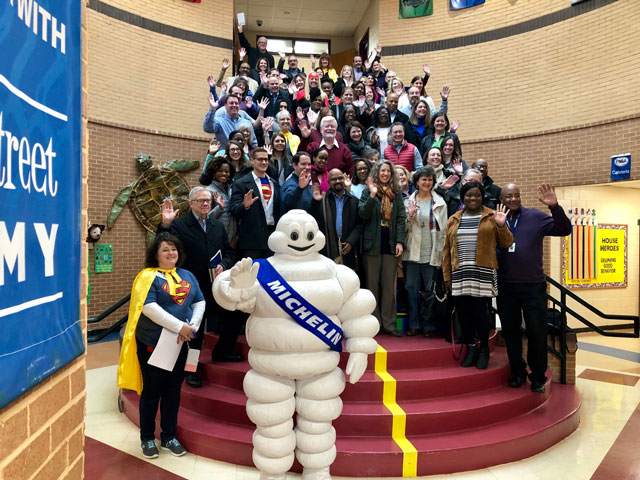 Greenville County Schools is celebrating 10 years of Michelin Challenge Education at A.J. Whittenberg Elementary, East North Street Academy, Ellen Woodside Elementary, Grove Elementary and Sue Cleveland Elementary. Michelin Challenge Education is focused on literacy, but supports math and science clubs, tutoring, mentoring and specific financial needs in these Title I schools.
In addition to the Challenge program, Michelin has a Lunch Buddies Mentoring Program to provide academic, emotional, and social support for elementary students, a Tech Scholars program for high schoolers interested in a career in manufacturing, and a Youth Apprenticeship program to provide hands-on, real world experiences for GCS high schoolers.  Many Michelin engineers volunteer in schools as a part of STEM hands-on learning opportunities. Michelin is a consistent, reliable partner. Their leadership has made a corporate commitment to public education by allowing volunteers to contribute during the work day.
In accepting the award Michelin Chief Administrative Officer Joanie Martin said, "In addition to Greenville County, the Michelin Challenge Education program is located in every community where Michelin operates in the United States and in Canada. Michelin Challenge Education was created in 2009 with the purpose of providing support to public title one elementary schools in the form of tutors, mentors, lunch buddies and financial contributions. Ten years later, the program is now part of 23 schools in North America. In South Carolina alone, 484 employees volunteered 673 days in schools over the past year."
---