Posted: Friday, November 2, 2018
Bill Brown Receives SC CIO Award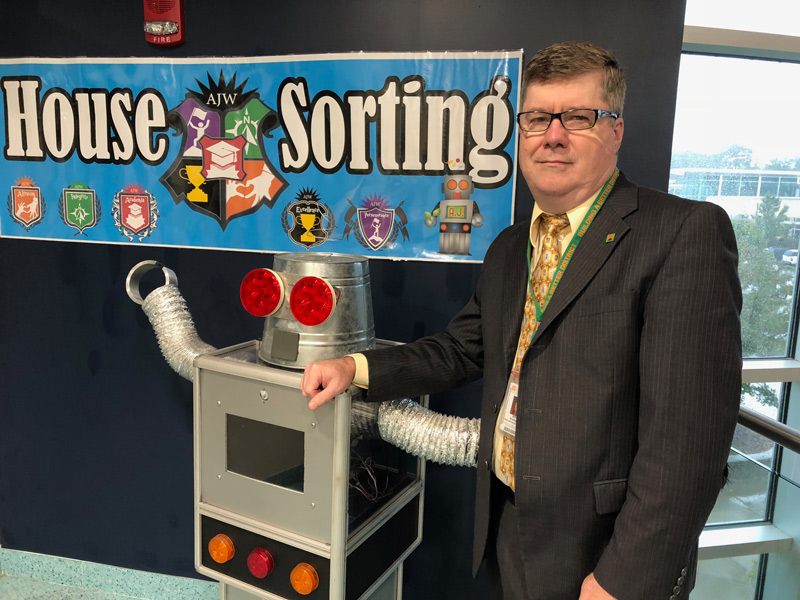 Greenville County Schools Executive Director of Education Technology Services Bill Brown is the recipient of the 2018 South Carolina CIO (Chief Information Officer) Award presented by Acumen IT. Brown is also one of three recipients of the 2018 South Carolina CIO Judge's Pick Award.
The SC CIO Award recognizes an individual who works productively with business partners; ensures alignment of technology direction with the company's strategy; demonstrates growth in their information technology team; shows strong leadership; and is involved in the community.
Bill Brown has been in the information technology industry for 40 years, and has served Greenville County Schools for the past 12 years. A significant achievement for Greenville County Schools started in 2016 when Mr. Brown applied for a grant to have Wi-Fi installed in all school buses, making GCS the first in the nation to equip their entire fleet of buses with Internet access. The State of South Carolina awarded the grant and fully funded the project in the amount of $1.2 million. The initial project called for a five-year deployment schedule. However, due to the project's full funding, the schedule was completed in one year.
Today, all 425 regular and special education buses have Internet access and the 26,108 students that ride the bus can continue their learning on the way to and from school. The project is expected to provide an average of 45 minutes more per day of learning for students who ride the bus.
Student and staff safety is the number one priority Greenville County Schools. Two years ago, Brown re-designed and enhanced the car-line dismissal system to encompass all aspects of student accountability. The Student Accountability System tracks all middle and elementary school student dismissals, indicating who was dismissed, what time, and whom picked up the student. This included car riders, walkers, bus riders, and extended day car riders.
Brown was also directly responsible for the selection and implementation of a new visitor and volunteer system with the development of a streamlined and online criminal background check for volunteers who may have one-on-one contact with students. Last year, the system processed sex offender registry checks on 335,311 visitors, logged 327,220 volunteer hours for 95,750 volunteers and electronically processed over 13,725 criminal background checks.
Brown generates value from IT by expanding the abilities and functionality of older applications to better meet business needs. He engineered a way to leverage Chromebooks and tablets to act as a time entry interface for bus drivers to log their hours from their buses. This not only expands the capabilities of the existing time card system, but also provides value with more accurate time charging by 93 percent.
Brown encourages professional growth and innovation while maintaining optimal staffing levels, balancing needs with expenditures and saving taxpayer dollars. The state average is 1,489 devices per field service technician, while Greenville's ratio Is 5,000 devices per technician. Over 50,000 Help Desk calls are entered each year with an average response time under eight hours.
Brown believes in leadership by example and is accessible around the clock. A good indicator of Mr. Brown's leadership Is the fact his department has one of the lowest turnover rates in the district and one of the highest customer satisfaction scores.
Prior to employment with Greenville County Schools, the South Carolina Senate recognized Bill Brown for receiving a Community Service Award presented by the school district which states, "In appreciation for you significant contributions of time and services to public education that have enhanced the lives and broaden the horizons of young men and women who are the future leaders of our community, state and nation."
When he's not at work with the district, Brown volunteers in the South Carolina State Guard as a Project NCO assigned to the Cyber/intelligence Detachment, Headquarters Division. This new detachment will assist private and public organizations in South Carolina with cyber security related issues and training.
Greenville County Schools has one of the largest Information Technology infrastructures in the state with over 150,000 computers, printers, network devices installed and growing each day. Average daily computer connections exceeds 70,000 with another 28,000 daily connections from personal devices, The Greenville County Schools Information Technology department is staffed with 63 full-time professionals.
---