Posted: Thursday, May 10, 2018
U.S. News Best High Schools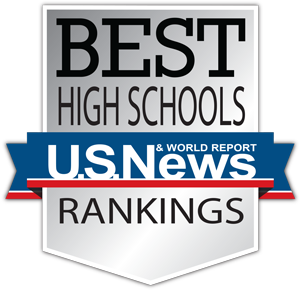 Eastside, Wade Hampton, Mauldin, and Riverside High schools are among the top-ranked high schools in South Carolina and the nation, according to the 2018 U.S. News Best High Schools rankings. The schools earned Silver Medals for their accomplishments. Berea High School also earned a Bronze award for their accomplishments.
Eastside High ranks #4 in South Carolina and #1,034 in the nation.
Wade Hampton High ranks #5 in South Carolina and #1,133 in the nation.
Mauldin High ranks #10 in South Carolina and #1,438 in the nation.
Riverside High ranks #14 in South Carolina and #2,046 in the nation.
Berea High is nationally ranked.
The U.S. News rankings include data on more than 20,500 public high schools in 50 states and the District of Columbia. Schools were awarded gold, silver or bronze medals based on their performance on state assessments and how well they prepare students for college.
To produce the 2018 Best High Schools rankings, U.S. News & World Report teamed with North Carolina-based RTI International, a global nonprofit social science research firm.
RTI implemented the U.S. News comprehensive rankings methodology, which is based on these key principles: that a great high school must serve all of its students well, not just those who are college bound, and that it must be able to produce measurable academic outcomes to show it is successfully educating its student body across a range of performance indicators.
A four-step process determined the Best High Schools. The first three steps ensured that the schools serve their entire student body well, using their performance on the math and reading parts of their state proficiency tests and their graduation rates as the benchmarks. For those schools that made it past the first three steps, a fourth step assessed the degree to which schools prepare students for college-level work.
---