Posted: Wednesday, April 25, 2018
26 Seniors Receive Scholarships from GCS Golf Tournament Proceeds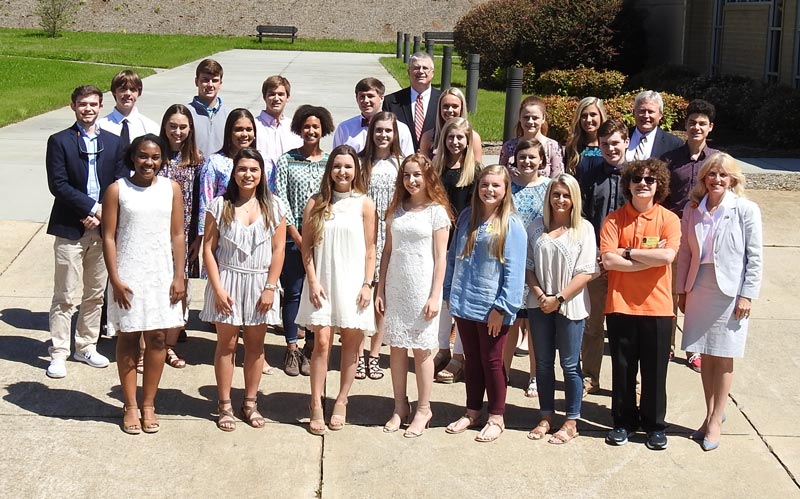 Greenville County Schools has awarded $39,000 in GCS Golf Tournament scholarships to 26 seniors at a luncheon sponsored by Greenville County Schools Foundation. Seventeen recipients were chosen from entries received from District employees' children. The remaining scholarship winners were selected from students' applications across the school system. Over the past 22 years, more than $500,000 has been awarded to high school seniors as part of the GCS Scholarship Program.
Judges for this year's scholarship program were: Danielle Staggers Dyer, Assistant Director, Bridges to a Brighter Future; Mary Capers Bledsoe, Executive Director, SC YMCA Youth in Government and Teen Services; and Chris Haines, Coordinator of School-Based Mental Health Programs, Greenville Mental Health Center.
The 22st annual Greenville County Schools Golf Tournament was held last fall at Pebble Creek Club.
2018 Scholarship Recipients
Berea High School
Sydney Maness, University of South Carolina
Blue Ridge High
Hayden Lines, College of Charleston
Courtney Snow, Clemson University
Carolina High and Academy
Ellery McNeill, Winthrop University Honors College
Eastside High
Brooke Mowatt, University of South Carolina
Greenville High Academy
Kyndra Holmes, Clemson University
Shaler Smith, University of Georgia
Greer High
Amanda Farmer, Clemson University
Hillcrest High
Jared Danko, University of South Carolina
Kara Devine, Emory University
Cierra Oliveira, Clemson University
Hannah Swift, Clemson University
JL Mann High Academy
Hannah Buford, Clemson University
Benjamin Godfrey, Clemson University
Micayla McMahon, Clemson University Honors College
Mauldin High
Alexandra McNair, Clemson University
Erin Phillips, Emory University
Julia McElhinny, Undecided
Riverside High
Clark Derrick, Clemson University
Southside High
Oscar Guillen, Furman University
Travelers Rest High
Madison Bruce, University of South Carolina
Wade Hampton High
Juliana Franco, Clemson University
Caedmon Storm, Clemson University
Woodmont High
Madison Miro, Clemson University
Morgan Scott, The Juilliard School
Aaron Wells, Clemson University
---