Posted: Tuesday, December 5, 2017
Liza Manuel - Coaching the Voice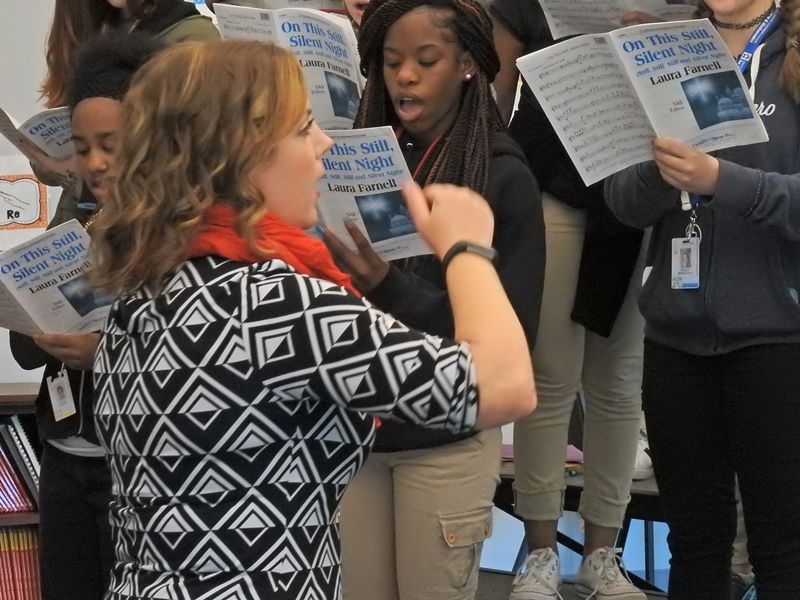 It's obvious when you enter Liza Manuel's chorus room at Fisher Middle School that her students love her. They're rehearsing songs for an upcoming winter concert, and they are focused on a pitch-perfect performance. "She's very positive and believes in everyone and everything they do. She's always there for everyone," said Megan, an eighth grade chorus student.
VJ appreciates how his teacher encourages students to do their best. "Ms. Manuel tells me to keep going. I'm in advanced classes and sometimes stressed with a lot of work so when I come to her class it's like a stress reliever," he said.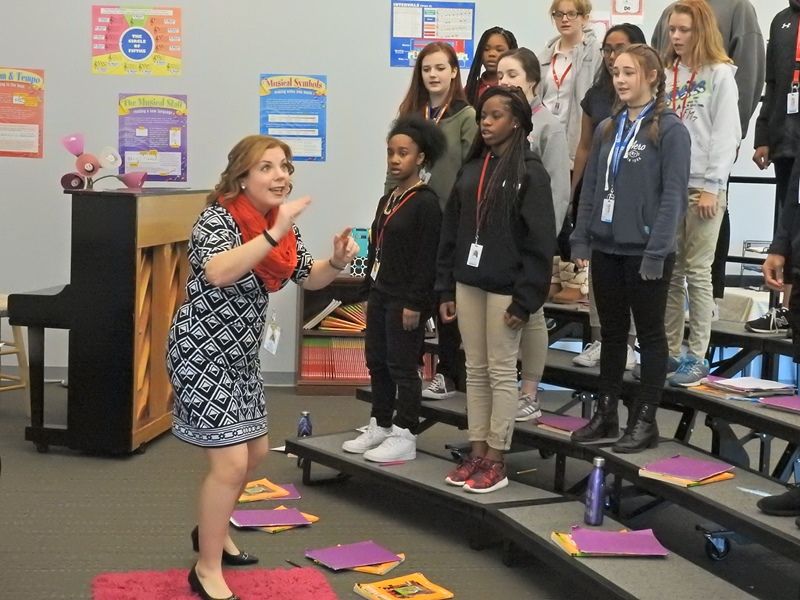 Liza Manuel has taught chorus for 16 years, including 13 years at Woodmont Middle School before joining Fisher three years ago. Two amazing singers were among her most talented Woodmont students – Delvin Choice and Ashland Craft. If you think these names sound familiar, you're right. Delvin Choice was a finalist in the 2014 season of NBC's The Voice, and Ashland Craft made it to the Top 10 on this season of The Voice.
"I taught Delvin Choice for his seventh and eighth grade years. Those were my first two years at Woodmont Middle," explained Manuel. "I taught Ashland during her sixth, seventh and eighth grade years at Woodmont Middle."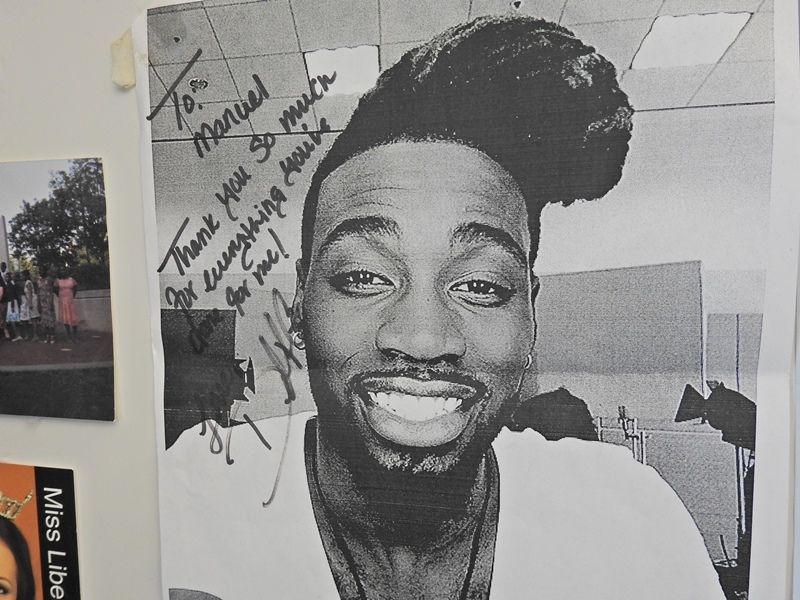 While Manuel doesn't want to take credit for the singers' amazing talents, she knows she played a role in their success. "These students grew up in the church, and they came out of the womb singing. They were that talented the minute they walked in my classroom. It is a natural gift for both of them," she added.
She's kept in touch with Delvin since his starring role on The Voice. "He would stop by to visit. He was really big on giving back to the community that raised him. That is something that is very near and dear to his heart. The kids always loved it when he walked in." Manuel is confident that Ashland will come back and visit when she is in town again.
Over the years, Manuel has coached her choral groups to earn some very impressive awards, including a Superior Award at Carowinds two years ago. "Last year, I took the same group to Atlanta to the Southern Star Music Festival. We earned the highest rating of Gold and we also earned the Sweepstakes Award, which meant we were the highest scoring choir for the whole weekend. We were really proud of that one," she said.
"I am really happy. I really think I was put here to teach choral music. I like my classroom and I like seeing my students perform. It builds them up and makes them excited and gives them something to be proud of. I couldn't ask for more," she said.
---