Posted: Friday, November 17, 2017
American Education Week - District Staff Appreciation Day
Dr. Jason McCreary: Making a Difference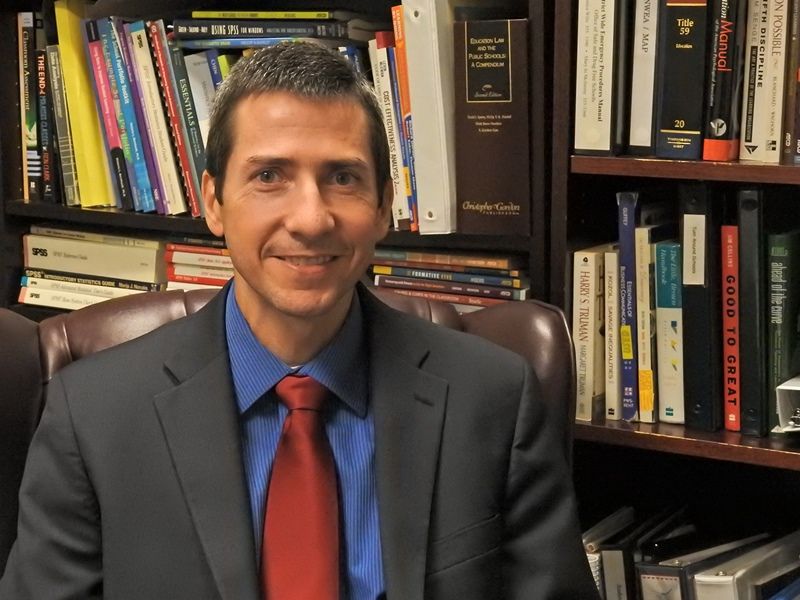 Dr. Jason McCreary, Director of Accountability and Quality Assurance, not only understands data and research, but has a passion for student success that drives him to inspire and challenge school leaders. He finds that working with people is easy if you first build relationships. "I make sure I have a connection and am clearly communicating with people," said McCreary. "I see myself and my department as a team. Our first order is to support. If we can take the load off principals, which is really what we want to do, it helps them focus on teaching students and leading schools."
Greenville Sr. High Academy Principal Jason Warren concurs. "Dr. McCreary is able to clearly communicate to principals and district staff members the details of complex state and national initiatives in a manner that is easy to understand. He has personally met with me and reviewed my school's data, then recommended strategies to reach all students."
Oakview Elementary Principal Dr. Phillip Reavis believes Dr. McCreary's ability to provide answers in easy-to-understand language reassures school administrators. "He assists and guides us with endless data interpretation, regardless of the test that is being used. Principals know that when they call his office, Dr. McCreary will respond with targeted and relevant support."
Dr. McCreary said his personality is a reflection how he was raised. "I grew up looking at things analytically and determining the next step. I knew that my choices would leapfrog me to the next choice. I always had goals, to be at the next certain place professionally or academically, and to have certain things in place before I moved to the next level."
Dr. Jason McCreary is a difference maker in Greenville County Schools because he loves what he does and loves the team with whom he works. He remains focused on making Greenville County Schools a better place through continuous improvement.
Dan Hogan, Grounds Equipment Operator
Since Mr. Dan Hogan has taken over maintenance of district athletic facilities, there has been tremendous improvement in the aesthetic appearance of all fields. This has allowed the coaches to focus on their athletes while Mr. Hogan maintains the fields with precision and excellence.
---