Posted: Wednesday, November 15, 2017
American Education Week - Educator Appreciation Day
Chandra Cisson: Making a Difference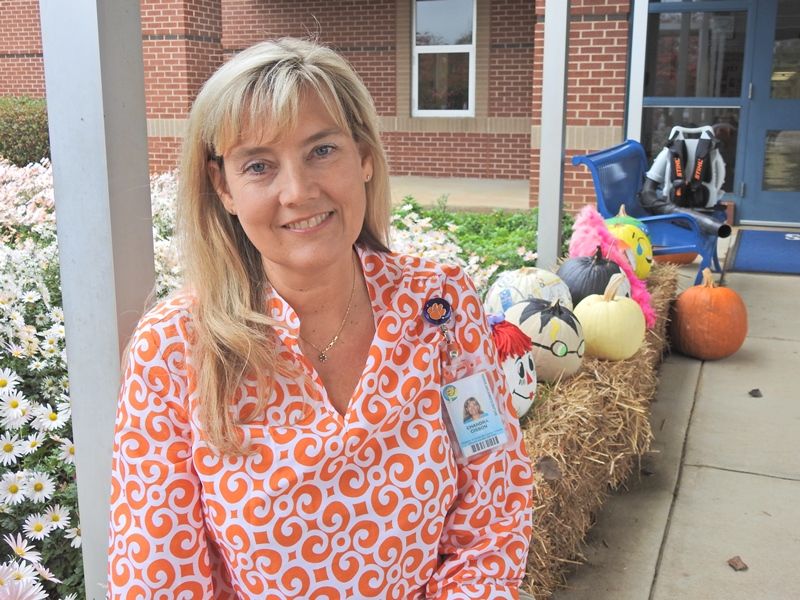 Skyland Elementary Kindergarten Teacher Kristy Paddock can't say enough good things about her aide, Chandra Cisson. "I tell parents their child is blessed because they are in a classroom with two teachers. Ms. Cisson is prepared and can jump in and do anything I can do, loves to do it, and goes the extra mile for our students."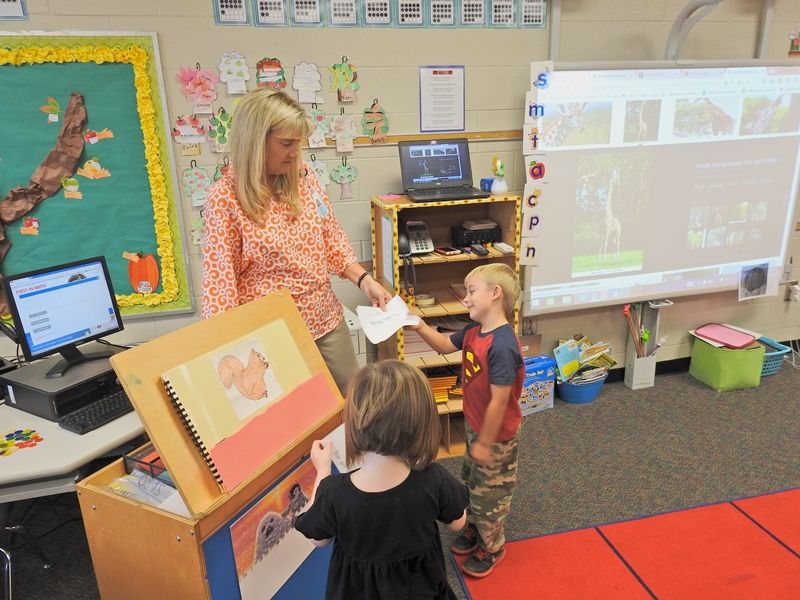 Ms. Cisson says, "I try to stay prepared to step in if Ms. Paddock has to be away for a little while. I don't want the students' day to be disrupted. Ms. Paddock shares everything with me, and I'm very fortunate that she allows me to have input. We are a team."
Kindergarten definitely isn't what it used to be years ago. "Some people think it's just kindergarten, but these kids are learning so much. Most of our kindergarteners are reading by the time they leave for first grade. They are writing stories and learning about nouns, and verbs, and onomatopoeia!" She added with a chuckle, "I have to admit ​​I've even learned a lot in kindergarten."
The subjects they study are woven throughout the curriculum. "In science, we studied the life-cycle of a pumpkin. Our students created a life-cycle craft, read books and wrote stories about pumpkins. They carved a pumpkin and even made pumpkin milkshakes!"
Ms. Cisson loves her job. "I love getting to know the students and their families. If a child is having trouble writing their name or learning a math equation, I work with them and see the light come on. It makes it all worthwhile," she added.
"I absolutely love my job. I feel it's a calling. It's rewarding, and I feel like I am making a difference," said Ms. Cisson.
Chandra Cisson, Kindergarten Aide at Skyland Elementary, is definitely making a difference!
Jorge Santos: Making a Difference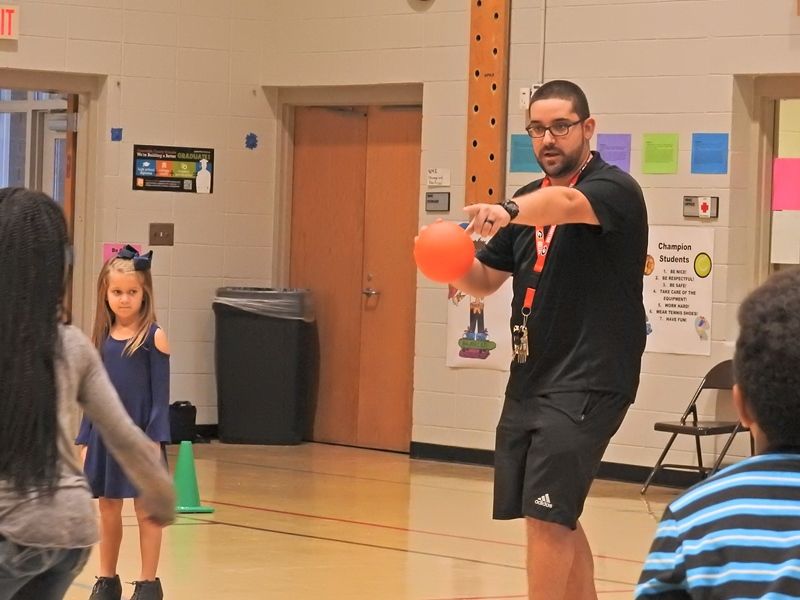 Every morning, Jorge Santos walks the halls of Chandler Creek Elementary School to check in with students before his teaching day begins. "As a physical education teacher, I get to see every student, which is a positive. I also get to see all the teachers, so I have multiple opportunities every day to interact with everyone here," he said.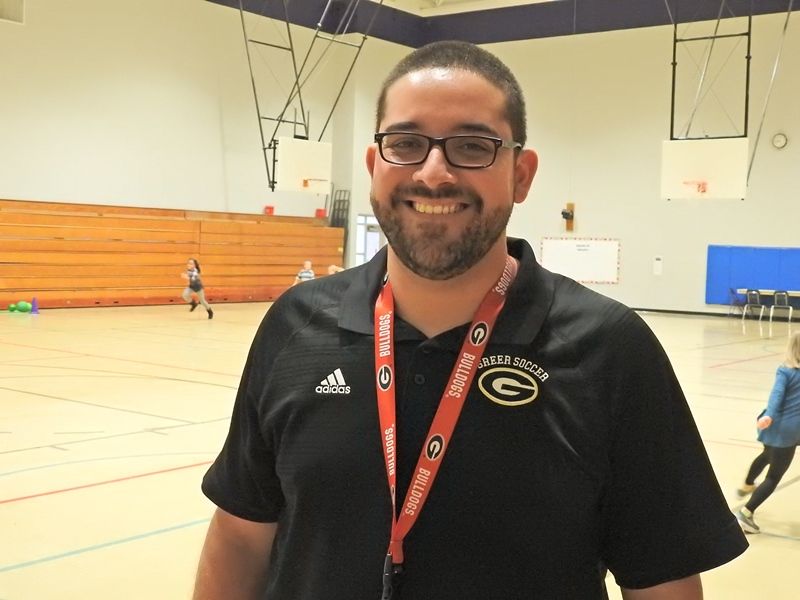 Mr. Santos uses his role as PE teacher to encourage students to have fun and enjoy physical activity. "We play a lot of different games they probably wouldn't otherwise play, like ultimate ball," he explained. "It's like ultimate Frisbee, but it's hard for a kid to throw a Frisbee. In ultimate ball, they learn to throw a ball overhand."
Principal Jane Mills speaks very highly about Mr. Santos. "He volunteers to cover duty or assist a colleague in need," she said. "He has a positive outlook that is contagious and lights up the room."
Santos extends his day by coaching soccer at Greer High School and serves on the kicking staff of the football team. He is also a mentor to students and enjoys brightening their day. "There are two students here who lost a father. I lost my father when I was in middle school, so I try to check on them daily. It means a lot to me to see them get excited when we talk about their day."
Jorge Santos, Making a Difference for Greenville County Schools! #gcsaew2017
Anjosia Ellerbe: Making a Difference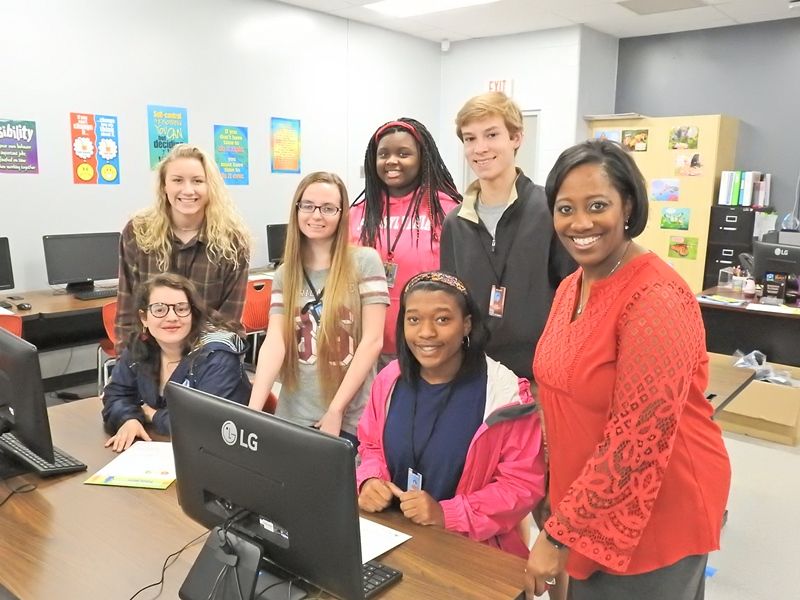 Wade Hampton High Business Education Teacher Anjosia Ellerbe says it is the "aha" moments with her students that make her proudest. "Sometimes it seems like nothing is getting through to them. They struggle with their other courses and then they take my course. And suddenly a light bulb goes off," she explained. "They make the connection between English and algebra and business. And now they know their dreams can come true."
Mrs. Ellerbe's students leave her class with a wealth of knowledge they can use later, like writing a cover letter and preparing a resume. She also teaches them soft skills. "I see students who are able to speak comfortably among adults, make eye contact, and shake hands. Not only will they graduate with a great GPA, but they will be able to apply those soft skills that will help them in the future."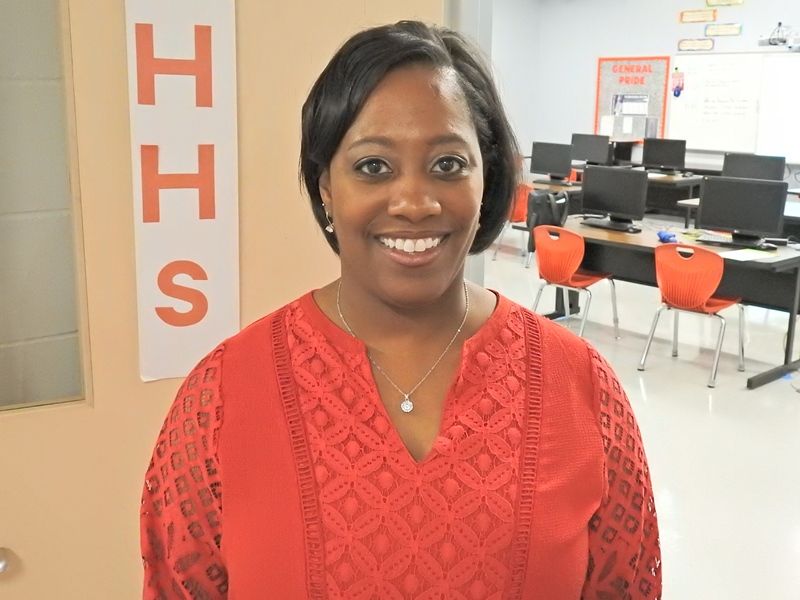 Mary Elizabeth Shealy, also a business education teacher, works with Mrs. Ellerbe to brainstorm ideas to improve their department and to research opportunities for the Future Business Leaders of America (FBLA) students. "We team teach a class so we are constantly swapping ideas. She will come up with one lesson, and then I'll come up with another. It's a very close partnership," she said.
One of the students' favorite FBLA fundraisers is when they sell roses for Valentine's Day. "They are truly running a business," explained Mrs. Ellerbe. "They have to figure out a price that's fair, when and how they are going to sell, and who to sell to. They have 24 hours to buy, prep and deliver the flowers to students."
"I would like to say thank you to Mrs. Ellerbe for bringing the business education department into the limelight and making it known that we can make a difference," said Mrs. Shealy. "She made the business department a thing that the school couldn't do without. Now, we are making a major difference in the quality of students we get in the business education department and the recognition the students earn for being in business."
Paul Varga, Special Education Teacher, Berea Elementary
Congratulations to Berea Elementary Special Education Teacher Paul Varga for being a Difference Maker! Mr. Varga says it has always been his philosophy to provide a positive and supportive learning environment and he aspires to provide students with a great experience, both socially and academically.#gcsaew2017
---
Carl Wylie, Band Director, Travelers Rest High
Greenville County Schools salutes Carl Wylie, Band Director at Travelers Rest High School, during American Education Week! Mr. Wylie continually prepares his students for challenging and inspiring concerts and pushes them to meet the highest standards of music education in marching band and all-state band auditions. #gcsaew2017
---
Suzanne Billings, 4th Grade, Plain Elementary
GCS Teacher of the Year Suzanne Billings gives a shout-out to the amazing teachers on her team, and to all teachers as we celebrate American Education Week! #gcsaew2017
---
Lindsay Beaman, Media Specialist, Lakeview Middle
We continue saluting our outstanding teachers as we recognize Lindsay Beaman, media specialist at Lakeview Middle School! #gcsaew2017. Ms. Beaman has improved the reading culture at Lakeview. Last year students visited the media center a total of 4, 157 times and checked out over 6, 000 books.
---
Kristy Qualls, Principal, Pelham Road Elementary
On Day 3 of American Education Week we honor the staff members who work directly with students. Kristy Qualls is in her second year as principal at Pelham Road Elementary. She is married to a Greenville County Schools principal. Her mom is a teacher's aide. Kristy's charm has won over her students, faculty and parents. Her glamour and sense of style have earned her the nickname "Kristy-ella." Just like Cinderella, she has the shoes to prove it.
---