Posted: Thursday, January 26, 2017
GCS Player of the Week - January 26, 2017
For the first time, a Greenville County Schools runner has been named the Gatorade South Carolina Girls Cross Country Runner of the Year! Cate Ambrose, Riverside High, was recently selected for this honor, which recognizes her outstanding athletic and academic achievements.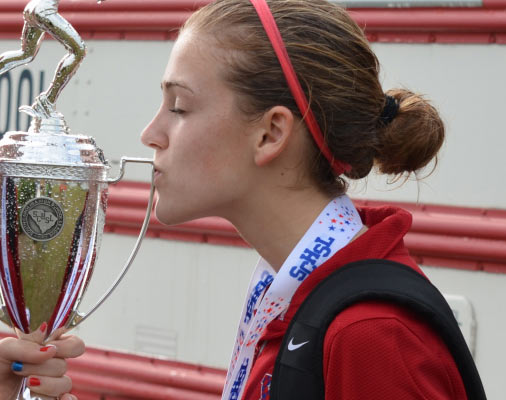 In the classroom, Cate carries a 3.55 GPA and is the senior class president at Riverside High. As a runner, Cate is one of the most decorated athletes in school history. She has been part of four straight team state championships with the Warriors Cross Country team. In addition, she has claimed two individual state championships in 2014 and 2016, where she ran a time of 18:35 to close out her high school career. On the track Cate won her first state title in the 3200 as a freshman. She added titles in the 3200 and 1600 as a junior and was part of the Riverside 4x800 relay team that won a title in 2016. With her senior track season still on the horizon, Cate already has school records in cross country (18:07.23), the 1600 (5:02), 3200 (11:05.26), 800 (2:18), 4x800 relay (9:28), distance medley (13:25) and 4x1600 (22:24). Cate will continue her racing career at the College of Charleston.
As part of her award, Cate received a $1,000 grant to donate to the charity of her choice. Cate has made her donation to the Special Olympics, having volunteered with the group locally.
Congratulations Cate Ambrose, Riverside High, the 2016-17 Gatorade South Carolina Girls Cross Country Runner of the Year!
---