Posted: Wednesday, September 14, 2016
Great Reasons to Work for GCS
Opportunities for advancement, great benefits, paid holidays, and time off with their children are several reasons that working for Greenville County Schools is an appealing option for many parents.
Greenville County Schools will host a Job Fair for bus drivers, bus aides, custodians, and food service operators on Tuesday, September 20, 5:00 – 7:00 PM, Golden Strip Career Center, 1120 East Butler Road, Greenville.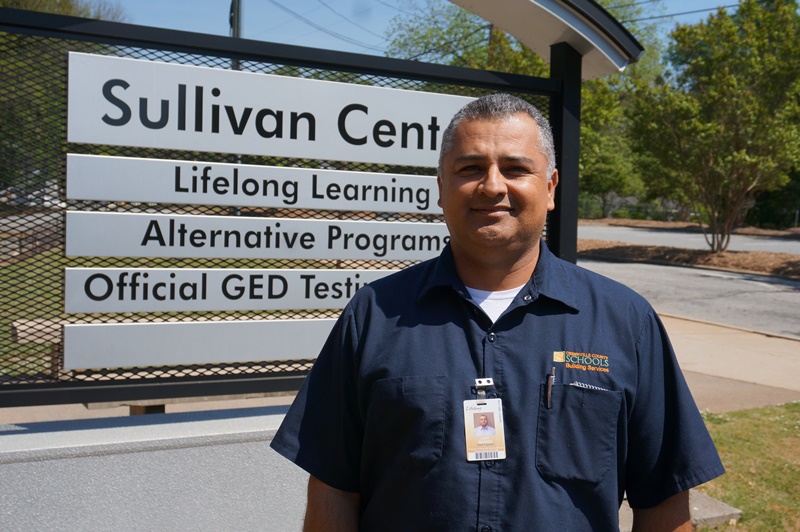 Opportunities for Advancement
Luis Munoz spoke very little English when he came to the United States from Colombia nearly nine years ago. He took a position as a custodian at Robert E. Cashion Elementary, where he implemented recycling projects for students and staff that utilized his passion for environmental education. While working at Cashion, he enrolled in English as a second Language classes at Lifelong Learning and earned a WorkKeys certification so he could become a plant engineer.
Today, Munoz serves as the plant engineer and supervisor of four custodians at Sullivan Center. "It feels good to have been a student here, to come back as a plant engineer, and to provide a safe, healthy, and comfortable learning environment for the school community," he said.
"Greenville County Schools is a great place to work. We are given opportunities to improve our skills and learn how to maintain the facilities to keep them operating properly," he added. "If you do a good job, you can be promoted and grow occupationally. I work in a great place, with great people and I am very pleased to be part of this team."
Munoz has implemented a training program for his custodians, holding weekly Monday morning sessions to discuss topics that are covered in the Building Services Procedure Manual. Munoz says he will be starting a waste prevention education program called "ECO-STODIAN" at Sullivan Center similar to the one he ran at Robert E. Cashion Elementary.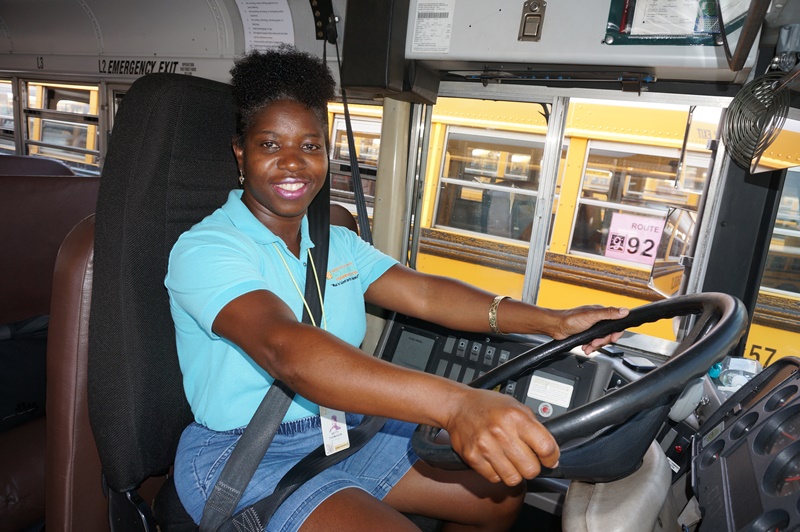 Meet Betty
Betty Thomason has been a school bus driver for more than seven years. She said she enjoys her job with Greenville County Schools because it works well for her and her family. "I am able to be home when my children are out of school, the benefits are great, and the pay is not bad, either," she said.
During the first week of school, a parent told GCS about how much she appreciated Betty's efforts to ensure her daughter made it home from school safely. "I know they have had a difficult time getting drivers this year, so to have one with such a heart makes me feel great about sending my daughter!" she said.
As a parent, said Betty, she wants to ensure that when a child gets off the bus at the end of the day, they arrive safely at home. "I know that parents appreciate it when others are looking out for their children," she said.
It's All about Relationships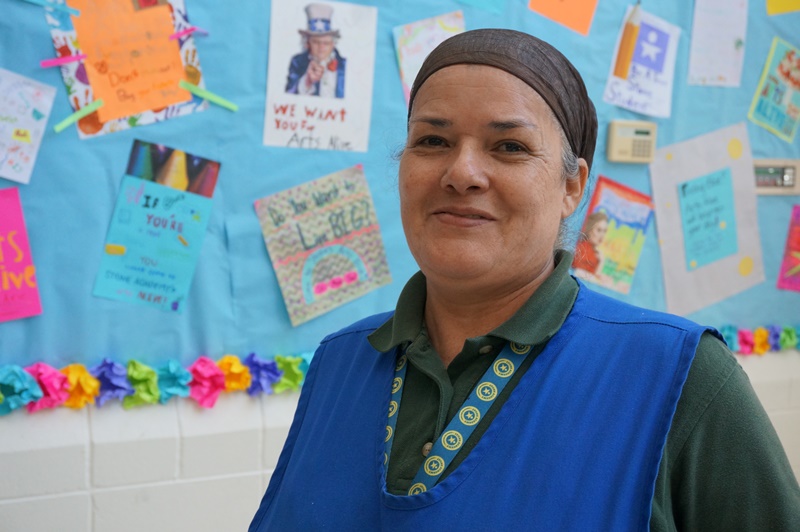 Maria Hooper is thrilled to be employed as head custodian at Stone Elementary Academy, a position she recently assumed after serving as custodian.
"I really enjoy the job because I like children," she said. "I've been with Greenville County Schools for 18 years and I've been at Stone Academy for six years. I especially like to help the Spanish-speaking children. We have a student who just came from Mexico. Any time she needs something, I try to help her, to explain things to her and to help her understand the assignments," she explained.
Maria added that if you like to work Monday to Friday, then this is the job for you. "Plus you get insurance, paid holidays and long vacations. It's very nice to work here," she said.
---