Posted: Thursday, July 7, 2016
Greenville County Schools Unveils New Food Truck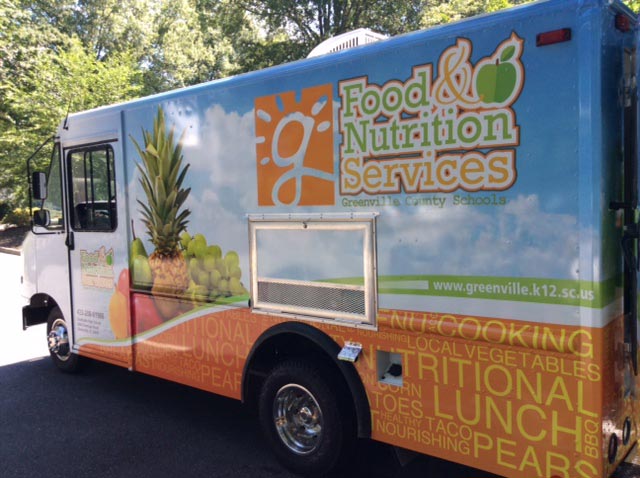 Greenville County Schools Food and Nutrition Services (FANS) is revolutionizing the way school children are fed in South Carolina. FANS rolled out its new food truck Thursday at A.J. Whittenberg Elementary School in Greenville.
The truck will be used to provide free summer meals as part of the USDA's summer feeding program, and will be used throughout the school year to help introduce new items on school lunch menus. The truck will also be utilized to promote the school foodservice program at school carnivals, field trips, summer reading camps and other events throughout the community and the district.
"This is something that is two and a half years in the making, something we have been very excited about," said Joe Urban, Director of Food and Nutrition Services. "We know that we are feeding a tremendous number of students in the summer. We have about fifty sites that are feeding free breakfast and lunch to children ages 18 and under, but we know Greenville County is so large that there are pockets of this community that don't have access to our feeding sites so this mobile kitchen is going to find them.
The food truck is the most recent innovation for FANS. In the past five years the department has sent its cafeteria managers to culinary school, introduced breakfast in the classroom at multiple schools and brought exciting new menu items like St. Louis style ribs, boneless wings and a mac and cheese bar to school cafeterias.
"We are innovative in the classroom but we are also innovative in every department, Food and Nutrition Services wants kids to come to school and want to eat what they are served, this is not your Momma's school lunch, this is not the school lunch I grew up on," said School Board Chairwoman Lisa Wells.
The used truck was purchased by the FANS department and fitted with equipment for a total cost of $50,000. FANS is self-sufficient, no local tax dollars or school district general fund money is used to support the department.
---