2017 Golf Scholarship Recipients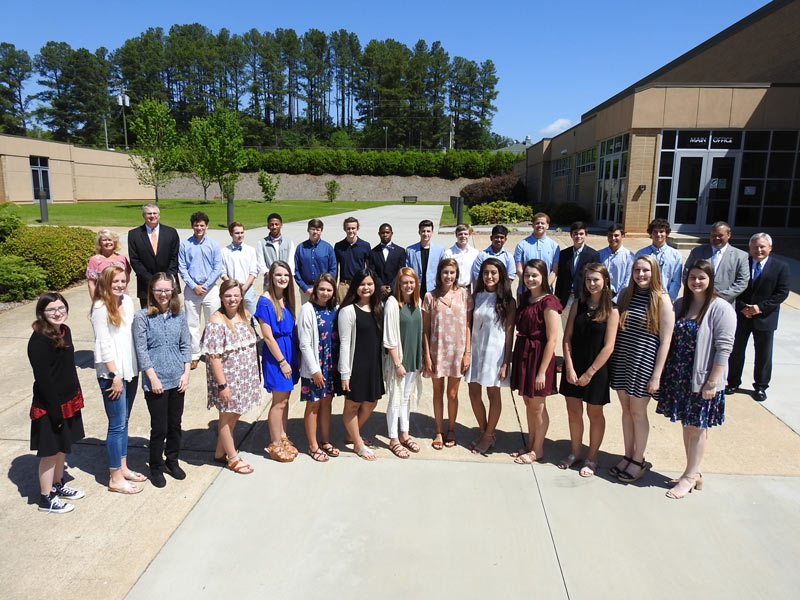 Greenville County Schools has awarded $43,500 in GCS Golf Tournament scholarships to 29 seniors at a luncheon sponsored by Greenville County Schools Foundation. Twenty recipients were chosen from entries received from District employees' children. The remaining scholarship winners were selected from students' applications across the school system. Approximately $500,000 has been awarded to high school seniors in the 21-year history of the GCS Scholarship Program.
Judges for this year's scholarship program were: Tami Miller, Leadership Development Director, Greenville Chamber of Commerce; Mary Capers Bledsoe, Executive Director of the SC YMCA Youth in Government; and Rhonda Rawlings, News and Community Affairs Director for Summit Media.
The 21st annual Greenville County Schools Golf Tournament was held last fall at Pebble Creek Club.
The 2017 scholarship recipients are:
Berea High – Molly Bryant, Caitlin Culbertson
Blue Ridge High – Campbell Davenport, Azrin Jamison
Carolina High & Academy – Jamauri Davis
Eastside High – Anna Fox, Elya Hueble
Greenville Sr. High Academy – Jeffrey Mazzola, Emma Heller, William Luce
Greer High – Candace Jensen, Madeline Lewis
Greer Middle Charter High – Micah Broome
Hillcrest High – Katie Mader, Clarisse Monterroyo, Reeves Willis
J. L. Mann High Academy – Ken Ejiri
Mauldin High – Christopher Gantt, Aditauy Pradhan, Alyssa Maurer, Kai Standifer
Riverside High – Miquel Harris
Southside High – Timothy Wynn
Travelers Rest High – Isabella Childers
Wade Hampton High – Connor Jackson, Nancy Neil, Juanita Pacheco
Woodmont High – Brittney Westbrook, Harrison Wile