Announcements
Daily Announcements
Please click on the following link for the Daily Announcements.
---
Greenville Drive Reading All Stars


The Greenville Drive's Reading All Stars program kicked off on February 17th and runs for 4 weeks. Students who participate and read a minimum of 400 pages over the 4 week program are eligible for a game ticket voucher for the April 24th Reading All Stars Celebration game. Students must turn in their official Reading All Stars reading log to their homeroom teacher by March 17th. The voucher must be redeemed online or at the box office for an actual game ticket. Students who earn a game ticket voucher and also attend the game on April 24th will also receive a special edition Greenville Drive baseball cap and a free book. Additional copies of the reading log are availble in the main office at Bryson Middle School or can be downloaded and printed HERE.
---
2017 NAEP Testing
Selected 8th graders will be taking the NAEP ( National Assessment of Educational Progress ) test on March 2nd. Parent letters were sent home to those students who will be tested. Click here for an English and Spanish version of the parent letters.

2017 Parent Letter- English
2017 Parent Letter- Spanish
---
2nd Annual Bryson Middle Fun Run


Registration for the 2nd annual Bryson Fun Run/Walk has begun. Race date will be Saturday 3/4/17 here at Bryson. See homeroom teachers for registration forms and submission details. Forms and payments are due back by 2/15/16.We will also be offering a team option. Teams of 3 will be $12.
Click HERE to see the promotional video.
---
Bryson Middle at Beta State Convention 2017
Congratulations to our Bryson Middle Betas! First place- Tower of Power, First place- Living Literature, First place- Pencil/Pen sketching, Third Place- Book Battle & Third Place- Songfest. Way to go!
We are so proud of you!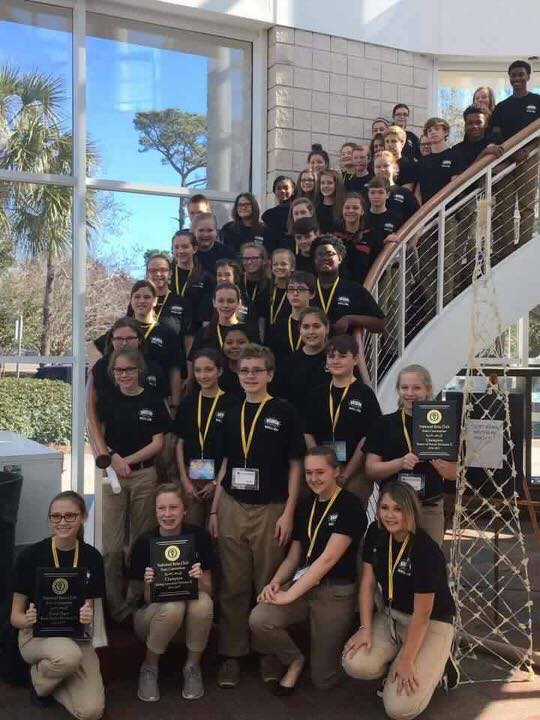 ---
SIC sponsored Lunch and Learn Series scheduled
Grab your lunch and join us in the Media Center for our a "Lunch and Learn" series sponsored by the School Improvement Council (SIC). Each session is from 12:30-1:30pm.
The dates and topics are as follows:
Tuesday November 29th "What is a Chromebook and What is Google Classroom?" presented by Mrs. Barker, our Media Specialist.
Tuesday January 10th " Internet Safety" presented by Rick Floyd, GCS Information Security Specialist.
Tuesday February 21st "Bryson Middle- Full STEAM Ahead" presented by Bryson Middle School teachers, and
Tuesday March 14th " Project based Learning (PBL)" presented by Bryson Middle School students and teachers.
For more information about these "Lunch and Learn" sessions, click HERE.
---
Honor Roll Dress Down Incentive
In recognition of students who earned all A's or A's & B's, we will coontinue the "dress down incentive that we began last year. Click HERE to read the letter from Dr. Davenport outlining the details for the dress down incentive. We congratulate and applaud our students' efforts. Making the honor roll is a wonderful accomplishment. If you have any questions, please don't hesitate to contact the school.
---
Advocating for Your Child's Success video
Please take a moment to view this video, "Advocating for your Child's Success" produced by Greenville County Schools.
The video can be viewed by clicking on this link: Advocating for your Child's Success video
---
BMS Junior Beta Club
Check out how our Betas are going above and beyond!
BMS Junior Beta Club Website
---
New GCS Volunteer Guidelines
Greenville County Schools, in an effort to ensure the safety of all of our students, is implementing additional security checks for school volunteers. Effective immediately, all volunteers must have an application and clearance before interacting with children in the schools and/or at school events. Volunteers are now identified by two different categories: Level I or Level II. Click here to access the forms. Please see this letter from the principal explaining the new guidelines. Parent Letter-English Parent Letter-Spanish
---
Text Line Information
Are you looking for the latest time-sensitive school-related updates regarding dismissal, pick-up times, field trips, school emergencies, etc.? Join our grade-level Remind text lines. Click on the grade level, and follow the directions.
6th Grade
7th Grade
8th Grade
---