News & Notes
Santa Shop
The Santa Shop is open for your shopping pleasure each morning from 7:30-8:30. Please come buy your Christmas gifts for your family and have them wrapped. The prices range from 25 cents to $5.00, with new items coming in often! It is in room 1719 downstairs. You must have a pass from your homeroom teacher or one from the cafeteria before school in order to come. We will be checking to ensure you have a pass when you get there.
All proceeds go to a needy family!
---
Are you interested in helping the Cura Foundation or Lakeview Middle School?
The Cura Foundation is doing many great things around our school. Are you interested in helping the Cura Foundation or Lakeview Middle School. For more information and the donation/volunteer form click here.
---
Congratulations to Mrs. Hull, LMS Teacher of the Year for 2017-2018

Congratulations to Mrs. Jennifer Hull for being chosen as Lakeview Middle School's Teacher of the Year for the 2017-2018 school year.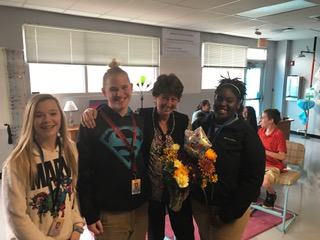 ---
It's Yearbook Time!
It's that time again---time for your chance to purchase this year's 2016-2017 Lakeview Middle School yearbook with Jostens yearbook company. The cost of yearbooks this year is $25.00 and will have a hardback cover with memories of our school year printed in stunning color! The deadline for yearbook sales will be Friday, March 17, 2017. This gives you enough time to prepare for your purchase. If you are interested, please see our yearbook adviser, Ms. Smith, in room 1701 on the related arts hallway. Thank you in advance for your purchase!
---
ACE Award Voting is Now Open
Coaches for Character, a non-profit organization whose mission is to teach at-risk youth the value of education and character development, will hold its 4th annual banquet this year. They will honor one male and one female from each middle and high school in grades 8 and 12 who are considered the true "unsung heroes" in their schools. These are students who might go unnoticed for one reason or another, students who are role models, who work hard and give their best effort, students who are all too often not recognized for their accomplishments, or students who demonstrate unusual commitment to learning academics despite various obstacles. Anyone can nominate a student; faculty/staff, parents, community members and other students. If you woul like to nominate a student please use the online form at www.coaches4character.com/ace-awards. The deadline for nominations is January 31, 2017.
---
Homework Hotline
Homework Hotline will begin at Lakeview Middle School on August 22nd. Parents, want to know what your students need to do for homework? Check out each teacher's Homework Hotline by calling their direct line. Direct lines are listed on the Staff Directory.
---