News & Notes
Montebello Community Partners with Lakeview Middle

Residents of the Montebello community, located off of State Park Road, joined hands with teachers and students at Lakeview Middle School as they unveiled plans to partner with the school.
Ed Winkler, president of the Montebello Cura Foundation (Cura is Italian for cares), said they want to recognize teachers for their efforts. Members of Cura visited the school to celebrate Teacher Appreciation Day and to deliver bags of apples, candy, and notes of encouragement to teachers. Cura is currently raising funds to provide every Lakeview student with at least one uniform.
"I started the foundation last year as a result of being thankful for my blessings," said Winkler. "It's such a good feeling to work with a school so close to our community that we can do so much for. And that means not just uniforms, not just mentoring, but helping teachers get help with things they need like field trips and musical instruments," said Winkler.
---
Homework Hotline
Homework Hotline will begin at Lakeview Middle School on August 22nd. Parents, want to know what your students need to do for homework? Check out each teacher's Homework Hotline by calling their direct line. Direct lines are listed on the Staff Directory.
---
Rosetta Stone offered for parents

There is a new program available to parents who would like to learn English and become more involved in their child's academic achievement. The program is free to parents and is on a first come first serve basis. Rosetta Stone® Community Solution for K-12 is a program available to the parents of our English Language Learners. This program will provide the parents of our English Language Learners with an opportunity to learn and develop their English Language skills. It will also enable parents to increase their engagement in their child's school and contribute to improving their child's educational achievement. The online lessons from Rosetta Stone® Community Solution for K-12 allow parents to use this program at home, work, on their phone, or anywhere they have access to the internet.
If you would like to have access to this program, please contact your child's ESOL teacher. The ESOL teacher will be able to provide you with a code to access the program and share general log-in instructions. Once you have your access code click here for the link to the Rosetta Stone program.
---
TDAP Booster required for 7th and 8th students

Reminder, Tdap booster is required for 7th grade students and 8th grade students new to Lakeview for 2016-2017 school year. Please make an appointment with your Doctor or Health Department to get this immunization asap. These students cannot attend the first day of school without proof of immunization on file. For questions call Ms. Davies- School Nurse 355-6407. Click here for more information.
---
2016-2017 Supply Lists

For the upcoming school year students will need the following supplies:
6th grade:
Zippered Binder- 3 inch minimum
8 Packs of Notebook Paper (2 Packs per Class)
4 Composition Notebooks
180 Pencils (1 Pencil per Day)
Dividers with Pockets
Student Personal Headphones
Coloring Supplies (Crayons/Colored Pencils
Hand Sanitizer
Tissue
7th and 8th grade:
Math: 2 Spiral notebooks, PENCILS, graph paper, ruler, protractor, box of tissues
ELA: hard back composition book, Pencils, paper, tissues, glue stick
Science: colored pencils, markers, glue stick, scissors, crayons, notebook or binder with paper
Social Studies:colored pencils or markers, composition notebook, 1 one-inch 3-ring binder​
---
Uniform Dress Code for 2016-2017

In the fall of 2014, we began to discuss a uniform dress code policy for Lakeview Middle School. Since that time, we have had several meetings with our School Improvement Council and have also discussed the topic during school events. After much discussion we have determined that a uniform dress code policy could have a very positive impact on the learning environment of our school. We will provide this information to local vendors and pass along any helpful information to our parents via our website and the school messenger system. Click here for more information.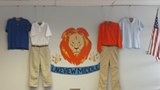 ---