Weekly Announcements Slideshow
Upcoming Events
---
Important Documents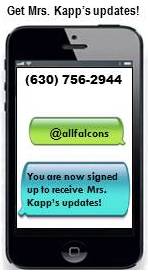 8th Grade Job Shadowing Day
As a part of Career Connections, the career exploration program here at Sevier Middle School and as recommended by Personal Pathways to Success, oou 8th grade students are encouraged to participate in our Parent-Sponsored Job Shadowing Day on Friday, February 10, 2017. CLICK HERE for a copy of the Job Shadowing information packet. In order to participate, pages 4 & 5 must be completed and returned to Mrs. Crisman by Friday, January 27.
Spring Sports Tryouts



Spring Sports Tryouts are approaching. Students must bring their completed physical form (dated after April 2016), parent permission form, and a copy of their birth certificate to be able to participate. We encourage all students to complete the online forms on PlanetHS.com prior to tryouts as well. Please see the PlanetHS announcement for instructions.
Baseball Tryouts: January 30 - February 1, from 4:00 - 5:30pm
Softball Tryouts: January 31, from 4:00 - 5:30pm
Girl Soccer Tryouts begin January 31 from 4:00 - 5:30pm
Boys Soccer Tryouts: TBA
School Athletics & PlanetHS
All Greenville County Schools are now using www.PlanetHS.com for school athletics. This is the method for completing all required athletic forms in order to participate in any school athletic program. Both students and parents will have to create accounts, then link them together in order to finish the forms. Students must use their student email to create their account (ex.: jdoe5432@greenvilleschools.us). CLICK HERE for instructions and to access the complete manual.
8th Grade IGP Conferences
Individual Graduation Plan (IGP) Conferences will be held during the month of January, 2017. The online sign-up window lasts from December 5 - January 2. If you missed this online signup window, please schedule through our counseling office by calling Melinda Howard at 864-355-8204. Please understand that the IGP conference is required for all 8th grade students before entering high school.This conference is held each year for every student in the state of SC from 8th grade through 12th grade. The purpose of the meeting is to review career assessments, graduation requirements from high school for the state of SC, college scholarship information, and other pertinent information.
Sexual Education Preview & Opt-Out forms
As part of the Greenville County Schools Health Education Curriculum, students taking PE/Health Education at Sevier will take part in an age appropriate, abstinence based Sexuality Education Course. Students may be excluded from the sexuality education component of the Health Education Program if the curriculum conflicts with the family's beliefs. Prior to instruction, schools mail parents information regarding the opportunity to preview all sexuality education instructional materials, and the parent's right to exempt his/her child from any portion or the entire unit. Sevier will have its Sexuality Education materials on display from 1/23/17 - 2/4/17 . Opt-Out forms have been mailed home. CLICK HERE for a copy or visit the front office for an extra copy. Parents wishing to exempt their child from the Sexuality Education Course must complete the Opt-out form and deliver it to the front office in person. Students may not turn in Opt-Out forms. Second semester classes will be held from 2/6/17 - 2/17/17 for boys and from 2/21/17 - 3/3/17 for girls.
Sevier Hat Days
Students who purchased official Sevier ball caps may wear these on the 2nd and 4th Wednesday of the month from January 25 through May 10. There is a limited supply of ball caps available for purchase for $20 each.
8th Grade Washington Trip
The 8th Grade Washington DC trip is scheduled for March 8 - 11. Final payments are due by January 20th. There will be a chaperone meeting Thursday, January 26, at 7pm in Rm 602.
State Report Card
CLICK HERE to find Sevier's State Report Card information.
ACE Award Nominations

The ACE Awards (Advocates for Character and Education) is an annual banquet honoring 70 male and female students in grades 8 and 12 from each of the 35 Greenville County middle and high schools. This award is designed to recognize true "unsung heroes" who all too often are not recognized for their accomplishments. Nominations are open now through January 31, 2017 at www.coaches4character.com/ace-awards. Nominate and honor Sevier middle school 8th grade students!
Report Bullying
Students are encouraged to report any instances of bullying, whether they are the target of bullying or a bystander. Please CLICK HERE to report a bullying incident.
School Volunteer Procedure
Greenville County Schools (GCS), in an effort to ensure the safety of all of our students, is implementing additional security checks for school volunteers. Effective immediately, all volunteers must submit an application to the school and receive clearance from the district before interacting with children in the school or chaperoning any school field trip. Volunteers are now identified by two different categories: Level I or Level II. Please review the details from the district website HERE and submit your volunteer applications to Sevier's front office.
One to One Device Requirements
Before purchasing device insurance to allow a student to take their device home, parents must watch the following One-to-One Device Orientation video and complete the online form. Staff will verify prior to accepting payment. This is a one-time fee. Those who have already paid the $25 premium will not have to pay a second time.

View the following instructional video. (CLICK HERE to view)
Complete the online form (CLICK HERE to access)
Print and complete the 1 to 1 Device Agreement to have ready to turn in with payment. (CLICK HERE to access)
Yearbook on Sale

Yearbooks are are on sale for $35, the lowest price of the year. Prices will increase as the school year continues. The option for personalization is $5 extra and icons may be added to personalization for $3.00 per icon. Turn in order forms and payments to the front office or order online. CLICK HERE for an order form. CLICK HERE to order online.
8th Grade Ads are on sale through December 14, 2016. Order online or CLICK HERE for a form to submit to the front office with payment and photos. Please include contact information with photos to allow photos to be returned to you.
PTA Business Sponsors


Thank you to the following businesses for their sponsorship: Vision Screenprinting & Graphics, Sharp Business Systems, Sliced Tomato Productions, Hunt Orthodontics, Pro Pitch Hit Run, Mathnasium of Greenville-Taylors, Craft Stove Store, Beauty for Ashes Counseling, Atticus Creative, ProCore Pest Control, Summers Orthodontics, Professional Engineering Associates, Wings on the Run, House of Raeford Farms, Play It Again Sports, The Original Harvey's Family Restaurant, Babb Professional Painting, SuperCuts, Mark Thoennes Builders & Stina Thoennes Realtor, Money Mailer, Cross Mechanical, Tipsy, Taco, Fox Fire, and the Calder Brothers Corporation. A special thanks goes to Vision Screenprinting and Graphics who are creating the sponsor banners that will be displayed on our fence. CLICK HERE to view our sponsors page.