Principal's Message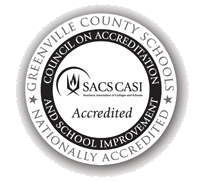 GMS Headlines
Greer Girls and Boys Basketball Both Win vs BR

Greer Middle's girls' basketball team improved to 12-0 with a resounding 42-26 victory over Blue Ridge Middle. Blue Ridge came out hot and led 10-4 at the end of the 1st quarter but the Lady Jackets turned up the defensive pressure and went up 18-10 at the half. In the boys game both teams struggled in the first half to find their rhythm. The teams played to a tie score at the end of regulation but Greer managed to gain the win 54-51 in overtime. The boys' basketball team improved to 10-1 on the season. It was a great night of basketball at Greer Middle. Come out and support the Jackets in the last regular season home game this Monday January 23rd.
South Carolina Junior Book Award Contest

Who likes ice cream sundaes???
Students will celebrate this year's Junior Book Award program with ice cream sundaes on March 1st! Each year, SC middle school students cast their votes for their favorite award nominated book. The winning book will receive the prestigious South Carolina Junior Book Award.
GMS students who read 3 of this year's awesome nominees, and register in the library to vote, will be invited to the ICE CREAM SUNDAE CELEBRATION! At the celebration, students will cast their vote for their favorite book, contributing to this state-wide program!

Please see Ms. Sinclair in the Media Center for more information.
Parent Curriculum Night

Greer Middle School will host a Parent Curriculum Night on Tuesday, February 7th. Information regarding curriculum and class registration for next year will be presented.
Times are:
6:00-6:30 pm --- Rising 6th graders
6:30-7:00 pm--- Rising 7th and 8th graders
*Rising 9th graders will attend Curriculum Nights at their respective high schools.
We look forward to seeing everyone!
January Issue of the Greer Yellow Pages
The January issue of The Greer Yellow Pages has been published. Catch all of the Information for Inspiration in this second edition written by Greer Middle students under the tutelage of Mrs. Aulick. The January issuse can be located by clicking on the GREER YELLOW PAGES.
Eighth Grade Yearbook Ads
Attention 8th grade parents! The deadline to purchase an 8th grade ad has been EXTENDED!! This is a great way to commemorate your child's eighth grade year at Greer Middle. An ad is 1/4 of a page and cost $40. There are several options available and the options are listed on the sales brochure your child should have brought home in December. If you require another brochure, please email Ms Higdon at mhigdon@greenville.k12.sc.us or call 355-5851. Deadline is now January 27​ so hurry up and get those orders in! Orders can also be made through the Jostens website .
8th Grade Charleston Field Trip

All GMS 8th graders are invited on a field trip to Charleston! February 23-24, we will be exploring some of the historic sites we are learning about this year, including Ft. Sumter, Boone Hall Plantation and historic downtown. We'll also be going to a trampoline park and playing bubble ball soccer. So which team will you join- Team Camacho or Team Kammer? Book your trip and do your fundraising securely online at http://www.orangeskytravel.com using code 10030 over the holiday break. Students may still book the trip by January 20. Sign up today! Click here to view the flyer.
ACE Awards

ACE AWARDS
Coaches 4 Character, a non-profit organization whose mission is to teach at-risk youth the value of education and character development will honor one male and female from each middle and high school in grades 8 and 12 who are considered the true "unsung heroes" in their schools. The ACE Award is designed to honor these students who demonstrate an unusual commitment to academics despite various obstacles and who all too often are not recognized for their accomplishments. To nominate a student go to www.coaches4character.com/ace-awards.html. You may also contact Karen Clinkscale in the counseling department at kclinksc@greenville.k12.sc.us or 355-5804. The deadline for nominations is January 31, 2017.
English Language Resource for Parents

There is a new program available to parents who would like to learn English and become more involved in their child's academic achievement. The program is free to parents and is on a first come first serve basis. Rosetta Stone® Community Solution for K-12 is a program available to the parents of our English Language Learners. This program will provide the parents of our English Language Learners with an opportunity to learn and develop their English Language skills. It will also enable parents to increase their engagement in their child's school and contribute to improving their child's educational achievement. The online lessons from Rosetta Stone® Community Solution for K-12 allow parents to use this program at home, work, on their phone, or anywhere they have access to the internet.
If you would like to have access to this program, please contact your child's ESOL teacher. The ESOL teacher will be able to provide you with a code to access the program and share general log-in instructions.