Principal's Message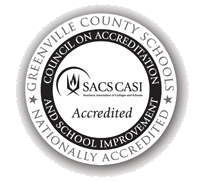 GMS Headlines
Canned Food Drive

We are off to a great start collecting cans for Greer Community Ministries. Kids throughout the entire school are bringing in canned foods or nonperishable foods that will be distributed in our community. Whether kids are bringing the food to help out Greer or to get prizes, it is still a positive action for our community. We would like to thank all the students or teachers participating in this event. We are hopeful to bring in many items and to help out our community as much as possible.
________________________________________________________
Throughout the week of December fifth to the ninth our students have participated in a canned food drive. Just in the first day we have already collected a great number of items for Greer Community Ministries. Even though some students are doing it for a free iPod/hat day or some reward time, we would still like to thank them for their contribution to the community. Thanks as well to some of the teachers that have helped collect some cans too. Families in our community are grateful for us doing this and we would not like to disappoint them this holiday season. We are hoping to bring in many more cans and nonperishable foods to help out our community as much as possible.
Boys and Girls Basketball Both Win
Congratulations to both the boys and girls basketball teams for defeating Riverside Middle on Thursday night. The girls improved to 5-0 to open the season. Both teams are in action tonight as they travel to Lakeview Middle. Games start at 5:30 pm.
ACE Awards

ACE AWARDS
Coaches 4 Character, a non-profit organization whose mission is to teach at-risk youth the value of education and character development will honor one male and female from each middle and high school in grades 8 and 12 who are considered the true "unsung heroes" in their schools. The ACE Award is designed to honor these students who demonstrate an unusual commitment to academics despite various obstacles and who all too often are not recognized for their accomplishments. To nominate a student go to www.coaches4character.com/ace-awards.html. You may also contact Karen Clinkscale in the counseling department at kclinksc@greenville.k12.sc.us or 355-5804. The deadline for nominations is January 31, 2017.
English Language Resource for Parents

There is a new program available to parents who would like to learn English and become more involved in their child's academic achievement. The program is free to parents and is on a first come first serve basis. Rosetta Stone® Community Solution for K-12 is a program available to the parents of our English Language Learners. This program will provide the parents of our English Language Learners with an opportunity to learn and develop their English Language skills. It will also enable parents to increase their engagement in their child's school and contribute to improving their child's educational achievement. The online lessons from Rosetta Stone® Community Solution for K-12 allow parents to use this program at home, work, on their phone, or anywhere they have access to the internet.
If you would like to have access to this program, please contact your child's ESOL teacher. The ESOL teacher will be able to provide you with a code to access the program and share general log-in instructions.