Principal's Message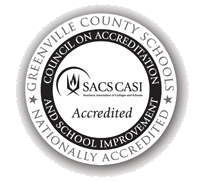 GMS Headlines
MAP Testing in March

During the month of March students will take tests called Measures of Academic Progress (MAP). These tests are given to determine instructional levels and to measure academic growth throughout the school year and from year to year in the areas of Reading and Mathematics. Students take each of the tests on a computer. MAP tests are unique in that they adapt to each student's level of learning. As a result, each student has the same opportunity to succeed.
Partnering to help all students learn, parents and teachers can have a profound effect on the lives of students. For more information about resources for parents, access the Document Library at www.nwea.org. Parent's Guide to MAP (English) or Parent's Guide to MAP (Spanish).
6th grade Parents Tdap Vaccine Requirement

Attention all 6th grade parents.
According to South Carolina State Regulations, all students entering 7th grade are required to have a Tdap vaccine. If your student has already had one, and you have not sent a copy in already, please send a copy of their immunization record to the Health Room.
Atención a todos los padres de 6º grado.
De acuerdo con los Reglamentos del Estado de Carolina del Sur, se requiere que todos los estudiantes que ingresan a séptimo grado para tener una vacuna Tdap. Si su hijo ya ha tenido uno, y no se ha enviado una copia de ya, por favor envíe una copia de su registro de vacunas a la Sala de la Salud.
South Carolina Junior Book Award Contest

Who likes ice cream sundaes???
Students will celebrate this year's Junior Book Award program with ice cream sundaes on March 1st! Each year, SC middle school students cast their votes for their favorite award nominated book. The winning book will receive the prestigious South Carolina Junior Book Award.
GMS students who read 3 of this year's awesome nominees, and register in the library to vote, will be invited to the ICE CREAM SUNDAE CELEBRATION! At the celebration, students will cast their vote for their favorite book, contributing to this state-wide program!

Please see Ms. Sinclair in the Media Center for more information.
January Issue of the Greer Yellow Pages
The January issue of The Greer Yellow Pages has been published. Catch all of the Information for Inspiration in this second edition written by Greer Middle students under the tutelage of Mrs. Aulick. The January issuse can be located by clicking on the GREER YELLOW PAGES.
English Language Resource for Parents

There is a new program available to parents who would like to learn English and become more involved in their child's academic achievement. The program is free to parents and is on a first come first serve basis. Rosetta Stone® Community Solution for K-12 is a program available to the parents of our English Language Learners. This program will provide the parents of our English Language Learners with an opportunity to learn and develop their English Language skills. It will also enable parents to increase their engagement in their child's school and contribute to improving their child's educational achievement. The online lessons from Rosetta Stone® Community Solution for K-12 allow parents to use this program at home, work, on their phone, or anywhere they have access to the internet.
If you would like to have access to this program, please contact your child's ESOL teacher. The ESOL teacher will be able to provide you with a code to access the program and share general log-in instructions.