Principal's Message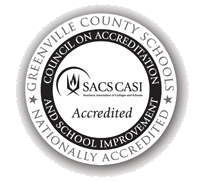 GMS Headlines
Fall Baseball Practice Starts Monday

Fall baseball practice will begin next week and run through October 30, Mondays-Thursdays from 4:00-5:30. Monday /Wednesday practice will be at the Greer Middle field and Tuesday/Thursday will be at the Greer High field. Students must have a physical dated after April 1st in order to participate.
PTSA Open House September 26, 6:00 pm

GMS PTSA will be hosting Open House on Monday, September 26. The General PTSA meeting will begin at 6:00pm in the cafeteria, followed by an abbreviated bell schedule allowing parents to visit all their students' classes. Please bring a copy of your child's schedule with you that evening. It is not necessary for your child to accompany you to Open House, but they are welcome.
Please remember this would not be the appropriate venue for a parent-teacher conference, and that if you have a specific concern related to your child, you may want to schedule a conference with your child's teachers.
English Language Resource for Parents

There is a new program available to parents who would like to learn English and become more involved in their child's academic achievement. The program is free to parents and is on a first come first serve basis. Rosetta Stone® Community Solution for K-12 is a program available to the parents of our English Language Learners. This program will provide the parents of our English Language Learners with an opportunity to learn and develop their English Language skills. It will also enable parents to increase their engagement in their child's school and contribute to improving their child's educational achievement. The online lessons from Rosetta Stone® Community Solution for K-12 allow parents to use this program at home, work, on their phone, or anywhere they have access to the internet.
If you would like to have access to this program, please contact your child's ESOL teacher. The ESOL teacher will be able to provide you with a code to access the program and share general log-in instructions.