Kindergarten Team

First Grade Team

Second Grade Team

Third Grade Team

Fourth Grade Team

Fifth Grade Team & Challenge

Special Ed Team

Related Arts Team

Administration Team

Office Team

Speech, Pre-K, RTI Teams

Media, Counselors, ESOL, Student Services Teams
Announcements
CogAT and Iowa Testing
All 2nd grade students will participate in the CogAT and Iowa state assessments during the week of October 24-28, 2016. The results of these tests are used to identify students for the Gifted and Talented program. Results are also utilized by teachers to further enhance their instructional practices within the classroom. Please help our students be at their best for these tests by getting plenty of rest each night before testing, eating a nutritious breakfast on testing days, and being at school on time each day. Also, please do not make any out-of-school appointments during this week. Results of these tests will be shared with parents later in the school year. Thank you for your support!
---
Bookaneer Book Fair
Scholastic's "Bookaneer" Book Fair will be held November 6th-11th in the Media Center. Family Day is November 6th, from 2:00-4:00. If you dress as a pirate on Family Day, you will be entered in a drawing to win a free book! Click here to visit the book fair website. See you at the fair, where books are a treasure!
---
New Plant Engineer







Students Ellison V. and Reese B. from Mrs. Schoettelkotte's second grade class show their gratitude for our new Plant Engineer, Jeff Greene. All the students from the class wrote him a thank you letter for taking care of their room.
---
1st Place Winner at Beta Convention










Claire Cullen, a former Woodland student, won first place in the Spelling Bee at the National Beta Club Convention. The convention was held in New Orleans and Claire represented Woodland.
---
Parent Lighthouse Team
Join the Parent Lighthouse Team and help bring the Seven Habits home. Click for more information and/or contact dwdaniel@greenville.k12.sc.us
---
Spinx Kids' Run Fest Half-Marathon
The 2016 Spinx Kids' Run Half-Marathon will be held on October 29, 2016 at 8:05am. The cost for students wanting to participate is only $6. Students need to log 12.1 miles before race day. The final mile to complete will be at the Spinx Run Fest. Students completing the program will receive a member's wristband, a finisher's wristband, and a certificate. Runners attending the Spinx Run to complete their final mile will also receive a "Halloween Treat Bag". Click for more info: Marathon Letter, Running Log, Registration.
---
School & Visitor Guidelines
For updated information on the guidelines for visiting and volunteering at GCSD schools, read the School & Visitor Guidelines.
---
Art Enrichment
After school Art Enrichment is being offered by art teacher, Mrs. Laird-Arnold, on Thursdays from 3:00-4:00. Art Enrichment Registration information.
---
Woodland's Teacher of the Year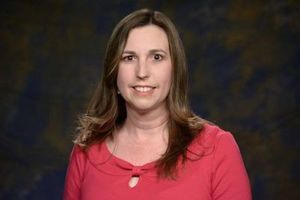 Congratulations to Christie Klessens - Woodland Elementary Teacher of the Year! Mrs. Klessens teaches first grade and was recently honored at the annual Greenville County Schools Teacher of the Year breakfast. Thank you, Mrs. Klessens, for your example and dedication to our children. We are proud to have you representing Woodland this year.
See Mrs. Klessens with her award.






---
Attendance & Enrollment
Information on GCSD Attendance Rules and Enrollment Procedures and forms: Attendance and Enrollment
---
Spotlight
Documents and Forms
Quicklinks