Devildog News
Yearbook Day 2022 at TRHS
(5/27/2022 / TRHS Webmaster)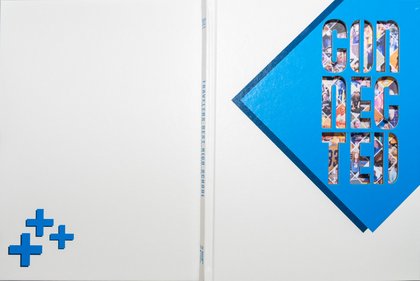 Yearbook Day 2022 was held on Friday morning starting with the seniors watching the senior slideshow. This year's yearbook was dedicated to Mr. Rick Veazey who is retiring after 20 years of teaching at TRHS including the last 15 as Webmaster. The 2022 edition of The Traveler was then given out to those that purchased yearbooks. The theme this year is "Connected." Seniors concluded their morning with brunch and time to sign yearbooks, take photos at a photo wall, and celebrate together. Graduation will be on Wednesday, June 1st at 8am in Timmons Arena on the Furman campus.
After lunch the underclassmen were able to pick up their yearbooks and enjoy the afternoon with a variety of activities including basketball, an inflatable slide, hanging out and signing yearbooks, and buying food from a food truck or concession stand. In another popular event, Mrs. Batson, Mr. Hawkins, and Mr. Laye took turns on a dunking booth. Underclassmen will take their exams next week after the Memorial Day weekend. See the TRHS calendar for more information.
Senior Sendoff and Yearbook Day Photo Gallery
Underclassmen Yearbook Day Photo Gallery
Important Graduation Venue Information
(5/26/2022 / GCS Press Release)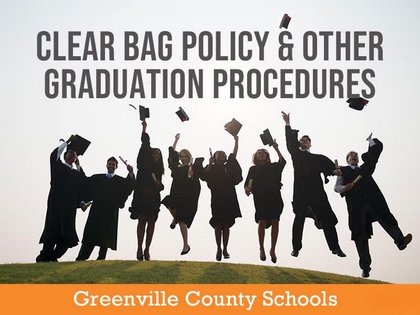 Please read this important information from Bon Secours Wellness Arena and Timmons Arena in preparation for Greenville County Schools' graduation ceremonies.
Doors will open to guests one hour before the ceremonies at Bon Secours Wellness Arena and Timmons Arena. Doors close 10 minutes after the official graduation start time. Late arrivers will not be granted access.
All guests, including infants, must have a ticket.
Metal detectors or wands will be used at both Bon Secours Wellness Arena and Timmons Arena. Please allow yourself enough time for this process.
Only clear bags are allowed at both Bon Secours Wellness Arena and Timmons Arena. This includes diaper bags and camera bags as well. All bags must be clear or you will be asked to return the bag to your vehicle. No exceptions.
Balloons are not allowed at Bon Secours Wellness Arena or Timmons Arena.
Important Graduation Information
High School Graduation Livestream Options
Jamison Named Employee of the Month for May
(5/25/2022 / TRHS Webmaster)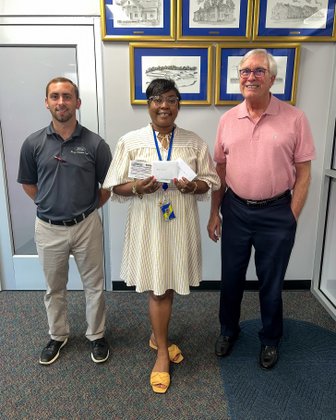 Congratulations to Mrs. Bianca Jamison, Employee of the Month for May. Mrs. Jamison previously taught at TRHS and returned this year as an Assistant Principal. She is pictured above receiving gift cards from sponsors Chase Rathbone from George Coleman Ford and Steve Borklund from State Farm Insurance. They also received gift cards from Shortfield's.
Chorus Presents Spring Concert
(5/17/2022 / TRHS Webmaster)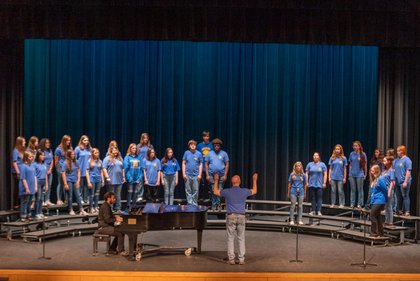 The TRHS Choral Program presented a Spring Concert on Tuesday night. The Varsity Choir sang a variety of songs and was joined by the Northwest Middle 8th Grade Chorus singing "We Don't Talk About Bruno."
Spring Choral Concert Photo Gallery
Alive at 25 Information

Alive at 25 is an early intervention program developed by the National Safety Council to prevent traffic violations, collisions, and fatalities. It is a 4 ½ hour defensive driving course that addresses the dangers of speeding, failure to use seatbelts, using cell phones while driving, eating while driving, driving under the influence of alcohol and drugs, and more. It focuses on the behaviors that young drivers exhibit behind the wheel, and allows the student to recognize the consequences of those actions. Use the links below to download a flyer about the program or go to their website. You can find upcoming classes on their website using the second link. Completion of the program is required for any student that parks on campus.
Alive at 25 Registration & FAQ Flyer (PDF)
Alive at 25 Registration Page on Website