Devildog News
Welcome Back Students
(8/1/2022 / TRHS Webmaster)
We are excited to welcome our students on Monday, August 15th. Please click below to see Mr. Bruce's Welcome Back Letter.
Welcome Back Letter From Mr. Bruce
Class of 2022 Holds Commencement Exercises
(6/1/2022 / TRHS Webmaster)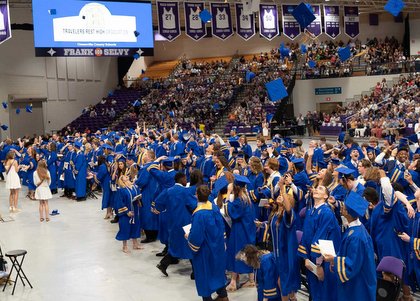 The Class of 2022 completed their high school careers on Wednesday morning with the Commencement Ceremony returning to Timmons Arena on the Furman campus for the first time since 2019. Julian Howard was the Salutatorian and McKenna Hammack was the Valedictorian of the class. Congratulations to all our graduates!
The link below to the Google Drive Graduates with Diplomas goes to a folder with full-sized photos that can be downloaded. They are 5x7 format photos.
For more information on the photos taken by Images linked below please see their website at www.images-sc.com.
Class of 2022 Graduation Photo Gallery
Graduates with Diplomas (A-G and Honor Grads) Photo Gallery
Graduates with Diplomas (H-W) Photo Gallery
Graduates with Diplomas on Google Drive (Full Sized)
Class of 2022 Graduation Photos by Images
Ward and Stroud Sign Letters of Intent
(6/1/2022 / TRHS Webmaster)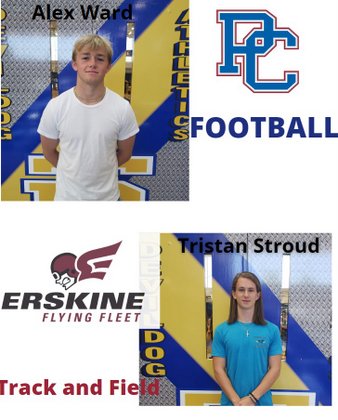 Congratulations to Tristan Stroud and Alex Ward for committing to continue their athletic careers at the next level. Tristan has signed with Erskine to compete in Track and Field and Alex has signed with Presbyterian College to play football. We are so excited that these two have joined our other seniors who have signed to continue playing sports at the next level. We are so proud of both of you and look forward to seeing what you do in the future. Go Devildogs!
Alive at 25 Information

Alive at 25 is an early intervention program developed by the National Safety Council to prevent traffic violations, collisions, and fatalities. It is a 4 ½ hour defensive driving course that addresses the dangers of speeding, failure to use seatbelts, using cell phones while driving, eating while driving, driving under the influence of alcohol and drugs, and more. It focuses on the behaviors that young drivers exhibit behind the wheel, and allows the student to recognize the consequences of those actions. Use the links below to download a flyer about the program or go to their website. You can find upcoming classes on their website using the second link. Completion of the program is required for any student that parks on campus.
Alive at 25 Registration & FAQ Flyer (PDF)
Alive at 25 Registration Page on Website