Announcements
Tutoring Offered
Free tutoring will be offered at MHS on Tuesdays & Thursdays from 4-5pm in select subjects. Students do not need to sign up in advance, just click the link below to view the schedule for dates, room number, & subjects available.
---
Band Fundraiser
On Tuesday, October 3rd head to Chipotle on Woodruff Rd for the Mav Band Spirit Night! Be sure to tell them you are there for the spirit night so that 33% of your order can go to help support the Mauldin Band!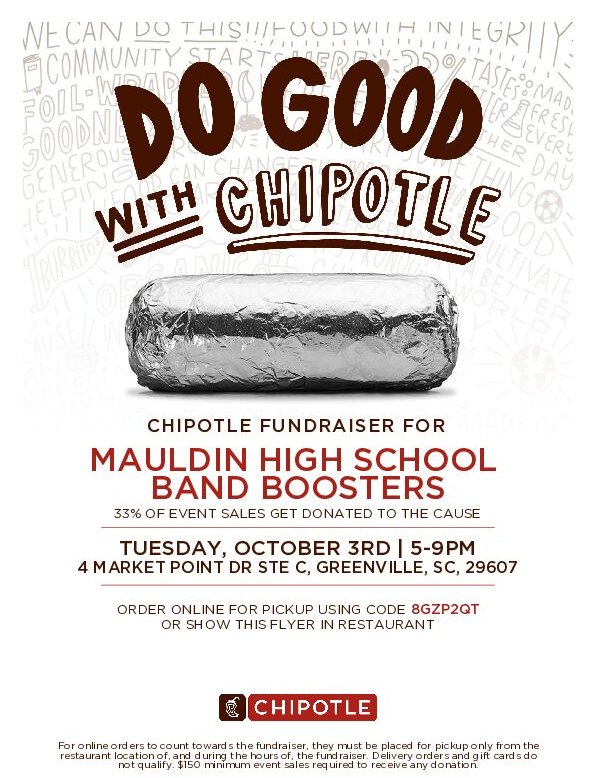 ---
Choral Concert
Come support the chorus program at their first concert of the year this Thursday, September 28th at 7 PM in the auditorium. Admission is free. We hope to see you there!
---
College Application Day
Seniors- College Application Day will be held on Friday, September 29th in the Media Center from 9 to 12. We will have college admission representatives, and school counselors on hand to help with college applications, scholarship applications, and transcript requests. You must sign up by noon on September 27th.
---
Beta Club Applications
The application for new Beta Club Membership is now open until 4:00 pm Friday, Sept. 29. Please read the application and membership agreement carefully before submitting your application.
---
Join our PTSA
Our PTSA exists to advocate for the parents, teachers and students of Mauldin High School. WE NEED YOU! As invested parents and students, we partner with MHS to offer support, enhancements, and enrichment to our school community.
Join us and be a part of the difference we are making in this experience for our students and their school!
---
Senior Portraits- Final Opportunity!
Last call to make an appointment for your senior portrait. Please contact Images to set up a studio appointment located in Greer. Appointments are filling up fast! Portraits must be taken by Oct. 13 to be in the yearbook. There is a $20.00 sitting fee payable when you sign up. You can call Images at 864.834.4261 or email: saycheeze@images-sc.com. Please check your school backpack email for the links and additional information.
---
Homecoming Dance
The Homecoming Dance will take place Saturday, September 23, 2023 from 7 p.m. to 10 p.m. in the MHS Atrium. Pre-sold tickets will be on sale for $10 from September 20-22 during all lunches. Tickets will be sold at the door for $20 on the night of the dance. All Mauldin students and their guests should have a Greenville County Schools ID.
If you have any questions about the dance, please see Ms. Rivers or Ms. Williams.
---
Homecoming Week
September 18-22 is Homecoming Week! Be sure to dress-up in the following themes each day. Monday is America Day. Tuesday is Adam Sandler Day. Wednesday is Jersey Day. Thursday is Throwback day. Friday is Orange Out Day.
---
Girls Cross Country Fundraiser
NEW DISCOUNT CODE!!!
Code: MAULDIN15 FOR 15% off your order!
The MHS Girls XC Team would like to introduce MHS custom drinkware by Stache. The following link will give you options to cups and water bottles to be custom designed by YOU! Pick your style, font, and what you would like it to say: Your name, sport or club, team #, or multiple lines - eg. name above # like a jersey...
GREAT GIFT IDEAS. We are also offering a 50 year logo and you can say alumni. This school store will be open for the month of September. Contact Coach Sands with any questions. Thanks for your support of our Girls Cross Country team!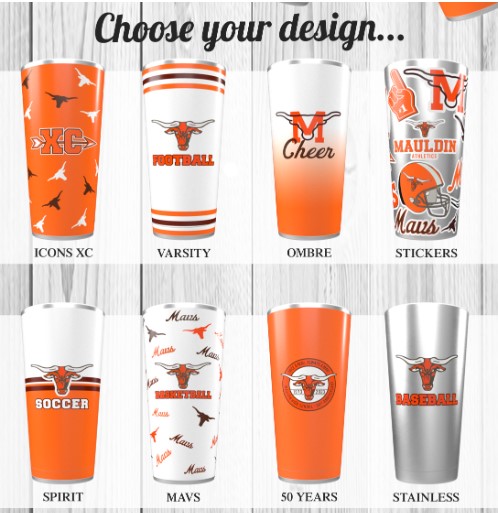 ---
Little Miss Mavette Pageant
Check out the Little Miss Mavette Fundraiser Pageant info for girls ages 4 to 12. There are three areas of competition, Beauty/Sportswear and Photogenic & Talent are optionals. Beauty is a Sunday dress, flower girl dress or pageant dress & Sportswear is anything in our school colors. Spread the word and enter your little one to help the Mavettes out with their fundraiser!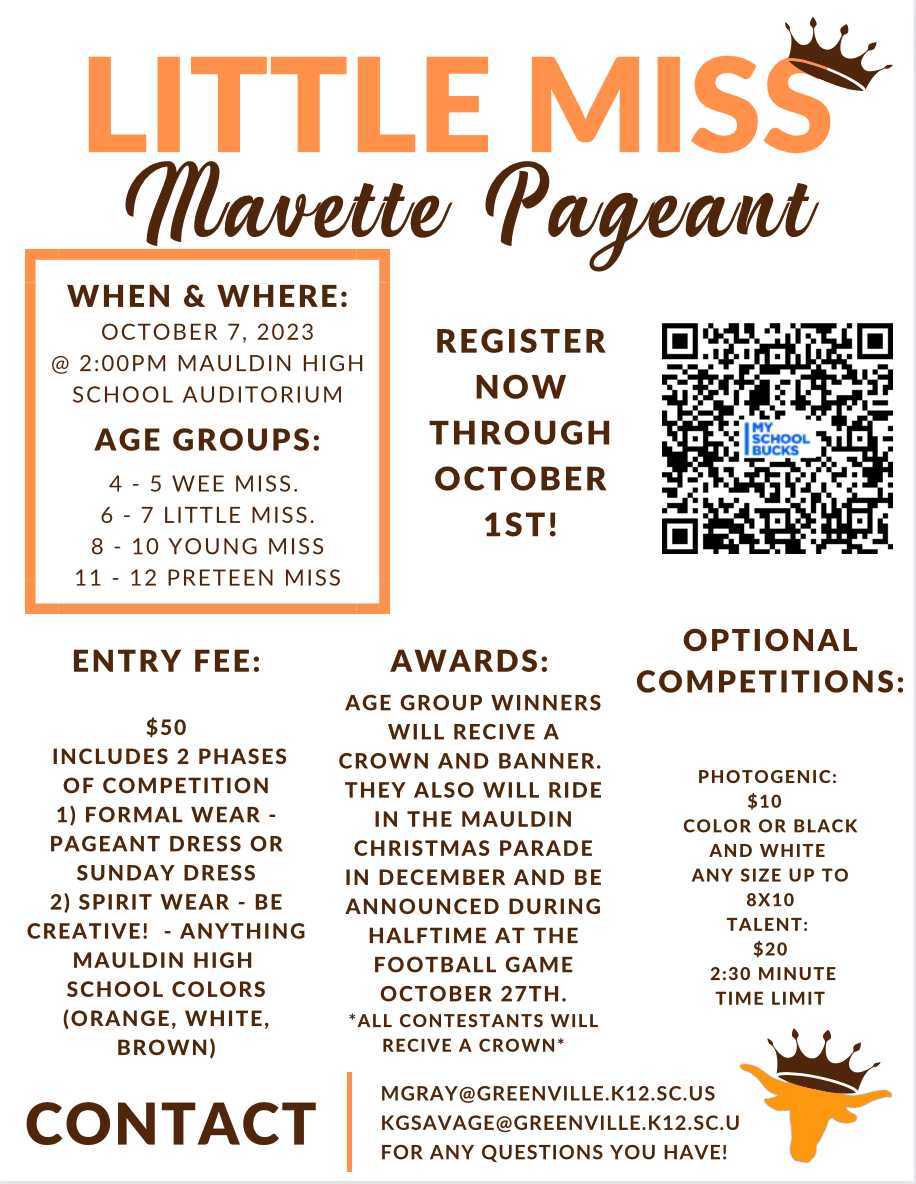 ---
Underclassmen Make Up Pictures
Makeup yearbook pictures for our 9-11th grades will be on September 27th in the media center
---
Spirit Week Car Show
Make plans to attend our upcoming Spirit Week Car Show! It will be a fun morning and it supports our spirit week charity- Battle Buddies!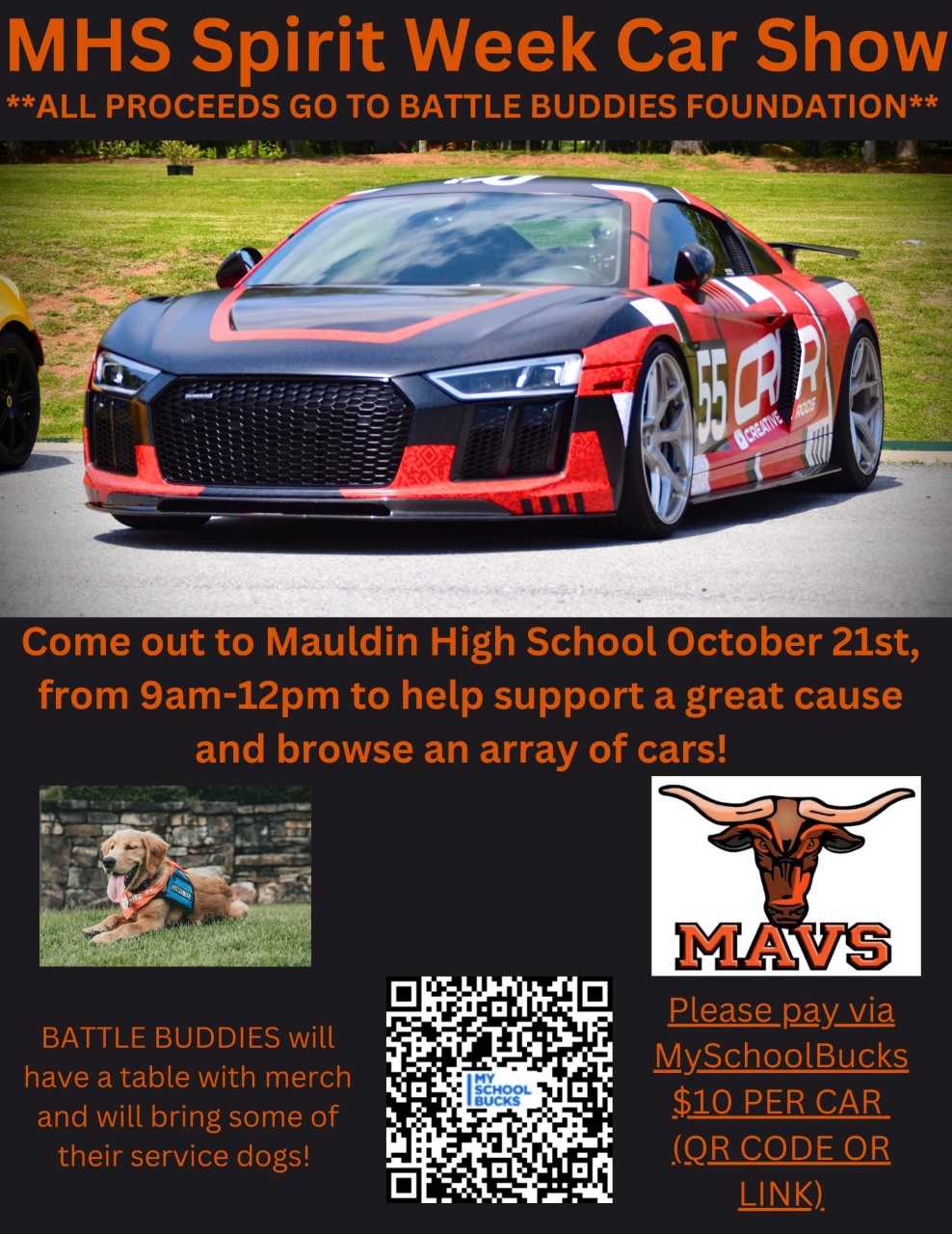 ---
50th Anniversary Website
We are excited to celebrate Mauldin High School's 50th Anniversary this year!! Check out the link below for all things 50th Anniversary including ordering gear, yard signs, and a schedule of events! We look forward to celebrating with YOU!
---
Chromebook Support
Are you in need of some assistance with your Chromebook? Be sure to check out our complete Chromebook Support Website and Support Hours!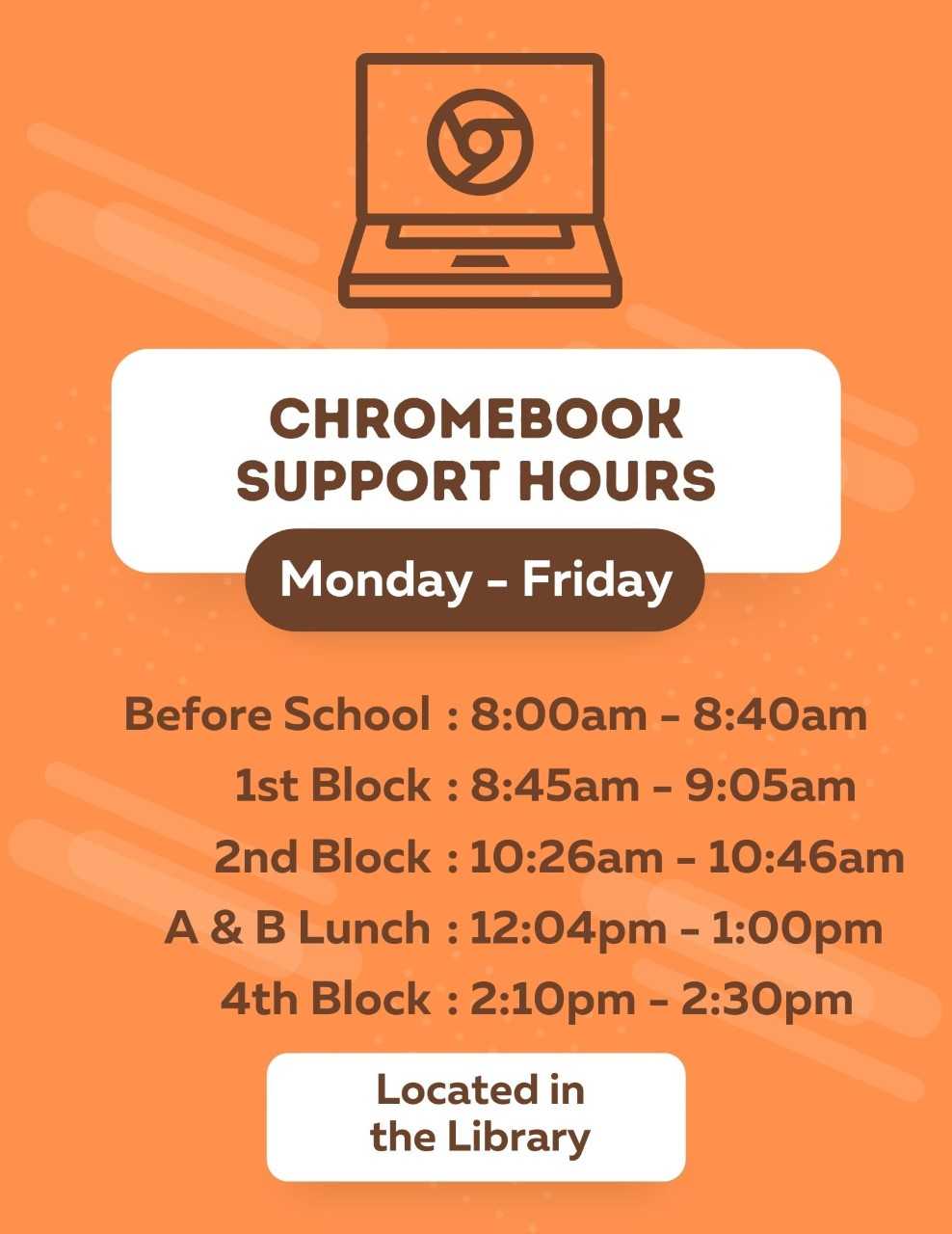 ---
Athletic Insurance
Reminder athletic insurance must be paid before a student is allowed to compete. Current Mauldin High School students should purchase athletic insurance through My School Bucks. Middle School and Home School students should use the link below to purchase GCS Athletic Insurance:
Middle School/Home School Student Athletic Insurance Link
---