Announcements
Schedule Details
Schedules are now available via student backpack.
How to View Schedules:
Students schedules are available to view in Backpack. Students may access Backpack using their student account. Parents who have created a Backpack account will also be able to view schedules. Parents who have yet to set up an account are encouraged to do so using the instructions posted on the main page of the MHS website.
First Day of School Schedules:
Students should understand that schedules are TENTATIVE until the first day of school. Teachers and course periods may change. Official schedules will be given to students on the first day of school in homeroom. Please note that summer school grades are still being processed. Schedules for students enrolled in summer school will be adjusted appropriately after these grades are received.
How to Request a Schedule Change:
Students can request a change in schedule based on certain conditions. This can be reviewed and completed the electronic "Request to Change Schedule" form which is linked below. Forms will be date/time stamped to process in the order they are received; therefore emails and phone calls will only slow down the process. Approving requests and making a schedule change is based on availability.
Dual Enrollment Schedule Explanation:
Students enrolled in dual enrollment classes should read the below linked letter, explaining their schedules and how courses will operate during the 22-23 school year.
---
ID, Chromebook, and Parking pickup
See below for scheduled times to receive your chromebook, ID, parking pass, and for the Mav Experience. (Please note, that parking pass application process has to be completed and approved before receiving your parking pass. This includes paying your upcoming school year class dues and any outstanding debt.) Also, please note the student must be present. Parents will not be able to pick up the items. Please enter through the student lot door. You can only come at your scheduled time. If you cannot come then, you will pick up your items the first day.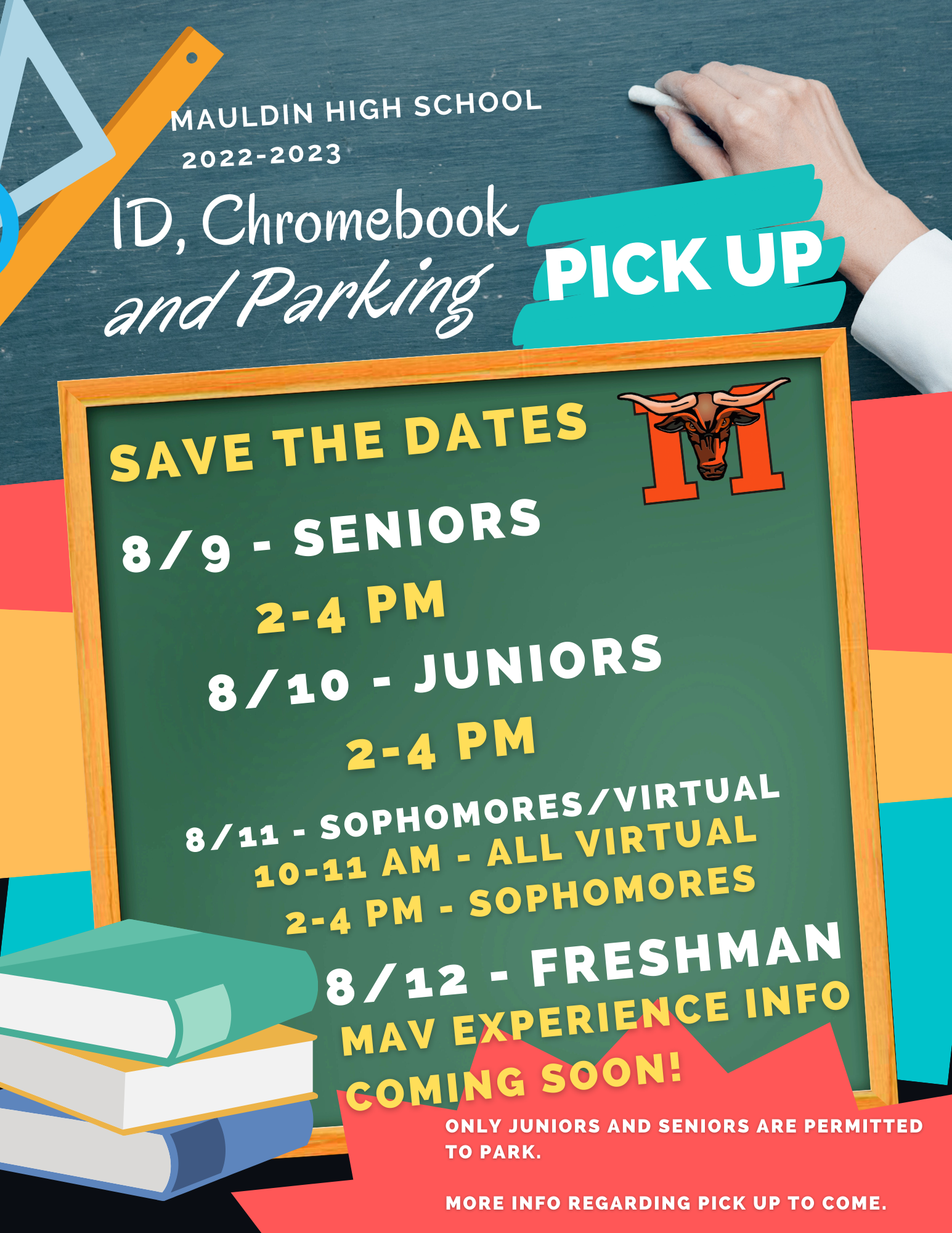 ---
Homeroom Assignments for students
If you need to find your Homeroom Teacher assignment, please use the link below. Be sure to find your grade level, and then find the alphabetical group with your last name.
---
New Parent/Student Landing Page
Be sure to check out the new Student/Parent Landing Page that has a lot of valuable information for the 2022-2023 School Year. You can find this throughout the school year under the Student/Parent navigation option at the top of the website. The Student/Parent Landing Page is the second drop down.
---
Beginning of the Year Packets
The required Beginning of the Year Digital Student Packet is now live. Please take some time to read through the checklist and submit the required and/or optional paperwork that applies. We thank you for completing this in advance.
Beginning of the Year Digital Student Packet
---
Senior Portrait Info
For more information on senior portraits for the Class of 2023 visit the MHS Yearbook website. Please note, you must sign up for a time to take your portraits through the link provided on the website. Please read all details. To have your picture in the MHS Yearbook you will need to take your senior portrait at one of the listed times.
---
Mav Experience Info
It is time to welcome our rising 9th grade Mavericks! Please review the attached letter for details regarding our Mav Experience. We look forward to greeting the class of 2026 on August 12! Go MAVS!
Copy of Freshman Orientation Letter
---
2022-2023 Student Parking Info
2022-2023 Student Parking goes live July 13th at 9am. To find out all the details and steps to complete visit the Student Parking page. Remember, only 11th and 12th grade students are eligible and parking passes are $75.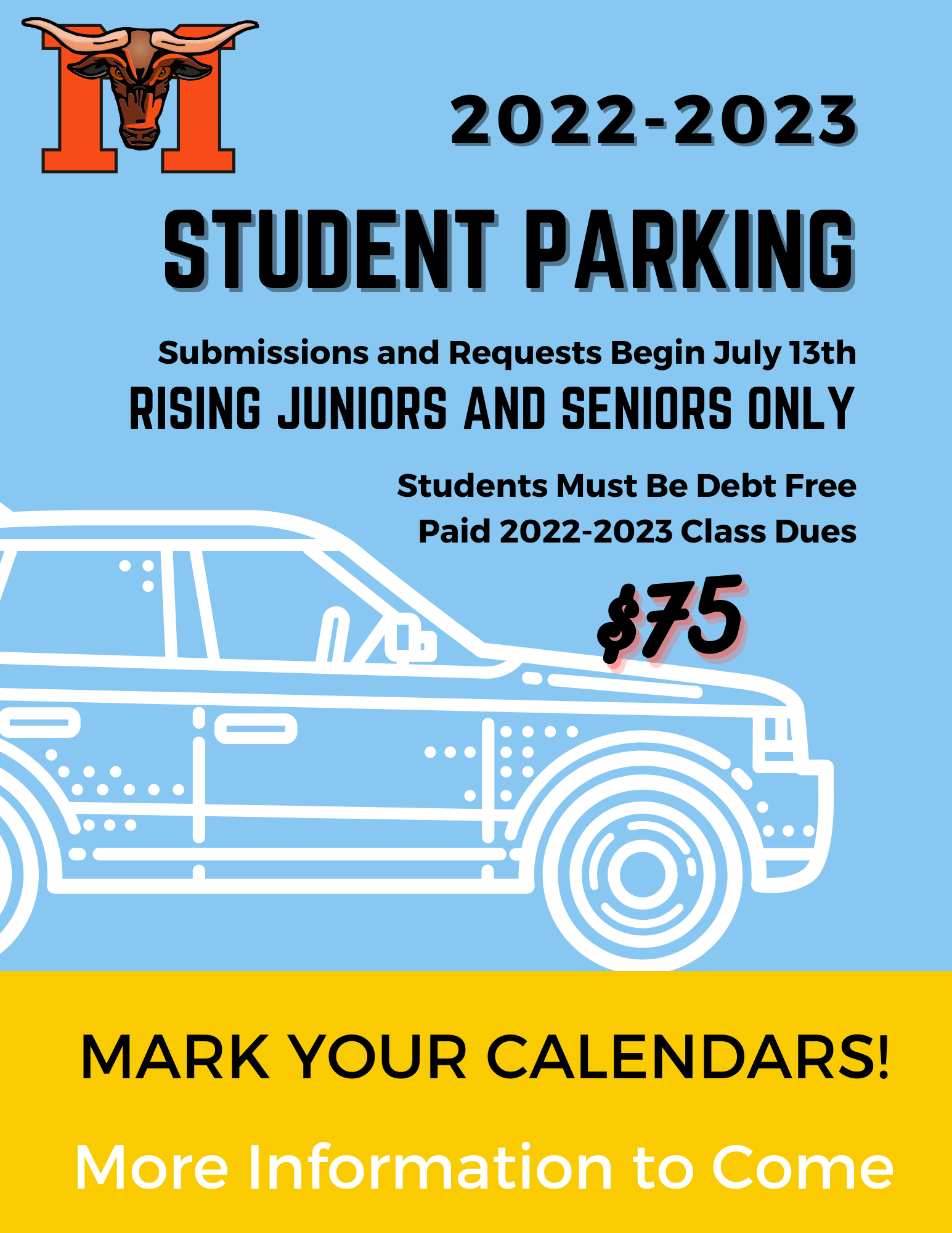 ---
Booster Club Membership Info
Interested in passes to all 2022-2023 regular season Maverick home games? What about varsity football parking passes for those Friday nightlights? The Mauldin High Athletic Booster Club is kicking off the 2022-2023 school year with their annual Membership Drive!
Please visit this link to apply for membership.
As a bonus- students who purchase their student pass can pick it up during their scheduled Chromebook pickup time on August 9-12th.
Help us support our student-athletes who bleed orange and brown! This is also your one shot to get a pass to all Mauldin High regular season home games and varsity football parking passes.
---
Girls and Boys Cross Country
If you are interested in joining MHS Cross Country contact Coach Shelly Sands, ssands@greenville.k12.sc.us. Also, you will need to pay insurance and your fees through the MySchoolBucks link in the athletic fee section of announcements on this webpage. Middle School students will need to use the Middle School/Homeschool fee link in that section. (Note, you will pay this at the MHS My School Bucks link provided there, not at your middle school.) Any questions, please contact Coach Sands.
---
Athletic Fee Info and Links
Please remember all athletic fees will need to be paid before competing. Here you will find links for paying athletic insurance for different sports. Please see button links below:
Middle School or Homeschool Students Athletic Insurance Cheerleading Payments Girls Swim Fees
Boys Cross Country Fee Girls Cross Country Fee Dance Team Payments Boys Swim Fees
---
Athletic Department
If you are interested in making a donation to any of the athletic teams or the athletic department you can find the link to do so below. (Please be sure to click on the correct link for the sport you are wanting to contribute to.)
Athletic Department Website Link for Donation
---
AP Classes Summer Assignments
Some of our AP courses require completion of summer assignments. AP students are encouraged to check their teacher's website for summer assignments. Questions can be directed to those teachers.
Below are summer assignments that have been shared:
---
Rising Senior Resources
Juniors, this is a resource to help you prepare for Senior Year and college applications! If you are getting a head start on your applications this summer, or just need some direction for next year and beyond, please take a look at this flyer and utilize the links.
---
Requesting a Transcript in SchooLinks
Rising seniors and current students in need of transcripts are asked to use the information below to request transcripts.
Use this flyer for a quick guide to requesting a transcript
If you need more detailed instructions, please use this presentation.
---