News and Notes
World's Finest Chocolate Fundraiser

Please help Duncan Chapel raise money with our Spring Fundraiser!
All items are only $6 or $7!
All order forms and money are due by Tuesday, March 7th.
Click HERE for the full fundraiser form and click HERE for the prizes you can earn for selling chocolate!
---
MARCH 2nd is Read Across America Day, Dr. Seuss Day, and Book Character Day! Here's how you can celebrate with us ...

Click HERE for a printable version of this form.
---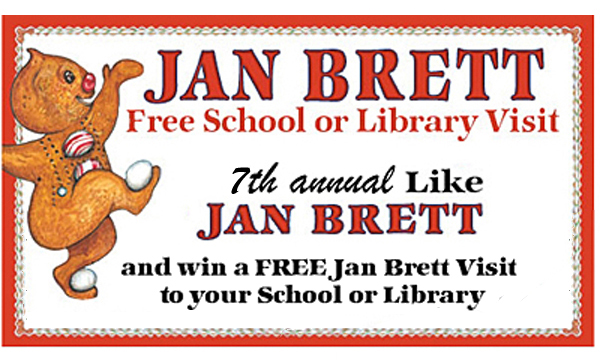 Our school has the chance to earn a FREE visit from the amazing children's book author, Jan Brett! Just click HERE and fill out the information for our school, including our address (210 Duncan Chapel Road, Greenville SC 29617). You can only enter one time per e-mail address.

The contest ends April 3, 2017. Thank you for your help with this!
---
This School's Got Talent

Click HERE for more information about these two contests and to submit your entry!

Click HERE for contest rules.
---
No Outside Food or Drinks

The Duncan Chapel cafeteria is just like any other restaurant and we request that food items from McDonalds, Wendy's, Pete's, etc., not be brought to our "restaurant". We encourage you to participate in our school lunch program. Due to increased security, parents are asked to say good-by to their child in the cafeteria and not follow the class to the classroom or playground. Thank you!!
---
Visitor & Volunteer Guidelines

*If you wish to join your child's class on a field trip at any point this year, you MUST complete the application process for a LEVEL II VOLUNTEER. All Visitors and Volunteers must complete the application process for at least a Level I Volunteer.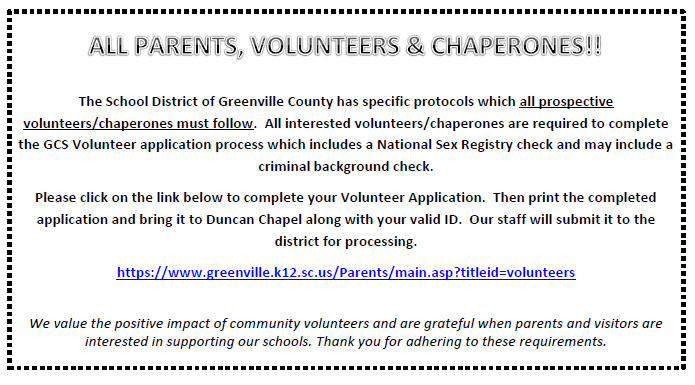 For more information about the Application Process, please click HERE.
For the Volunteer Application, please click HERE.
Please click the flyer to the right or click HERE to visit the Greenville County Schools webpage for more information and all the necessary forms.

Our primary responsibility is to safeguard our children and ensure we are in compliance with the identified guidelines. Thank you for your cooperation as we work with our stakeholders to complete this process. All volunteers will be required to remain in the presence of a GCS employee at all times until applications for Level II are approved.

El Condado de las Escuelas de Greenville valora el impacto positivo de los voluntarios-as y agradece su interés en apoyar nuestras escuelas. Para mejorar la seguridad, el Proceso de Aplicación de Voluntario-a de GCS incluye una verificación anual de antecedentes criminales para Voluntarios de Nivel II y verificación en el Registro de Acosadores Sexuales para todos los voluntarios-as en cada una de las visitas a nuestras escuelas. Se le exige una identificación fotográfica estatal válida que debe de presentar al momento de entregar la aplicación para verificar su identificación. Las aplicaciones serán revisadas en un mínimo de dos semanas. Click HERE for the Formulario de Aplicación de Voluntario-a.
---