News and Notes
Holiday Dance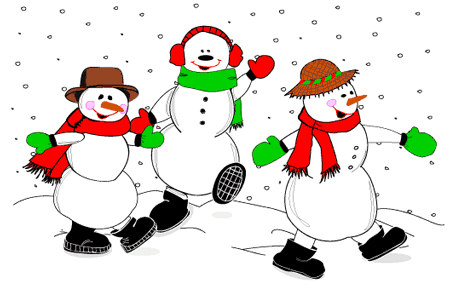 Fourth and Fifth grades are sponsoring a Holiday Dance! Come out and enjoy a night of fun and dancing! The dance will be Friday, December 9, from 5-7 pm. The cost of the dance for adults and children is $5.00, which includes 1 slice of pizza, cookies, and drinks. You can also get your picture taken for $2.00. Fifth grade teachers will be selling Papa John's coupon books for $10 - these make great stocking stuffers! This is a great time for students to dance and have lots of fun!​
---
Duncan Chapel Art Gallery

Visit our Duncan Chapel Art Gallery to see the art projects our students have been working on!
---
Wee Deliver is open for business!

On Monday, October 24th, the Duncan Chapel mail system opened for business. The third grade is responsible for running the "Wee Deliver" post office. Mrs. Thompson will supervise the mail workers. Mail will be picked up, sorted, and delivered two times a week.

Through this "in house" mail system, students practice writing and other standards as they write and respond to letters. Teachers can send cards or letters to fellow teachers or students!
PARENTS - you are encouraged to get involved by writing to your child. You can find out your child's school address in 3 different ways: an address book will be located in the front office, the addresses will be posted on the school's website (look for the link on the Parent's Page), and every teacher will be sharing their classroom address with you through their newsletter.
A mailbox will be placed outside the office in the main lobby for you to deposit mail. Also, there are mailboxes posted on various hallways that may be used.
Please remember to address the letter correctly, including return address. NO REAL STAMPS necessary! You may use a sticker or drawing in place of the stamp. Your envelope would look something like the sample here.
Thank you for supporting this fun, learning activity!
~Mrs. Thompson, IC
---
No Outside Food or Drinks

The Duncan Chapel cafeteria is just like any other restaurant and we request that food items from McDonalds, Wendy's, Pete's, etc., not be brought to our "restaurant". We encourage you to participate in our school lunch program. Due to increased security, parents are asked to say good-by to their child in the cafeteria and not follow the class to the classroom or playground. Thank you!!
---
Visitor & Volunteer Guidelines

*If you wish to join your child's class on a field trip at any point this year, you MUST complete the application process for a LEVEL II VOLUNTEER. All Visitors and Volunteers must complete the application process for at least a Level I Volunteer.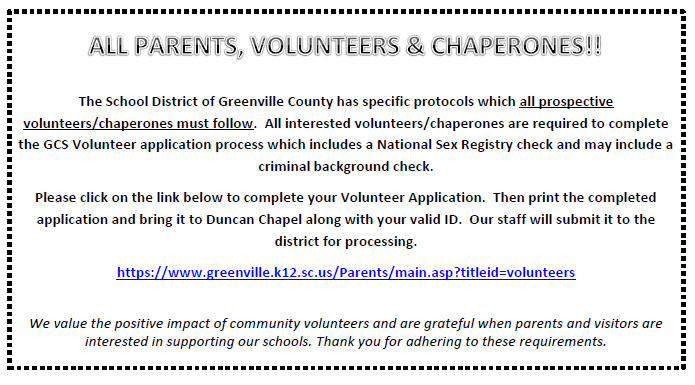 For more information about the Application Process, please click HERE.
For the Volunteer Application, please click HERE.
Please click the flyer to the right or click HERE to visit the Greenville County Schools webpage for more information and all the necessary forms.

Our primary responsibility is to safeguard our children and ensure we are in compliance with the identified guidelines. Thank you for your cooperation as we work with our stakeholders to complete this process. All volunteers will be required to remain in the presence of a GCS employee at all times until applications for Level II are approved.

El Condado de las Escuelas de Greenville valora el impacto positivo de los voluntarios-as y agradece su interés en apoyar nuestras escuelas. Para mejorar la seguridad, el Proceso de Aplicación de Voluntario-a de GCS incluye una verificación anual de antecedentes criminales para Voluntarios de Nivel II y verificación en el Registro de Acosadores Sexuales para todos los voluntarios-as en cada una de las visitas a nuestras escuelas. Se le exige una identificación fotográfica estatal válida que debe de presentar al momento de entregar la aplicación para verificar su identificación. Las aplicaciones serán revisadas en un mínimo de dos semanas. Click HERE for the Formulario de Aplicación de Voluntario-a.
---