Announcements
PTSA FUNdraiser!
We are wrapping up Step It Up this week. Donations can be given online and by cash or check through Friday March 22nd. Also if you send at least 10 emails this week you will earn a prize while supplies last. Get ready for our Day of Awesomeness! Click HERE for the latest updates! Thank you for your support!
---
8th Grade Parents
Online sign-ups for 8th grade IGPs have now closed. Students who do not have a scheduled IGP time will be assigned a time to complete the IGP and registration with a counselor. To schedule an IGP for your 8th grade student, please contact Mrs. Lamb at 452-0370.
---
We're Hiring!
We are currently seeking teachers in the following areas for the 2019-2020 school year: Middle Level Math. You can find the complete listing of our open positions HERE. (Once on the job listing page, click on the Location drop down, choose Ralph Chandler Middle and you can view the current positions available at our school.) Please visit the District Human Resources page for additional information.
---
A Reminder from the Nurse
Illnesses are beginning to creep up in our area. Please remind your child to cover their cough, wash their hands frequently (especially after using the bathroom or blowing their nose).
Per district policy:
· If your child has a fever (100.4 or higher), they should not come to school. They must be fever free for 24 hours without medication to return to school.
· If your child is vomiting or has diarrhea, they should not attend school. They should be diarrhea free for 24 hours before returning to school. They should also be able to eat 1-2 meals without vomiting before coming back to school.
· If you follow these policies, this should help prevent the spread of these illnesses.
---
RCMS Happenings....
Click on the image below to purchase your yearbook! Don't wait! Do it today! Parents-Please keep checking back! We will be opening up 8th grade ads SOON!

Interested in receiving text messages about school cancellations and other schedule changes?
The GCS Alert Form-English and GCS Alert Form-Spanish can be found by clicking the appropriate link. The form is only for parents who currently have a landline listed as their "Primary Contact Phone" and wish to receive texts about school cancellations or other emergency schedule changes. Parents who already list a cellular phone as their primary contact will not need to take action to receive this service. Additional information from the District can be found HERE.
Scroll through the RCMS "Art Gallery" - Our students are so talented, keep checking back for new entries!

Our Basic Daily Schedule can be found HERE.
Parents, please be reminded that our school policy regarding early dismissal asks that parents not seek an early dismissal after 2:45. Early dismissals at any time are disruptive to the school day and are particularly problematic in the last 30 min. of our instructional day.

RCMS Grade Level Policies can be found HERE and also under the Parent and Student tabs, above.
2016-2017 Greenville County School District Report to the Community can be found HERE

Spirit Nights: Spirit Nights are fundraising nights when restaurants give a percentage of their sales during the time frame to the school. Be sure to mention Ralph Chandler when you order! Check our calendar for all Spirit Night opportunities!
Free Breakfast for Students - All students can receive a school breakfast for free regardless of their status.
Meal prices are as follows: Student Lunch Paid $2.50 - Reduced Lunch $.40
Library News:
Sign up HERE for Mornings in the Media Center! From 7:45-8:15 you can participate in Makerspace activities and check out library materials! The library is open to everyone from 8:15-8:30 (without signing up) to get, return, or renew books.
CHECK YOUR EMAIL for overdue notices!
---
RCMS Panther Sports News!

Tickets for RCMS Athletic Events now available to purchase online through GoFan.com, Click the Link to go to the RCMS Page YOUR GOFAN HOMEPAGE LINK: https://gofan.co/RalphChandlerPanthers On game day, bring your phone and show purchase, it's that simple!

RCMS Athletic Packet available by clicking HERE All students interested in playing any athletic sport MUST fill out Athletic Packet in full and turn in to Coach McCartney. If a Physical is at the High School, it is the student's responsibility to get a copy for RCMS. You can find the Athletic Handbook HERE.
---
SC-AMLE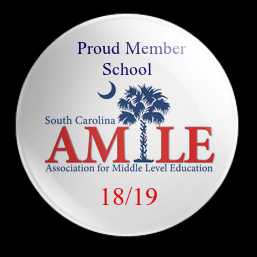 ---