PTSA
As a token of appreciation to J.L. Mann's hardworking teachers and staff members, the PTSA would like to celebrate them during the week of May 2nd. We have created a week of events built around our theme Out of the Park! Each day our teachers will receive a special treat. Game day will begin on May 2nd with the "first batter up" and the week will end on May 6th after the "9th inning". We need your help to make this week special and fun. Please see below ways you can help by donating items. Thank you in advance for your spirit of giving.
Teacher and Staff Appreciation Week
---
Please check out the State and Local activities as well at the South Carolina PTA website: South Carolina PTA
---
The National PTA just celebrated its 125th Year Anniversary!
National Parent Teacher Association | National PTA
From the website: "Founders' Day (Feb. 17) is when we celebrate the legacy and work of our founders—Alice McLellan Birney, Phoebe Apperson Hearst and Selena Sloan Butler—to better the lives of every child in education, health and safety. It is a time to reflect and take pride in our achievements, and renew our commitment to be a:
· powerful voice for all children;
· relevant resource for parents; and
· strong advocate for public education.
Our founders represented women of imagination and courage. They had a simple idea—to improve the lives and future of all children. They understood the power of individual action, worked beyond the accepted barriers of their day, and took action to change the world for all children.
National PTA has established programs and called for legislation that improves our children's lives, such as:
· Creation of Kindergarten classes
· Child labor laws
· Public health service
· Hot and healthy lunch programs
· Juvenile justice system
· Mandatory immunization
· Arts in Education
· School Safety"
Thank you to all those that have come before us!
---
Mann PTSA 2021-2022
President
Betty Booker Quarshie
Mum2mimi@hotmail.com
864-991-7554 Betty
Vice President
Crystal Selfridge
cselfridge111@gmail.com
864-704-6171 Crystal
Past President
Betsy Williams
Betsyw22@yahoo.com
864-420-8660 Betsy
Treasurer
Leslie Griffith
864-640-5835 Leslie
Assistant treasurer: Jana Scroggins
404-664-3150 Jana
Secretary
Preeti Tiwari
preeti9r@yahoo.com
864-906-7153 Preeti
---
Patriot Nation Volunteer form
Please complete the form below to receive communications on our volunteer needs throughout the year. Feel free to volunteer as much or as little as your time allows. Your involvement is greatly appreciated.
https://forms.gle/bYRdE8B3FEU3N6kCA
---
Advocacy News:
Register to Vote! Your Voice Matters!
Go to SCVotes.gov to register to vote online! If you will be 18 on or before the next election, you can register to vote.

Calling All Students!
Even if you are not eligible to vote yet, you can still get involved in voter registration efforts at JL Mann or in the community.
---
Advocacy Works! Here are some helpful links so you can voice your opinion on issues that affect you and our community.
1. Find your elected officials:
2. Contact information for GCS Board members:
3. Follow legislation at the SC Statehouse:
4. Learn how you can participate in a GCS Board meeting: GCS Board Information
Questions? Contact JL Mann Advocacy Chair, Kristin Burrell (kristin.m.burrell@gmail.com)
SCPTA News: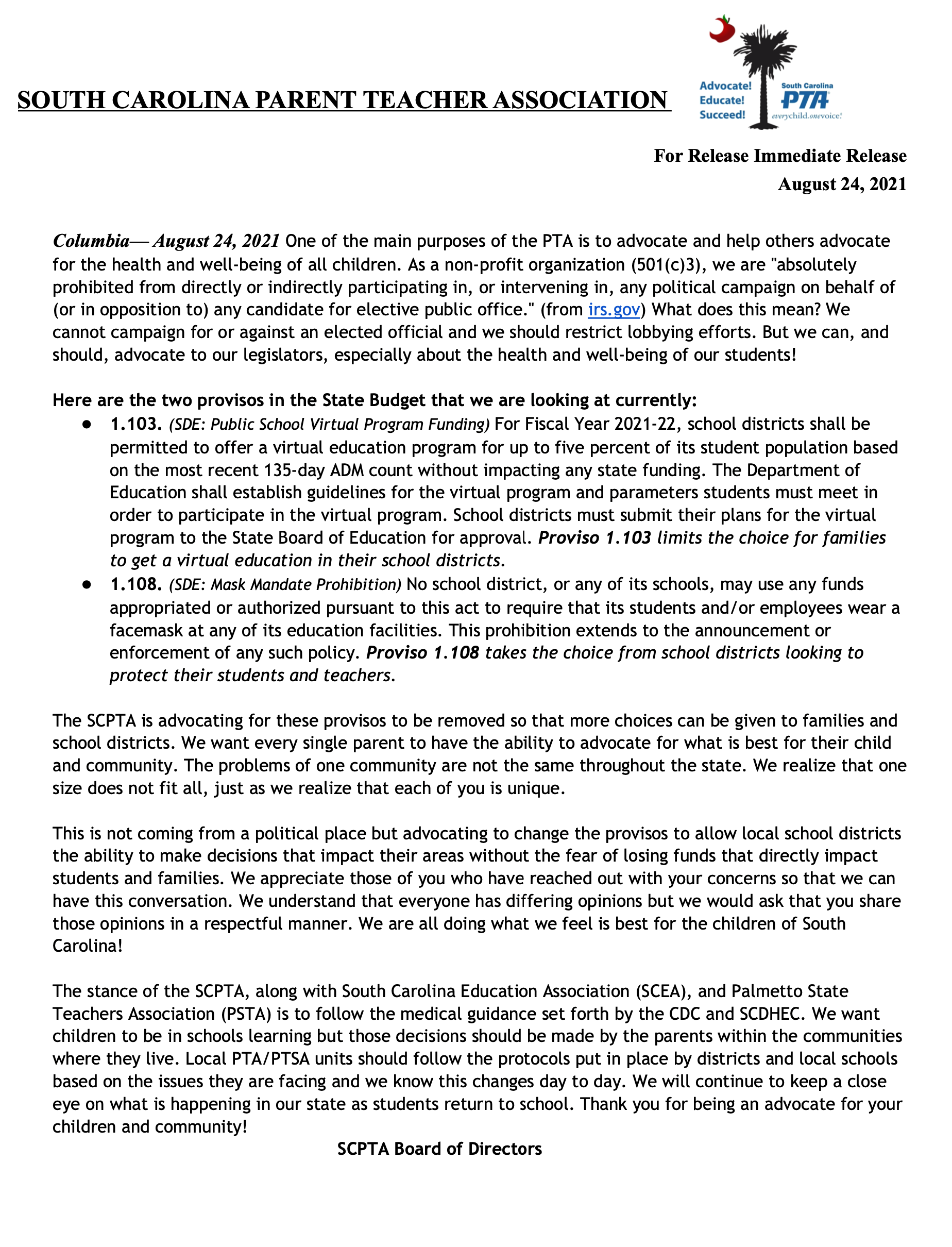 The 2021-22 School Year is off to a great start! PTSA programs only happen with your support. Please consider joining and/or consider becoming a Patriot Partner by donating straight to the organization. Click this link to see the many ways you can help!
MemberHub (www.jlmannptsa.memberhub.com/store)
Also, check out the "JLMann PTSA" Facebook page for events and volunteer opportunities that arise. Speaking of volunteering- now that volunteers are allowed back in the building, please submit for the Volunteer Level 1 and 2 Application through the Greenville County School Website School Visitor and Volunteer Guidelines (greenville.k12.sc.us) . This site gives all the information you need to know about district volunteer policies, and it only takes a few minutes to keep our kids safe.
Feel free to reach out to me with any questions or comments : betsyw22@yahoo.com. I look forward to a fulfilling and ever-changing school year!
All the best,
Betsy Williams
PTSA President 2021-22