2019 Middle School Championships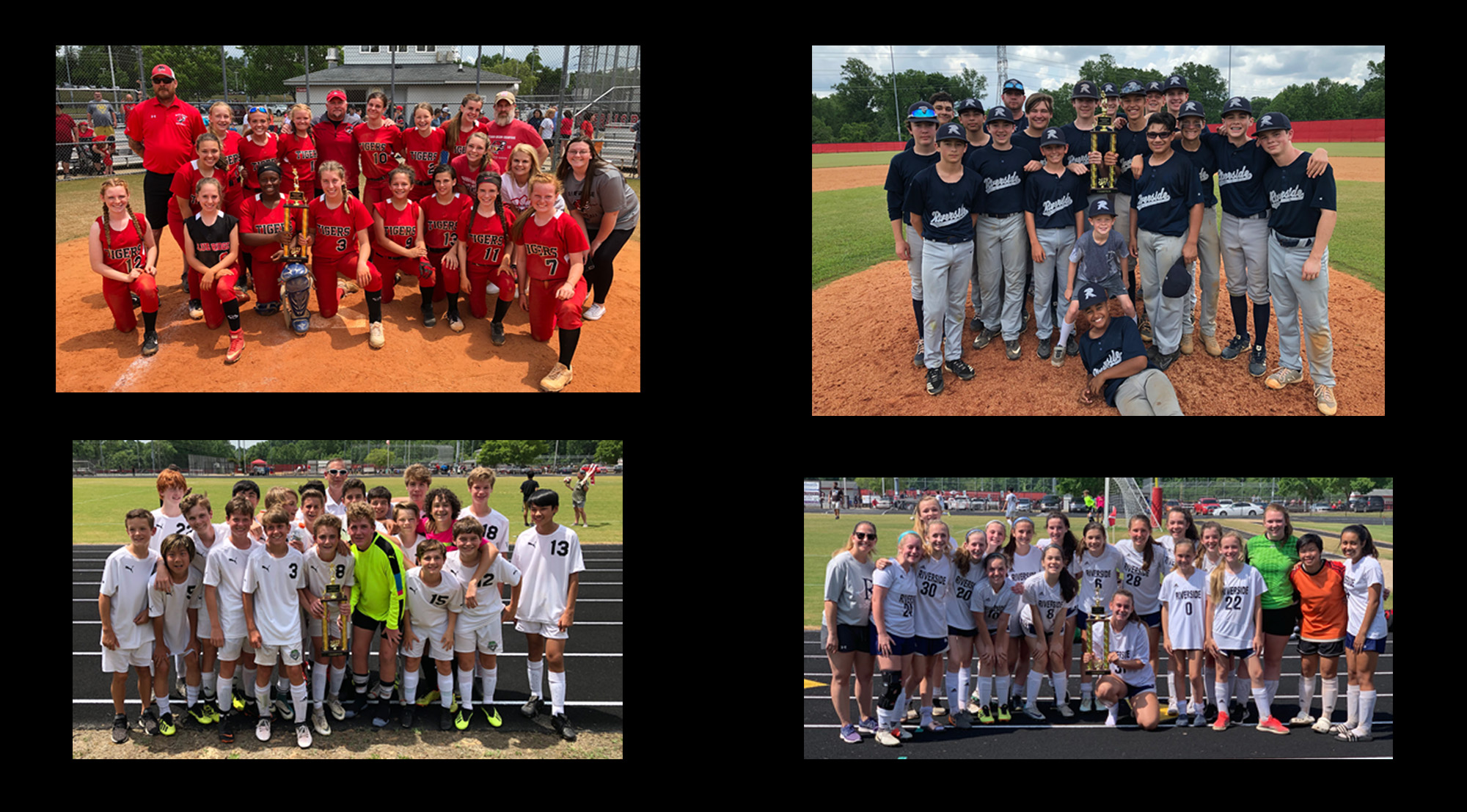 Championship Saturday was held at the Wade Hampton athletic complex this past weekend. Big crowds were on hand as county champions were crowned for Greenville middle schools in boys and girls soccer, baseball and softball.
Girls soccer was the first title match of the day as Ralph Chandler Middle squared off with Riverside Middle. It took both teams some time to settle into the environment. Ralph Chandler broke a scoreless tie midway through the first half on a free kick from outside the 18, but Riverside immediately scored on a 50 yard bomb by Sarah Bishop. After two goals in under :30 seconds, both defenses settled down and the game remained tied at one heading to the half. Chandler's goalie Chloe Draganic survived several barrages from the Riverside Royals to keep the game tied at one until Riverside's Maria Russell was able to knock in the eventual game winner. Riverside got a great effort from their defense and keepers, Courtney Taylor (1st half) and Denisha Cai (2nd half) to preserve the 2-1 victory and the 2019 Girls Soccer County Championship!
While the girls soccer game was heading to half, the boys baseball game threw out its first pitch. Riverside batted first as the visiting team against Hughes Academy. The Royals opened with a RBI single from McKade Hill to make the score 1-0 after one. That one run would be all the Royals would need as starting pitcher Marion Creech threw 5 2/3 scoreless innings and Caden Cosby closed out the game with three strikeouts in an inning and a third. The Royals got ten hits on the day, including two each from Hill, Luke Westrol and Braden Keller. Creech helped his own cause driving in a pair of runs late to help seal the game. Hill, Keller, Cosby and Dylan Willis also drove in a run. Elijah Franz, Keller, Willis, Hill, Westrol, Cosby and Jason Quillen scored for the Royals as they defeated Hughes 9-0 to claim the 2019 GCS Baseball County Title.
Boys soccer featured contrasting styles of play as Berea Middle faced Beck Academy. The Beck defenders were able to check the free flowing Bulldog attack. Luke Cline, Thomas Henderson, Sebastian Mendoza, David Petribono and Michael Pestrak disrupted the Berea offense and goalie Cameron Daniels had four saves to hold Berea scoreless. The Blue Knights also remained scoreless, but they finally broke through with under fine minutes left in regulation on a goal off the foot of Jace Hicks, with the assist by Robert Greene. Two minutes later Beck sealed the victory with Hicks second goal of the game, this one off of a free kick. Beck won the 2019 Boys Soccer County Championship 2-0!
The final finish of Saturday was the girls softball final which saw undefeated Blue Ridge take on Ralph Chandler Middle. The Tigers dominated early, scoring nine runs in the first inning to blow the game open. Callie Trapp, Gensis Anderson, Addie Center, Alla Hutchins, Mallory Kirby and Bailey Norris all drove in runs in the first. The Tigers got an excellent outing from starting pitcher Callie Trapp, who went all six innings with no hits and four strikeouts. Blue Ridge cruised to a 12-3 victory to complete a perfect 26-0 season. Going undefeated in back to back seasons, Blue Ridge claimed the 2019 Softball County Championship!
Congratulations to all who participated in Championship Saturday and thank you to all the fans who packed Wade Hampton for the games!
Posted: 5/7/2019 | Author: Jeff Hiffman