2019 Greenville County Wrestling Championship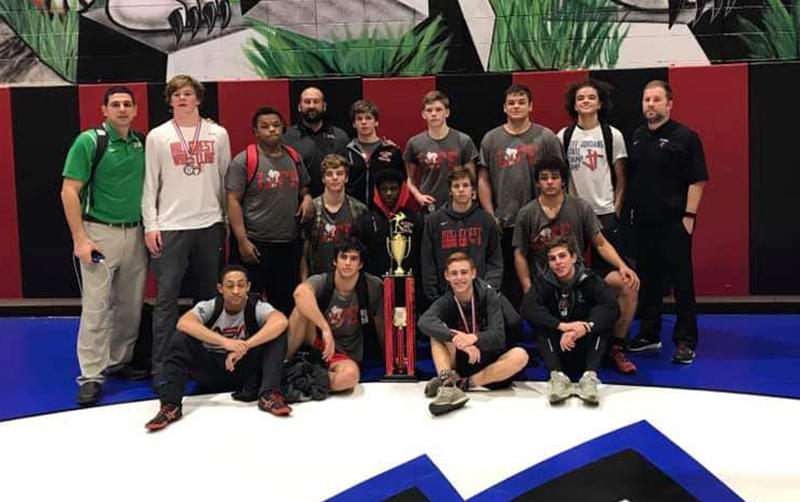 Blue Ridge High School hosted the 42nd annual Greenville County Wrestling Championships on Saturday. The event is one of the longest running wrestling tournaments held within the state. The Hillcrest Rams held off Woodmont High to win the 2019 County Championship. The Rams amassed 222 total points. Woodmont tallied 182 and two Wildcat wrestlers earned Most Outstanding Wrestler, Thomas Schock for the Light Weight Division (106-145) and Garrett Starks for the Heavy Weight Division. JL Mann placed third, Mauldin fourth and host Blue Ridge fifth.
At 106, Hillcrest's John Wilkerson (25-7) defeated Jamarcus Isler (25-3) from Greenville in a 7-4 Decision to claim 1st place. Berea's Eric Nguyen finished 3rd and Alexandra Martinez from Woodmont 4th.
Mauldin's Thomas Snipes (25-10) won at 113, defeating Hillcrest's Treavelle Westfield (25-13) by Decision 7-6. JL Mann's Jack Doran placed 3rd and 4th place went to Forest Baker from Wade Hampton.
Dylan O'Keefe (28-8) and Darren O'Keefe (24-10) from Hillcrest took 1st place at 120 and 126. Dylan defeated Zaid Miller (17-13) by Fall at 1:38 to win 120. Mauldin's Caleb Boller placed 3rd and Woodmont's Cooper Culbertson 4th. At 126, Darren won a 9-3 Decision over Woodmont's Cooper Strange (28-11). 3rd went to Mann's Patrick d'Anjou and 4th to Toby Foster of Travelers Rest.
At 132, JL Mann's Malik Harvey (27-7) won a Major Decision 8-0 over Mauldin's Brayden Fults (16-13). Hillcrest's Danny Pettinato placed 3rd and Greenville's Thane Johnson 4th.
Woodmont took 1st place at 138, 145 and 152. Most Outstanding Wrestlers Thomas Schock (32-1) and Garrett Starks (37-1) took titles at 145 and 152 and Joan Martinez-Salas (33-5) won at 138 defeating Bryson Mclees (21-12) of Travelers Rest by Major Decision 13-2. Schock won 145 by Technical Fall over Mann;s Sadiq Murray. Grantt Hopkins from Hillcrest placed 3rd and Greer's Micah Henkin 4th. Starks won 152 by Technical Fall over Blue Ridge's Kyle Flyte. 3rd place went to Mauldin's Ricky Jeletic and Mann's Orlando Corona took 4th.
Mauldin's Jeremy Fisher (13-5) placed 1st at 160, defeating Ethan Prescott (31-3) from Riverside in an 11-5 Decision. Woodmont's Charles Rogers placed 3rd and Kaleb Horn from Blue Ridge 4th.
Walker Stephenson (25-2) from Hillcrest took 1st at 170, defeating Zeebo Riley (35-10) from travelers Rest in a 20-7 Major Decision. 3rd place went to Mauldin's James Snipes and 4th to River Sneed from JL Mann.
Host school Blue Ridge got a win at 182 from Shayne van Wettering (16-40. Van Wettering defeated Hillcrest's Evan McKnight in a 10-5 Decision. Greer's Ellison Flores grabbed 3rd and Mauldin's Malik Bobo 4th.
At 195, Tyler Kilgore (16-6) from Hillcrest got a Fall at 2:43 to defeat JL Mann's Eakhari Peterson (21-9). Berea's James Brisbane took 3rd and 4th went to Michael Kemp from Blue Ridge.
Woodmont's Jake Fernicola (36-3) won at 220, defeating Mann's Coleman Martin (22-11) by Major Decision. Carolina's Tim Whitley grabbed 3rd and Elias Garza from Mauldin 4th.
At 285, Woodmont's Cody Sullivan (26-5) won by Fall at 1:30 over Wade Hampton's Jaheim Scott (13-14). 3rd place went to Mann's Fred McIntyre and 4th to Hillcrest's Jacoreyn Byrd.
Congratulations to all who competed. The final team standings were:
Hillcrest Rams - 222
Woodmont Wildcats - 182
JL Mann Patriots - 175
Mauldin Mavericks - 138.5
Blue Ridge Tigers - 94
Travelers Rest Devildogs - 84
Riverside Warriors - 53
Greer Yellow Jackets - 50
Wade Hampton Generals - 50
Berea Bulldogs - 39.5
Greenville Red Raiders - 37
Carolina Trojans - 24
Southside - 0
Eastside - 0
St Joseph's - 0
Posted: 1/14/2019 | Author: Jeff Hoffman