Shrine Bowl and North-South All-Star Football This Saturday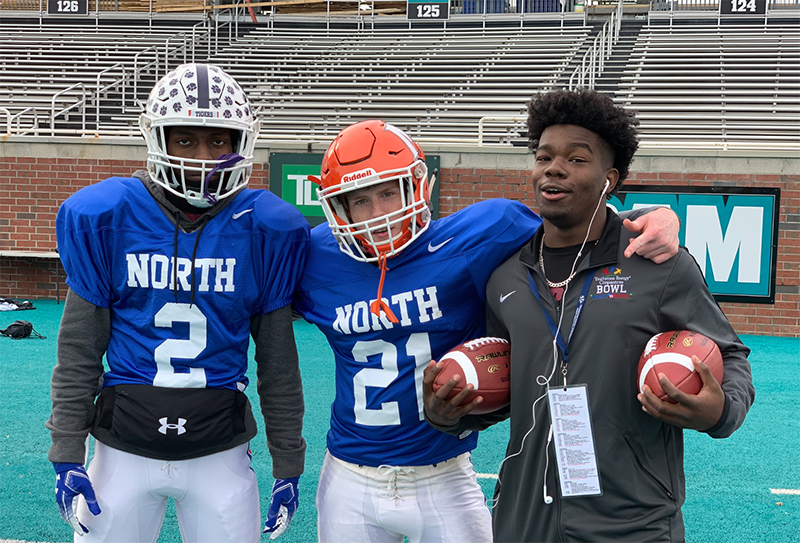 This week, nine football players from Greenville County Schools are taking part in All-Star Football games. Due to schedule changes caused by hurricanes this fall, both the Shrine Bowl of the Carolinas and the Touchstone Energy Cooperative North-South All-Star Football Game are taking place this week. The all-star teams gathered this week, despite the cold weather, to begin practicing for Saturdays games. Players were selected by coaches in the two games and are among the best senior players in the state.
Among those playing for team South Carolina in the Shrine Bowl of the Carolinas are Davis Beville, Quantavious Cohen, Dre Williams, Jalen Anderson and Jalon Calhoun. Davis Beville, Greenville High, is one of two quarterbacks on the Sandlappers team. Beville, a University of Pittsburgh commit, stands 6'6" and was the leader of an explosive Red Raider offense this season. "Quack" Cohen, a 6'1" 265 lb DT, anchored a loaded Greer High defensive front that carried the Yellow Jackets all the way to the 4A state championship game this season. Cohen has several college offers, but has not made his final decision just yet. Teammate Dre Williams, Greer High, reinjured a lingering ankle injury at Shrine Bowl practice this week and will not play in the game on Saturday. Williams amassed over 2100 yards on the ground this year and has a verbal commitment to Marshall University at this time. Jalon Calhoun, Southside High, can line up almost anywhere on the field. Calhoun started the season at quarterback and cornerback. Despite missing some time due to injury, Jalon helped lead Southside to a 9-win season, including two playoff victories for the Tigers. Calhoun will sign with Duke University this week, where he will get looks at wide receiver and/or defensive back. Mauldin's Jalen Anderson was a late promotion from the North-South game to the Shrine Bowl roster. Anderson was one of four Mavericks to earn All-Region honors out of just the Mauldin secondary. Anderson, a 6'2" cornerback has not decided on which college he will attend in the fall.
The Touchstone Energy Cooperative North-South All-Star game features Stephon Stokes, Brendan Killough, Kyle Schneider and Ethan Alexander. Brendan Killough, Mauldin High, joined teammate Jalen Anderson on the Region II-AAAAA All-Region team. Killough played all over the field for the Mavericks defense which set a school record for least amount of points allowed per game. Stephon Stokes, Greenville High, anchored the offensive line for the high powered Red Raiders and has been getting some looks at guard for the all-star game. Schneider and Alexander, Greer High,are coming off a deep playoff run where they helped lead the Jackets to the 4A state championship game. Kyle Schneider joins a long line of Greer offensive linemen who have earned all-star accolades. Ethan Alexander will join Schneider in Myrtle Beach as a late replacement to the North squad. Alexander plays safety for the Jackets.
The Shrine Bowl of the Carolinas will pit the best players in South Carolina vs the best from North Carolina, as the two teams face off at Gibbs Stadium (Wofford) on December 15th at 1:00 PM.
The Touchstone Energy Cooperative North-South game will also be on Saturday at 12:00 pm at Coastal Carolina.
Good luck to all of our athletes this weekend!
Posted: 12/13/2018 | Author: Jeff Hoffman