2018 SCHSL Football Playoffs - Round 1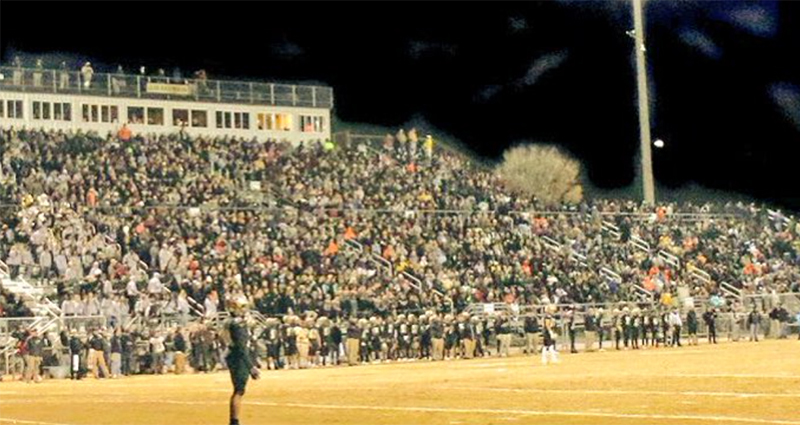 The 2018 SCHSL High School Football Playoffs kick-off this weekend. Due to weather concerns, several games have been moved to Thursday night. One game not moving will feature the Greer Yellow Jackets, winners of Region II-AAAA and the #2 ranked team in Class 4A hosting the Pickens Blue Flame on Friday night at Dooley Field. Pickens (4-6) is making its first trip to the playoffs in three seasons. The Blue Flame bring a pretty one dimensional option rushing attack into Dooely to face a Greer defense that has been dominant all season. The Jackets have won nine straight games, outscoring opponents 426-101 over that stretch. The Jackets defense is powered by their defensive line which features Shrine Bowler Quack Cohen and junior standout McZavion Holley. On offense, Greer lost quarterback Trayvion Houston to injury early in the season, but the Jackets didn't miss a beat with senior Matthew Huff filling in. The Jackets feature a powerful, aggressive offensive line lead by North-South All-Star selection Kyle Schneider, who scored a rushing TD on Senior Night. The OL paves the way for Shrine Bowler Dre Williams who is among the top running backs in the state. Williams is also a dangerous return man, scoring a return TD three straight weeks to open region play. The #1-seed Jackets are big favorites vs the #4-seed Blue Flame. Kick-off is 7:30 pm on Friday.
Sirrine Stadium will also host a playoff game on Friday night as the Greenville Red Raiders (7-3) host the Wren Golden Hurricanes (8-2). This matchup featured two of the top QB's in the state. Wren's Tyrell Jackson is a finalist for the South Carolina Mr. Football award and Greenville's Davis Beville is a Shrine Bowl selection. Beville and the Red Raider offense have won four straight after losing back to back games in the middle of the season. In those four games, the Red Raiders are averaging over 50 points per game and running back Collin Wakefield as established himself as one of the top rushers in the Upstate. Greenville's three losses have come by a combined total of 10 points. They have lost to #1-seed from Region III South Pointe, #1-seed from Region II Greer and #1-seed from Region I BHP. Wren's two losses have both come in region play to BHP and Daniel. Jackson is a dual-threat QB that the Raiders defense will need to try and contain. This game sets up to be one of the best of the opening round of any classification.
On Thursday night, #3-seed Eastside will travel to #2-seed Daniel for a first round 4A matchup. Daniel opened the season 9-0 before dropping their week 10 matchup to region champion BHP. The Lions have athletes all over the field and on offense come in averaging over 44 points per game. Eastside is no slouch on offense, featuring the areas leading receiver in Payton Mangrum and a 1,000 yard back in Max Louris. The Eagles have played two quarterbacks throughout the season with Marshall Skoloff and Dawson Conrad. Whoever starts at QB, the Eagles will need their offense to produce. Eastside closed the season with losses vs Greer and Greenville and are looking to get a huge road win and make another run in the playoffs as they did in 2017.
The #4-seed from Region II-4A, the Travelers Rest Devildogs travel to Ridge View on Friday night. The Devildogs are making their first trip to the playoffs since 2015. TR has a balanced offense lead by Junior QB Wilson Hendricks. Senior Deonte Byrd has been a big factor running the ball and Hendricks has weapons on the outside in WR's Derrick Fields, Esias Tucker and Jake Hall. The Devildogs opened 5-0 before dropping three straight region games. TR hopes they got their momentum back as they closed the season with two victories to make the playoffs. Ridge View enters at 6-3, the #3 seed out of Region III.
In Class AAAAA, the Woodmont Wildcats rattled off five straight wins in region play before falling to top seeded TL Hanna to grab the #2-seed out of Region I. Woodmont (5-5) earned a home playoff game vs the #3-seed out of Region II the Gaffney Indians (9-1). Gaffney finished in a three-way tie atop Region II, but fell to the 3-seed by tiebreakers. Woodmont has relied on their defense and ground game all season and will need that recipe to cook up an upset vs the big play Indians. Kick-off is 7:30 pm on Friday night.
In Class AAA, Southside also earned a home playoff game by finishing 2nd behind 3A power Chapman in region play. The Tigers (7-3) will open at home vs the #3-seed from Region III Newberry (5-5). The Tigers entered the season with a known commodity in QB Jalon Calhoun. As the season progressed transfer RB Brayden Bennett took a huge burden off Calhoun, rushing for over 1300 yards. Jamie Gamble also played well in spot times at QB for Calhoun, allowing the versatile Georgia Tech commit to contribute on defense as well as offense. The Tigers will rely on that ground attack as they host the Bulldogs at 7:30 on Friday night.
Good luck to all of our teams as they open the 2018 playoffs!
Posted: 11/8/2018 | Author: Jeff Hoffman