Week 7 Preview - GCS High School Football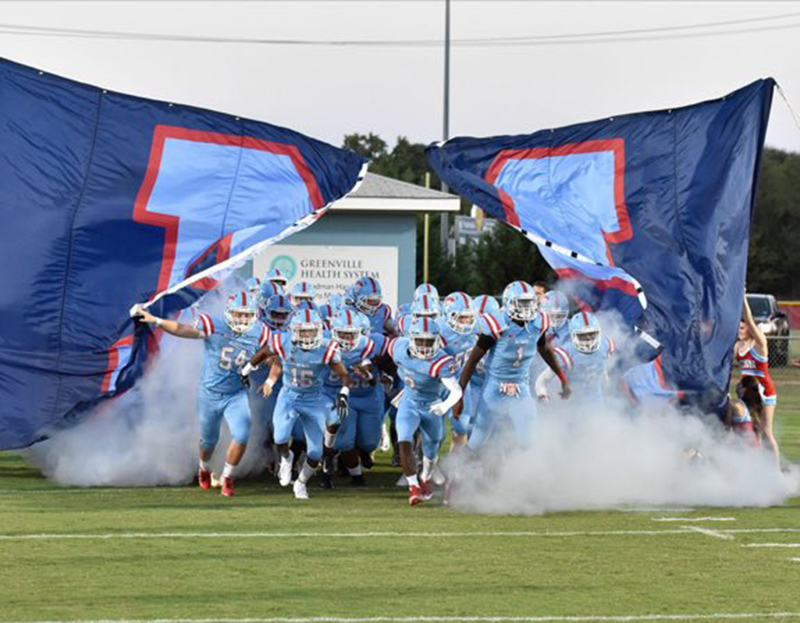 Woodmont football started the season slowly, but since their bye week in Week 3, the Wildcats have played much better and find themselves sitting at 2-1 in Region I-AAAAA play.  A key to Woodmont's success has been the play of their defense.  The Wildcats have only given up 21 points total since starting region play.  After losing 9-0 against region power Greenwood, the Wildcats have knocked off Wade Hampton and JL Mann in back to back weeks by a combined score of 66-12.  Woodmont (2-4, 2-1) will look to keep things rolling as they travel south to face Laurens (2-4, 1-2).  The Raiders, like Woodmont, are a run heavy team and the Wildcats will again rely on their defense to slow the Laurens attack.
JL Mann is still looking for their first win of 2018.  The Patriots hung close for a half last week, before losing steam and falling against Woodmont.  It's no easy task, but Mann will look to finish stronger as they travel to Anderson to face Westside.  The Rams opened 0-3, but have won two of three in region play in convincing fashion.
Like Mann, Wade Hampton is looking for its first win of the season as they host Greenwood (4-2, 2-1) to conclude Spirit Week.  The Generals are very young on offense and defense and will need to rely on Seniors like RB Trey Berry to run the ball and control the clock.  
In Region II-AAAAA, Hillcrest and Riverside are both looking for their first region win.  Hillcrest opened the season 3-0, but has struggled early in region play, falling behind by at least two scores in each of their three region contests.  The Warriors are young and looking for win number one for 2018.  Riverside has gotten some improvement from their offense under Senior QB Andrew Brown.  Now the Warriors need to see improvement from their defense against a Rams offense that was forced to play three different QBs a week ago against Gaffney.
Mauldin (2-4, 1-2) will travel to face Region II-AAAAA power Byrnes (5-1, 3-0).  The Rebels have are strong and fast on defense and feature a big play offense that can hit you in the pass and run game.  Mauldin has relied on its defense all season and last week the Mavs forced five turnovers and scored Mauldin's only points on a 95-yards fumble return by DE Elias Garza, his second score in as many weeks.  Mauldin's offense must protect the ball against the opportunistic Rebels.
In Region II-AAAA, Eastside (5-1, 1-0) survived an overtime thriller at Travelers Rest 56-55.  It may not have been a defensive masterpiece, but the Eagles got a huge defensive stop on TR's 2-point conversion to seal the victory.  Eastside will look for a better outing from its defense as they travel to Berea (1-5, 0-1) to face a young and struggling Bulldogs offense.
After heartbreak last week against Eastside, the Travelers Rest Devildogs (5-1, 0-1) have no time to focus on the past as they play host to region favorite Greer (5-1, 1-0).  The Yellow Jackets scored a huge road victory last week 28-20 on the road in a packed Sirrine Stadium with back-up QB Matthew Huff making his first career start.  The Yellow Jackets have been a force on defense all year and RB Dre Williams is among the best in the state.  Whether Huff starts or Treyvion Houston returns from injury, the Yellow Jackets will need to put up some points against a Devildogs offense that has playmakers all over the field.  QB Wilson Hendricks guides the TR attack and WR Derrick Fields had a big week against Eastside.  RB Deonte Byrd has been big for TR all year and will have his work cut out for him against DT Quack Cohen and a strong Greer front-7.
Blue Ridge came home from Florida and scored their first victory of the season 26-0 over Berea.  The Tigers (1-5, 1-0) got great play on the defensive side of the ball and jumped out to an early 18-0 lead.  Greenville (3-3, 0-1) fell behind early last week and will look to Senior QB Davis Beville and the Raiders offense to open much quicker on the road at Blue Ridge.
Carolina  was on a bye last week and played 3A power Chapman on Thursday night.  The Trojans fell 69-24 to fall to 07- on the season and 0-1 in region play.  Also in Region II-AAA, Southside was on a bye and will travel to Broome next Friday night.
Posted: 10/5/2018 | Author: Jeff Hoffman