News & Notes
SPECIAL ANNOUNCEMENT-STUDENT ITEM PICKUP
Special Announcement - Student Item Pickup/Work Chromebook Dropoff
We will begin accepting materials that need to be returned to school the week of June 1st. Students who have last names beginning with A thru H may return items on Monday June 1st from 8-2, students with last names I thru P may return items on Tuesday June 2nd from 8-2, and students with last names Q thru Z may return items on Wednesday June 3rd from 8-2. Please plan to bring your Chromebook, the Chromebook charger and any library books you have at home to the school on your assigned day. You will enter the front doors and take items to the cafeteria for check-in. Your child's teacher will have their personal items and materials gathered in a bag for you to pick up, and the school nurse will also have any medications from the health room ready for you pick up as well.
Comenzaremos a aceptar materiales que deben devolverse a la escuela la semana del 1 de junio. Los estudiantes que tienen apellidos que comienzan con A a H pueden devolver artículos el lunes 1 de junio del 8 al 2, los estudiantes con apellidos I a P pueden devolver artículos el martes 2 de junio del 8 al 2, y los estudiantes Q a Z pueden devolver artículos el Miércoles 3 de junio de 8-2. Planee llevar su Chromebook, el cargador de Chromebook y cualquier libro de la biblioteca que tenga en casa a la escuela en el día asignado. Entrarás por las puertas delanteras y llevarás artículos a la cafetería para el check-in. El maestro de su hijo tendrá sus artículos personales y materiales reunidos en una bolsa para que usted también los recoja.
---
Girl Scouts
Girl Scouts Membership:
---
Title 1 Planning Development Meeting - 2020-2021
Title I Plan Development Meeting Public Notice
-Click on notice below for larger view-
-Haga clic en el aviso a continuacion para una vista mas grande-
*Please note-You cannot use district devices for these meetings. You must use personal devices.
*Nota importante-No puede usar dispositivos del distrito para esta reunion. Debes usar dispitivos personales. Gracias!
---
COVID-19 Information - Spanish
COVID 19 - Information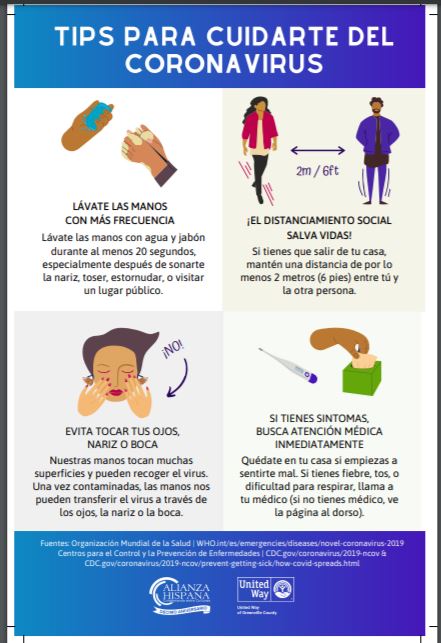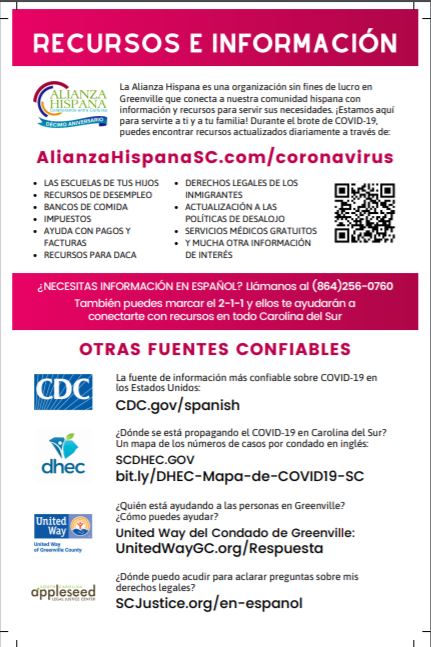 ---
Special Announcement
Breakfast and Lunch Meals
To ensure the students of Greenville County schools continue to receive healthy and nutritious meals during the time schools are closed in response to COVID-19, Greenville County Schools will be providing breakfasts and lunches free of charge to anyone 18 and younger at 15 District locations Monday through Friday. This program will begin Monday, March 16. Meals will be prepared in our school facilities by trained Food and Nutrition Services Staff. All existing DHEC and FDA approved procedures for meal prep, storage, service, and sanitation will be observed.
The following sites will be providing meals during the school closures: TR High School, Berea ES, AJ Whittenberg ES, Welcome ES, Grove ES, Sue Cleveland ES, Sterling School, Blue Ridge MS, Wade Hampton HS, JL Mann HS, Mauldin HS, Hillcrest HS, Eastside HS, Greer HS, and Fountain Inn ES.
Update on Breakfast/Lunch Pickup:
Beginning THURSDAY, Greenville County Schools will start handing out meals from 10 a.m. – noon, and will give everyone 18 years of age and younger (and special needs adults up to age 21) a free lunch plus breakfast for the next day. Per USDA regulations, children must be present to receive the meals. Shown below are the additional sites that will utilize buses for delivery (42 sites, some duplicates in list). We will continue to notify you if additional adjustments are made.
Lunch for the day and breakfast for the next day will be provided at one time.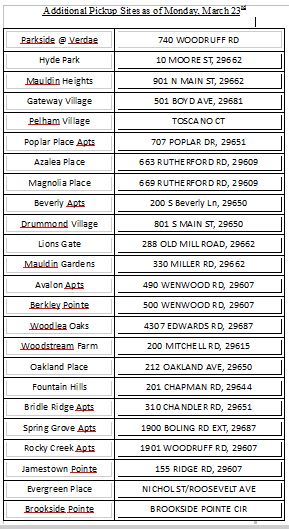 The following places are the closest place for our Westcliffe students to pick up their breakfasts and lunches:
Charter Spectrum
Charter is offering free Spectrum broadband and Wi-Fi access for 60 days to households with K-12 and/or college students who do not al ready have a Spectrum broadband subscription at any service level up to 100 Mbps. To enroll call 1-844-488-8395. Installation fees will be waived for new student households. With this service students with district Chromebooks will have internet access. Please be very clear with the provider of the terms of the agreement and the point at which any charges may assessed.
Pre-K Registration
4K preregistration and screening for April 1-3, 2020 are cancelled. Since Greenville County Schools are closed through March 31, we will not have time to prepare for screening. Alternate 4K screening plans will be announced once we return to our regular school schedule.
---
FoodShare
Mill Village Farms Offer:
Mill Village Farms is offering families in hardship a discounted weekly fresh food share box for $5.00. SNAP Payments are accepted. For more information, call the bilingual helpline of (888) 366-3485, click on one of the flyer pictures below, or click on the following link to the Foodshare Website: Foodshare Website
---
New Grading Guidelines
New District Grading Guidelines During Closure
GCS has announced new grading procedures during the closure of schools due to COVID-19. Click here for details.
Grading Guidelines During Closure
In developing these guidelines, principals and focus groups of teachers from each school weighed in to create a fair and equitable grading system in this non-traditional learning environment. Grades will be based only on participation and engagement because we recognize that many of our students struggle to learn without direct in-person access to a teacher and have varying access to adult help and resources.
---
Healthcare for Children
Child Healthcare in the Midst of Covid-19
from the Institute of Child Success
As COVID-19 case numbers grow in the United States, doctors and researchers are learning more about how the virus impacts children and how treatment may differ from adults. While mitigating the impact of this virus on families and children is a crucial priority, doctors and families also face the regular daily medical concerns of young children: what about health care to make sure your child stays healthy?
The recommended schedule calls for 11 well-child visits in the first 30 months of life, followed by annual check-ins after that. Without knowing how long this crisis will continue, families may not be sure how to manage these visits. American Academy of Pediatrics (AAP) guidance "strongly supports the provision of well child care consistent…In the midst of the COVID-19 pandemic, the benefit of attending a well visit and receiving necessary immunizations and screenings should be balanced with the risk of exposure…."
However, most practices are not just operating as "business as usual." Both the American AAP and the American Academy of Family Physicians (AAFP) have issued considerations for ensuring safety and hygiene during these visits to providers to consider. If you are a parent whose child needs pediatric care in coming weeks, consider asking your office what precautions they are taking, and be prepared to possibly see the following:
These include:
No more walk-in visits
Restricting well visits to those who need it most urgently – newborns, infants, and younger children who are scheduled for immunization, while rescheduling annual physical for older children for a later date.
Scheduling the morning for well visits and afternoons for sick visits Designating specific rooms for "sick" and "well" visits; any clinical staff are in a "high risk" group, they should be focused on well visits only.
Increasing the frequency of cleaning and disinfecting beyond usual.
Removing all toys and activities from the waiting room.
Limiting attendees to the visit to only one parent/guardian – no additional adult or sibling
Enabling families to complete any paperwork or payment documents in advance (physical mail or online portal) or after the visit to reduce amount of time in the waiting room
Allow patients to "check in" and wait from the car if parking is available rather than in a waiting room.
Consider shifting visits to telehealth possible.
That last recommendation might surprise you if you've ever argued with young children over limits on their screen time! But the current crisis in American health care caused by the spread of COVID-19 is bringing the world of telehealth to many parents in a new way and demonstrating the value of this new horizon. One family medical provider explained that the shift to telemedicine had "moderate" challenges in getting patients used to it, but that overall it has given patients and staff alike "confidence and comfort."
What about those medical needs you can't reschedule? Kids don't stop getting injured just because there is a crisis and, in fact, some experts worry that the current status of kids at home while parents try to work and homeschool may create more opportunities for hijinks which lead to injury. In a recent New York Times piece, a parenting writer details her own family's experience with a pediatric emergency during the pandemic based on how experts recommend responding:
"If your child does get hurt, first tend to the wound and then call your child's pediatrician — or, better yet, set up a telemedicine appointment. Your child's doctor will not only help you assess whether you need in-person care but can also advise you on where to go. Pediatric facilities are often better than general emergency rooms or urgent cares, because they're fairly empty and often free of coronavirus patients….
If you do end up in an emergency room, rest assured that most hospitals are following procedures to keep patients safe and protected from exposure to the new coronavirus. The Centers for Disease Control and Prevention have advised all U.S. hospitals and health care facilities to separate patients who have respiratory symptoms from those who don't."
Of course, telemedicine is not a cure-all and we need to think seriously about who gets left out of these advances. As the widespread closure of classrooms has reminded us, the "digital divide" is still very real, and children without technology access for online learning may also not be able to access digital medicine. A major article in The Washington Post highlighted these sharp challenges, reporting that more than 21 million Americans don't have access to high-speed internet despite significant large investments by government over recent years - disproportionately low-income families and people of color. If your family, or families you work with, are struggling to secure necessary internet access during this time of isolation, the FCC maintains a list of internet providers who have taken their "Keep Americans Connected" pledge – consider starting there to find opportunities in your area.
Many American families were already uninsured or under-insured before this crisis, and a wave of layoffs as a result of the crisis may have caused many more to lose private health insurance. The federal Families First Coronavirus Response Act had a number of provisions related to Medicaid and Child Health Insurance Program (CHIP) services and eligibility; those working with families may find this explained from the Center for Children and Families helpful. These programs are administered by each individual state – you can start here to learn more about the opportunities in your own state.
Avoiding "non-essential" procedures and medical appointments is a key component of the national effort to slow the spread of the disease, through reducing crowded waiting rooms and conserving supplies for essential COVID-19 treatment. However, this does not mean all routine health needs should be placed on pause! The expert recommendations we've shared today can help keeps safe and healthy through this rapidly changing situation.
---
Morning News Show
Morning News Show
May 14, 2020
Check out the latest and most current announcements and happenings at Westcliffe Elementary with our morning news show video!
---
Prisma Health - Bradshaw Institute
The Bradshaw Institute for Community and Child Health & Advocacy under Prisma Health is providing important information daily on the Coronavirus (COVID-19), as well as information on ways of healthy eating, staying active during quarantine, home safety, mental health help, and more. They offer this help on the Facebook platform. Please click the link below to be directed to this important resource on Facebook:
Prisma Health - Bradshaw Institute Facebook Page
---
SC School Report Card For Westcliffe Elementary
South Carolina School Report Card
Westcliffe Elementary
Below is the link to our School Report Card, released October 1, 2019 by the State Department of Education. Based on a number of factors, each school in the state has been rated as excellent, good, average, below average, or unsatisfactory. These report cards factor in multiple data points, test scores and surveys. The report attempts to measure a school's academic achievement, student progress, college and career readiness and school climate. The reports will also include data on English Learners' Progress, Student Safety, and Financial information. High School reports will factor in graduation rates. If you have any questions or concerns related to our school's ratings, feel free to contact our principal via email or phone.
Please click here for 2018-2019 Westcliffe Elementary School Report Card
---
Facebook and Twitter
Tweets by westcliffe_elem
---
GCS Policies and Procedures
---
From Our Principal
It is with great pleasure and excitement that I welcome you to our website at Westcliffe Elementary! I am always looking forward to working with our children, staff, and families as we go forward with Wildcat Success at Westcliffe. We are very proud of our successful year last year and we continue to focus on raising the bar on student achievement. At Westcliffe Elementary, we are committed to raising the academic challenge and maintaining a warm, safe, and friendly environment for our students to learn. I know that we will have a great school year because "Westcliffe Wildcats Are Wild About Learning".
-Carolyn Morgan, Principal
---
Westcliffe Elementary Mission Statement
Our Mission

In cooperation with home and community, Westcliffe Elementary School prepares students to be life-long learners and citizens of good character in an ever-changing world.
---
School Awards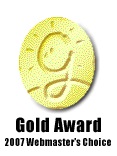 ---